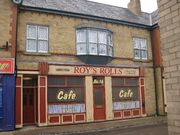 16a Victoria Street is the home of Roy Cropper which he shared with his wife Hayley until her death in January 2014. The flat is located above his café Roy's Rolls.
Residents
Edit
Behind the Scenes
Edit
Until 2014, access to the flat at 16a was always through the back of the cafe. However, with the construction of the new Media City set, a side door was added which gives a direct exit to the flat from Victoria Street.
Ad blocker interference detected!
Wikia is a free-to-use site that makes money from advertising. We have a modified experience for viewers using ad blockers

Wikia is not accessible if you've made further modifications. Remove the custom ad blocker rule(s) and the page will load as expected.