The 11th August 1999 solar eclipse was the first total eclipse of the sun visible in Britain since 29th June 1927. The path of its totality began in the Atlantic Ocean and touched Cornwall, then moved across central Europe, South West Asia and dissipated in the Bay of Bengal. Although the effect of the eclipse in the UK outside of Cornwall was not total, it was nevertheless a spectacular natural phenomenon to be witnessed from all parts of the country and a once in a lifetime opportunity for most citizens as the next such eclipse will not be until 23rd September 2090.
The eclipse in Coronation StreetEdit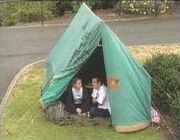 Curly Watts and Spider Nugent, as the two residents of the Street most interested in astronomical matters were the two who made most efforts to witness the eclipse. Curly tried to persuade good friend Nita Desai to go camping with him in Cornwall where they would be able to see totality but she refused as she hated sleeping in tents. Instead Curly agreed to go with Spider and his girlfriend Toyah Battersby to the south but within a couple of days the two men fell out when Curly accused Spider of spreading rumours about him and Nita. Curly went alone while Toyah and Spider set up a tent on the Red Rec to watch the partial eclipse however they even missed this when they ended up making love for the first time while the sky darkened. When they returned to No. 3 Spider's Aunty Emily asked him how it was – he replied, "Cosmic!" while Toyah smiled.