Alfred Sidney "Alf" Roberts O.B.E. was an Independent Councillor in Weatherfield, husband of Audrey Roberts and longtime proprietor of the Corner Shop in Coronation Street.
Although he began his working life as a member of the sorting office staff at the GPO, Alf's life changed drastically when his wife Phyllis died of cancer in September 1972 and when he was selected as Mayor of Weatherfield on 15th January 1973 for a one year term, at the time intended to be the final person to hold the position. On 20th March 1978, Alf married Corner Shop owner Renee Bradshaw, and the following year left the GPO to help Renee at the shop. In July 1980, the Roberts sold the shop in preparation for a move, but when Renee was killed in a car accident on 30th July of that year, Alf held onto the shop and ran it himself, putting his heart and soul into the place. His proudest achievement was the conversion of the shop into a mini-market in 1985.
Later that year, he married hairdresser Audrey Potter. While they loved each other, Alf and Audrey often clashed over Alf's unwillingness to spend money on luxuries even though they could afford it. He was always satisfied with the cheaper option and horrified Audrey by buying 11 Coronation Street against her wishes. In 1989, Alf was pushed into buying a semi-detached house in Grasmere Drive, which was much more to Audrey's taste. One matter where Alf refused to budge however was the shop, which he bought in 1993, despite having sold it earlier in the year, as he loved it so much. He sold it for good in 1994.
Alf served as Councillor for many years and worked on the committee at the Community Centre. After losing his seat to Deirdre Barlow in 1987 Alf suffered a heart attack - the first of several health problems which afflicted Alf later in his life. In 1994, he was chosen as Mayor again, and in 1995 his community and charity work was recognised with the O.B.E. He died on New Year's Day 1999 when he suffered a heart attack while attending Audrey's grandson Nick Tilsley's birthday party.
Biography
Edit
1926-1963: Early life
Edit
Alfred Sidney Roberts, generally known as "Alf", was born to Sidney and Eileen Roberts on 7th October 1926. As a boy, Alf looked up to his older brother Malcolm, his only sibling, and followed a similar career path at the GPO where Malcolm was accounts clerk.
For most of the war, Alf was too young to sign up and the conflict was in its final months when Alf joined the 7th Cheshire regiment in May 1945, serving as the unit maintenance man. When he was demobbed, Alf returned to his old job at the post office.
Malcolm was now married to Phyllis Plant and Alf was a frequent caller at their home in Omdurman Street, putting his technical knowledge to good use by helping out with odd jobs. The Roberts lived in a house bought for them by Phyllis's wealthy father, and as Phyllis had two eligible sisters, Laura and Maude, Alf's parents ordered him to pick one to court in the hope that it would lead to an equally prosperous marriage. Beholden to his parents, Alf forced himself to visit his brother's house on Sunday evenings, when Phyllis had her sisters over to listen to light opera around her radiogram. After enduring it for a few weeks, Alf eventually made his move and arranged a date with Laura - the least unattractive sister - to see a play at the Alhambra theatre the following Saturday.
Alf and Laura's date never took place as, hours before they were due to meet, Alf was out driving his brother's new Lanchester car with Malcolm in the passenger seat when he swerved into the path of a lorry in order to avoid a child crossing the road. Alf suffered a broken arm while Malcolm, who had been on the impact side, died from his injuries. Alf struggled to live with the guilt of sacrificing his brother to save the child and, out of a sense of duty to Malcolm, saw that Phyllis wanted for nothing following her husband's death. Months later, with Alf still making the effort for Phyllis, Sidney suggested that he marry her. Alf felt nothing for Phyllis romantically but felt morally obliged to offer her his hand in marriage. In 1950, one year after Malcolm's death, the couple were married and Alf moved into the house in Omdurman Street.
Alf and Phyllis's marriage had begun on a loveless note and never grew into something more, but to renege on his wedding vows would have been considered by Alf as a betrayal of his brother and so they never divorced. An honest and genial man, Alf remained faithful to Phyllis, although they never had children and Alf never brought her along on social occasions, preferring the company of his colleagues from the sorting room at the GPO such as Frank Barlow. Through Frank, Alf became friendly with the Barlow clan of 3 Coronation Street and a regular at the Rovers Return, becoming enough of a fixture behind the bar to go along to the Rovers' coach trip to Blackpool for the illuminations in 1961 and the darts picnic in 1963. After Frank moved to Cheshire in 1964, Alf was seen less in the Coronation Street area.
1963-1972: Councillor Roberts
Edit
In 1966, Alf successfully stood in the local council elections as an Independent and was elected councillor. Despite this appointment, Alf showed little passion for public service, having neither the stomach nor the inclination to fight for a cause. Nevertheless, his honesty, respectability and stainless record allowed to forge a long and successful career.
In March 1967, Alf crossed paths with the residents of Coronation Street again when he voted to block a student meeting at the Town Hall opposing the Vietnam War, which resulted in Ken Barlow pushing it through without police permission and attending the meeting himself. The protesters were reported to the police, leading to Ken being charged and spending a week in jail.
Alf became a permanent fixture in the area in 1971 when he was placed on the committee of Coronation Street's new Community Centre, built in the spot formerly occupied by the maisonettes alongside Mark Brittain's mail-order warehouse. The residents of Coronation Street were under the impression that the council was building flats but word got out about the centre when Alf blabbed to Ena Sharples, while the warehouse became common knowledge the moment that workman Fred Chapman let slip to Hilda Ogden, leading to Alf and fellow councillor Len Fairclough having to deal with a protest from the unhappy residents.
Upon her return, Ena secured Alf's backing for the position of Community Centre caretaker by threatening to tell his superiors that he'd let the cat out of the bag, but not only was Alf's vote not enough to get her the job, but Alf lost a coin toss with Ernest Bishop over who had to tell Ena. Ena was not beaten and, after getting it out of Alf that Hetty Thorpe had been offered the job, invited Hetty to tea and proceeded to scare her into turning down the role by making out that the area was rough and full of vandals. Having installed Ena in the Community Centre flat, Alf knew that he had to show her who was boss and so, during their next skirmish over an upcoming flower show which Ena tried to cancel on account of her hayfever, Alf called her bluff by pretending that the council had arranged for her to see a specialist, winning one of his few victories against the pensioner.
Alf became friends with Corner Shop owner Maggie Clegg when he painted her ceiling for her and took her out to the pictures in August 1971. Alf came to care deeply about Maggie but the fact that he was married made he and Maggie wary about seeing too much of each other and so for a while friendly chats over the shop counter were as far as their relationship went.
In 1972, Phyllis became ill with cancer and in August of that year she was taken into Weatherfield General. After a week, she fell into a coma and on 18th September she passed away. Upon learning of his wife's death, Alf's first thought was to tell Maggie but instead he went over to 9 Coronation Street looking for Len, leading to a breakdown in front of Jerry Booth. Alf's grief was exacerbated by guilt over his feelings for Maggie, leading him to avoid her and keep Phyllis's funeral low-key. Maggie, who was believed that they'd done nothing to be ashamed of, was angry at the way had Alf treated her and refused to have a collection box in the shop.
1972-1974: The life of a Mayor
Edit
Towards the end of 1972, Mayor of Weatherfield Harold Chapman and Alderman Charlie Rogers agreed to select an independent as the next Mayor - the last of the borough - in order to avoid an argument over which party deserved the honour. The men decided that it would be either Alf or Len, with Rogers favouring Alf due to him being a union man. Alf gained an early advantage over Len when Len's girlfriend Rita Littlewood got into a fight on the opening night of The Capricorn club and ended up on Chapman's lap. Len dumped Rita in an attempt to regain his standing with Chapman, but it wasn't enough and in January, Alf was announced as Mayor.
Len graciously agreed to be Alf's Deputy Mayor but Alf's choice of lady Mayoress, Maggie, turned him down after spending weeks deliberating on the subject. As he'd been expecting her to accept, Alf hadn't considered anyone else and was forced to offer the position to Annie Walker, Rovers landlady, socialite and local snob who'd been dropping hints ever since Alf was declared.
In February, before taking office, Alf was giving Bet Lynch a lift home when he got lost and used a private driveway to turn around. The elderly owner, Mrs. Leach, walked into his bumper while looking for her cat. No harm came to her but her son, Norman Leach, demanded £200 compensation for her "injuries", securing Alf's compliance by threatening to tell the newspapers what the Mayor-elect had been up to. Bet managed to turn the tables on Norman by threatening to report him to the police for blackmail unless he returned the cheque, correctly guessing that he had a criminal record and had more to lose from the police being involved than Alf.
In May, Alf and Annie were installed as Mayor and Mayoress. Their first engagement was opening a jumble sale at St. Mary's Church Hall. A couple of months later, Alf's office was threatened when Norman Leach was implicated in the mugging of Bet Lynch. Alf told the police about the blackmail to get Leach put away, but the police wouldn't charge him as the courts would see the demand for money as an offer to settle out of court. Living in fear of Leach being found not guilty of assault and going to the papers, Alf decided to resign as Mayor, but on his day in court, Leach changed his plea to guilty and was sentenced to seven years in jail. Alf was informed of this in time to abandon his plan to resign.
Once the Leach "scandal" blew over, Alf and Annie settled into their roles and their year in office was free of further controversy. The bowed out on 1st April 1974. The following month, Alf worked at the Corner Shop for the first time when Maggie took up his offer to be her stopgap assistant. He surprised Maggie by taking the job seriously, although Annie commented that he didn't have a natural aptitude for shop work.
In June, Alf suddenly asked Maggie to marry him. Unfortunately, his timing was poor as Maggie had met up with an old flame, Ron Cooke, that same day and when he heard about Alf's proposal Ron made the same request of Maggie, and it was the latter offer that Maggie took up. AS Ron was due to start a new job in Zaire, Maggie moved there with him. She and Alf never said goodbye to each other, with Alf spending Maggie's wedding day drowning his sorrows in the Rovers.
Relationships
Edit
Maggie Clegg
Edit
In the early 1970s, Corner Shop owner Maggie Clegg was the main woman in Alf's life after his first wife Phyllis, even though they were never more than friends. They struck a chord from across the shop counter, both being private people who had been in unhappy marriages.
Alf showed how much he'd come to care for Maggie in February 1972 when, after seeing Cyril Turpin pressure Maggie to go into business with Betty, he warned Cyril to leave her alone, resulting in Len and Billy Walker having to pull the pair apart to stop a fight breaking out. When Maggie learned about this, she put her foot down with Betty and announced that she would be running the shop by herself.
Maggie fell out with Alf when he avoided her through guilt following Phyllis's death; Maggie believed that it was no way to treat a friend. They were back on good terms by early in 1973 when Alf asked Maggie to be his Mayoress. Maggie declined as she didn't think she was suited to giving speeches and meeting important people, but was flattered to be asked.
Although Alf was now single, he never tried to take things further with Maggie but acted jealously when he saw her with other men. In April 1973, he got at Maggie's America suitor Mike Ritchie, leading Maggie to assume, when Mike returned home, that he'd been put off by Alf. Even after Elsie Howard informed Maggie that he'd went back to Wichita for a woman, Maggie continued to snub Alf for his pettiness. Maggie was aggrieved again in January 1974 when Alf let her pay architect Peter Shields £50 to draw up plans for an expansion of the Corner Shop even though the whole area could soon have been knocked down. Maggie walked out of Alf's life in July that year when she married Ron Cooke, ignoring an earlier proposal of marriage from Alf.
Alf and Renee - And Beyond...
Edit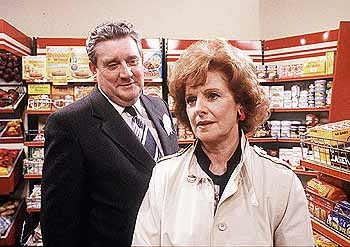 In
1976
,
Renee Bradshaw
came into Alf's life. She had bought the Corner Shop, and a friendship developed between the two otherwise lonely individuals. Alf's first proposal of marriage to Renee was turned down as he had been drunk at the time. The second was accepted after some soul searching.
The wedding of Alf and Renee, in 1978, did not go smoothly. The stag night was a rowdy affair during which Len Fairclough was arrested. At the reception Alf came to blows with Joe Hibbert, Renee's stepfather, over accusations that Alf was marrying Renee only because she owned the shop. Alf was disconcerted to learn that when he moved into the flat above the corner shop his wife's lodger, Bet Lynch, would continue to live with them.
The following year Alf was injured when a lorry had crashed into the Rovers Return. Alf sustained serious head injuries and lay in a coma for three days. As a result of the injuries Alf began to have mood swings leading to violent outbursts and nearly ended his second marriage. Receiving counselling and taking medication Alf was able to recover from the injuries and was delighted to receive compensation for his injuries - £800.
Alf retired from the post office shortly after the accident, receiving a pension of £2000 a year, plus a £6000 lump sum.
In 1980 Alf became a widower for the second time. Renee was involved in a car crash - whilst Alf was teaching her to drive - and died shortly afterwards. Alf inherited the corner shop, and let the shop flat to Deirdre Langton, employing her as his assistant in the shop.
In 1985 after Alf converted the corner shop into a self-service mini-mart he attempted to expand the shop, intending to expand into some of the property next door if Hilda Ogden were willing to sell to him. Alf was furious when he found out that his builder Les Pringle tried to scare Hilda into selling the property and abandoned the plan. When the minor conversion work was completed the shop was re-opened and after the ceremony a drunk Alf proposed marriage again, this time to his friend Rita Fairclough, who turned him down.
Alf and Audrey
Edit
In 1981 Audrey Potter began running a hairdressing service out of the back room of the store. When Alf painted Renee's name out of the sign above the shop door it was a sign to many that Alf had moved on. He quickly proposed to Audrey, who turned him down.
However, in 1985 Audrey returned to the area with the intention of settling down. She set out to get Alf's attention and they married on 23rd December, honeymooning in Paris. Alf's third stag night was more peaceful than his second, if not without incident. Alf accidentally ruined Percy Sugden's prize Christmas Pudding by sitting on it. The couple lived at No. 11 for five years before moving to a classier semi-detached house at 5 Grasmere Drive.
Alf sold the corner shop in 1993 to Brendan Scott for the asking price of £68,000. Alf's chosen memento of his time in the shop was the Bacon Slicer, which he took with him at the close of day. His retirement didn't last long when, after Brendan Scott died, Alf bought the shop back, thus spoiling Audrey's plans to move to Lytham St Annes.
Councillor Roberts
Edit
Alf became a councillor in the late 1960s and then the last Mayor of the County Borough of Weatherfield before it was abolished in 1973. In desperation, he turned to Annie Walker to fill the role of Mayoral Consort. Annie considered this a great honour and fulfilled her duties admirably. Alf was involved in a minor road accident soon after becoming mayor, in which the son of the lady who was involved, but unhurt, attempted to blackmail Alf into paying £200 to keep the story out of the papers. Bet Lynch forced the blackmailer, Norman Leach, to return the money.
Alf continued to fulfil his duties as an elected councillor on the Weatherfield Metropolitan Borough Council which replaced the county borough in 1974 until 1987 when Deirdre Barlow stood against him and won. Alf suffered a heart attack after this and Audrey accused Deirdre of being responsible. Alf quickly recovered and won his seat back in 1991.
Alf's second term as Mayor, in 1994, was the cause of friction between him and Audrey. Initially hurt when Audrey laughed at the idea, Alf considered Rita Sullivan for the role of mayoress, until Audrey intervened. Audrey enjoyed the attention the role brought her and took part in an official visit to France, where fellow attendee Fred Elliott made moves on her. Uncomfortable with Audrey's flirting with the official chauffeur, Alf stopped using the limousine provided for them. Audrey was eventually replaced as Mayoral consort by Betty Williams.
In recognition of his council work Alf was awarded the O.B.E. The council announced plans to rename Coronation Street in his honour, but the local residents complained and the plan was dropped.
Death and beyond
Edit
Alf died of a heart attack while in attendance at Nick Tilsley's 18th birthday party.
When Audrey later dated Keith Appleyard it was clear that the attraction was mostly because he reminded her of Alf. When Keith found Alf's distinctive trilby when cleaning out Audrey's garage, Audrey became distressed to see Keith joking around and posing in it, insisting he took it off.
Audrey also became convinced that Alf had had an affair with Rita Sullivan when she found photographs that seemed to imply they had become intimate whilst on holiday together. It later was proved that the film had been in the camera so long that the negatives had become corrupted and the photos were two separate images combined.
When Audrey's grandson David Platt planned to stitch Gary Windass up by breaking into Audrey's home, he removed various personal items so Gary wouldn't know who lived there. He stopped to look at a large painting of Alf in his Mayor's outfit, and smirked that he knew there was no way Gary would know who Alf was.
Personality
Edit
You could meet Alf Roberts riding on a horse in the middle of the Sahara Desert and still know he was a grocer. - Audrey Potter
Background information
Edit
Introduction
Edit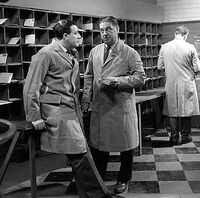 Making his debut appearance with Episode 18 on 8th February 1961, Alf Roberts was a recurring part for Leeds-born actor Bryan Mosley until 1971. He was first seen at the GPO where he worked alongside Frank Barlow, and subsequent episodes in 1961 established Alf as a friend of the Barlows.
Mosley's appearances in Coronation Street ended abruptly in November 1961 due to the Equity actors' strike. Alf was brought back when industrial action ended in April 1962 but he was not as prominent, making only four appearances that year and eleven in 1963. Frank Pemberton's departure from the series in 1964 caused writers to drop Alf entirely, though he was revived for two stints in 1967 where it was established that he was now a councillor - a key addition to the character which was the basis for his eventual full-time role.
Five years younger than Alf, Bryan Mosley had trained at the Esme Church Northern Theatre School in Bradford and went on to work in rep all over Yorkshire. Between his stints in Coronation Street, Mosley pursued other, longer term, acting roles, and also worked as a stunt and fight arranger for television under the name "Buddy Windrush", becoming a founder member of the Society of British Fight Arrangers. He was on the verge of giving up acting when he landed a part in Z-Cars which led to roles in action shows such as The Avengers and The Saint, and subsequently feature films including This Sporting Life, Charlie Bubbles and 1971's Get Carter.
Following his role in Get Carter, Mosley was considering trying his luck in Hollywood when he was invited back to Coronation Street full-time. Mosley accepted, making his return appearance in Episode 1050 on 8th February, ten years to the day since he debuted. He became a regular three months later with Episode 1078 on 17th May.
Evolution in the 1970s
Edit
Alf was brought back as Coronation Street's new Community Centre was being built. His role was that of the main councillor responsible for the centre. For most of the decade, Alf neither lived nor worked in Coronation Street, and the programme rarely delved into his private life; his day job at the post office was never seen, nor were his home or wife Phyllis, who was battling cancer.
Phyllis's off-screen death took place in Episode 1218 (18th September 1972), as revealed by Alf to Jerry Booth in an emotional scene which Mosley recalled some years later: "I did a scene with Graham [Haberfield] when Alf's first wife died and he went round to see Len, but only Jerry was there and Alf broke down. Graham and I were both emotional about that." (Coronation Street: Celebrating 30 Years, Boxtree Ltd, 1990)
The next big event in Alf's life was his appointment as Mayor of Weatherfield in 1973. Alf being chosen over Len Fairclough - also a councillor - surprised Mosley due to Len being the more central character. According to Mosley, the storyline didn't play out as originally planned: "Harry Kershaw said the intention was to show people how Mayors operated, where they got their suits from and all that sort of stuff. But this was deemed not to be part of Coronation Street, so it was never actually shown. All we ever saw him do was go off looking posh, but it didn't tell you anything as to how the Mayoralty functioned, which was a missed opportunity I think." (The Coronation Street Story, Boxtree Ltd, 1995)
When Bill Podmore became the programme's producer in 1976, he observed that the character of Alf lacked purpose and paired him with incoming Corner Shop owner Renee Bradshaw, played by Madge Hindle, while also making a notable wardrobe change. Podmore: "Several things intrigued me about the mysterious Alf; how, for instance, had he managed to wander down Coronation Street in the first place? He didn't live there, and apart from his job at the local post office plus his work as a councillor, his only place in Weatherfield affairs appeared to be supping pints in the Rovers. But what really fascinated me was why on earth he chose to sup them wearing a ridiculous black bowler hat. We struck a deal. Alf could stay on the condition that he wed the lovely Renee, but the hat had to go." (Coronation Street: The Inside Story, Macdonald & Co, 1990) The bowler was quickly replaced by a trilby, which was part of Alf's wardrobe until the character passed away in 1999. Helen Worth: "It was Bryan that told me when I first joined that you had to have something to hang onto in the Street, to give something that people would remember, and in his respect it was the trilby." (The Corrie Years at Christmas, ITV Productions, 2012)
In 1978, Alf married Renee and the following year he took early retirement from the GPO and joined his wife behind the shop counter, where he proved a natural. Podmore: "If I ever saw a Mr Green the Grocer waiting to be cast, it had to be Alf Roberts." (Coronation Street: The Inside Story) John Stevenson: "He was probably the man Napoleon had in mind when he said England is a nation of shopkeepers." (The Corrie Years)
From Renee to Audrey
Edit
The Roberts' marriage failed to inspire the writers and by 1980, Bill Podmore and the actors concerned agreed that change was needed. Podmore chose to kill off Renee to spare Alf: "The writers tired of [Renee's] marriage to Councillor Roberts when it didn't prove, storywise, as fertile a ground as we had hoped, and we decided to make Alf either a widower or a bachelor again." (Coronation Street: The Inside Story) Renee died in a car crash during a driving lesson in the countryside, with Alf instructing her. Despite his stuntwork experience, Mosley found the scenes problematic to film: "I found climbing over the car a bit difficult as I'm not built for it. I remember having to climb over the car to get to Renee and not really believing anything was wrong because there was no real blood." (The Coronation Street Story)
Alf's standing improved when he became the sole proprietor of the Corner Shop, which he ran until 1994 (with a short break in 1993). In 1981, he was first paired romantically with Gail Tilsley's flighty mother Audrey Potter, played by Sue Nicholls who at that point was not a regular cast member. The unlikely partnership proved to be a goldmine for comedy, with Alf's penny-pinching and passion for the grocery trade coming to the fore for the first time as a contrast to Audrey.
In 1985, Sue Nicholls was given a long-term contract and Alf and Audrey were married. Bill Podmore, by then executive producer, believed that the flourishing of Alf in his new marriage proved that the decision to axe Renee had been the correct one: "If time proved anything, I think it underlined that the decisions to kill off characters were correct. Alf Roberts emerged into the sunlight from the shadows of a rather humdrum marriage, and eventually with his brash new bride, Audrey, became the wonderful cornerstone character he is today." (Coronation Street: The Inside Story). On their screen marriage, Sue Nicholls: "I suppose one does know of couples that are totally opposite in probably character and physique too, as I am kind of thin and Alf's rather roly-poly," Mosley: "And it works very well, it's amazing how popular the marriage is. I'm always getting letters saying how good they are together." (The Coronation Street Story)
Declining role
Edit
On 9th June 1991, Mosley suffered a serious heart attack. He had been in the midst of shooting a major storyline in which Audrey left Alf after an argument over Ivy Brennan working at the shop. Mosley's abrupt departure caused scripts after Episode 3245 (28th June 1991) to be rewritten so that the story would be resolved quickly, with Audrey returning to Alf who had had an off-screen collapse brought on by exhaustion.
After Mosley returned to work in October, making his return with Episode 3300 on 4th November, Alf remained a prominent character. Although he sold his beloved shop for good in 1994, Alf was then appointed Mayor for a second time and, in 1995, awarded the OBE at Buckingham Palace. The latter storyline was suggested by archivist Daran Little (50 Years of Coronation Street: The (very) Unofficial Story, JR Books, 2010).
Mosley was struck by a second heart attack on 3rd February 1997, soon after shooting Episode 4159 (14th March 1997). The actor's health was further affected by a dramatic 5st weight loss. Mosley's family urged him to retire but when producer Brian Park visited him at home in Shipley and invited him to return to work, he accepted, making his comeback with Episode 4294 on 5th November. He fell ill again in January 1998, resulting in another absence of five months. Each time Mosley returned to filming at Granada, his workload was lightened, with Alf making only small appearances which could easily be cut from scripts should Mosley drop out of shooting for health reasons. Mosley was advised to quit by family and friends, but chose to work on. Mosley: "I'm just thrilled to be back. I love Coronation Street. It's in my blood and gives me something to get up for. I'd become a vegetable if I stopped. I'll never quit." (Street to kill off Alf in TV shock, The Mirror, 13th October 1998)
Deaths of Alf and Bryan Mosley
Edit
In late 1998, new producer David Hanson made the decision to ignore Mosley's wishes and kill off Alf, for the sake of his health. Alf passed away peacefully while resting in an armchair at Nick Tilsley's 18th birthday party just after midnight on New Year's Day 1999. Mosley shot his final scenes two months after being told that he would be leaving.
Although he had previously vowed never to quit, Mosley accepted that he would have to retire at some point but had hoped to continue for a few more years: "I thought I'd weathered the storm. To get rid of Alf now seems totally stupid. There's so much more for him to do... I had hoped to keep going at least until 2000. I would've liked to see Alf as Weatherfield's Millennium Man. I've been here a long time and I thought they could've done that for me." (Alf blasts "totally stupid" axing, The Mirror, 22nd October 1998) Regarding the death itself: "Filming that death scene was bloody boring, because all I had to do was sit there and pretend to be dead. Sean Wilson, who plays my son-in-law, Martin, had to shake me and say: 'Oh no, he's gone, Audrey.' "In rehearsal, I leapt out of the chair and yelled: 'Surprise!' I couldn't resist it. Poor Sean nearly jumped out of his skin. Then two extras kept tripping over my feet. I had to say: 'Oi, come on, I am supposed to be dying here.'." (I fought back to life twice, then I was bumped off with just two months notice... it was so sad, The Mirror, 11th January 1999)
After Alf was killed off, Mosley gave an interview where he expressed his disappointment at being forced out, refuting claims that he wasn't up to the demands of filming: "I feel like a new man, the best I have felt for three years, and I kept telling the producers I was getting better all the time." However, he understood the difficult position his colleagues were in: "When I came back, I was just pleased to be there, although I looked like something someone had dug up. I couldn't breathe properly. "It was a strain on everyone else because they thought: 'Is he going to drop dead, or what?' In fact, I looked iller than I was. But, of course, my appearance had changed so much." He clarified his feelings: "Now I will miss Alf. But I won't miss the schedule."
Mosley passed away after suffering another heart attack on 9th February 1999, six weeks after his character's death was transmitted. When he was buried on 14th February, Alf's trademark trilby was placed on the coffin.
Playing Alf
Edit
To aid his portrayal of Alf, Bryan Mosley created a backstory for the character which built upon the hints which had been given over the years, including his World War II experiences. Although none of this was explored on-screen, it helped Mosley get into character: "There's something of a fighter in Alf. He was in the army during the war and probably had quite a difficult war. He's still interested in the weapons of the 1940s. All that has been glossed over. Part of the way I play him is that he has this experience behind the staid image. He has been to strip clubs with Ray Langton and Ernest Bishop, and he had a girlfriend called Donna Parker that no one in the Street, only viewers, knew."
On the differences between him and Alf: "I don't go along with Alf about a lot of things. I don't spend time in pubs – it's a tremendous waste of time. He has a very limited outlook on travel and is never seen to read. I'm sure he does – he probably reads Tolstoy, but it's never been shown. I've got my own secret world of Alf that I work from." (Coronation Street: Celebrating 30 Years)
Mosley's screen wife Sue Nicholls was extremely fond of the actor and often praised his performance: "I'll say until my dying day that lovely Bryan didn't get the acting plaudits and the kudos he deserved. Alf may not have been the most showy character, but he was an ordinary man and it's very difficult to play ordinary. Any of us, with due respect, can play over the top, do a funny walk or pull a silly face, but it's very difficult to play ordinary because people don't think you're acting. Bryan came into that category because he remained so wonderfully true to the character he played." (Fifty Years of Coronation Street, Headline Publishing Group, 2010)
"What's up with you today?" (First line to Frank Barlow)
---
"I'm just gonna rest me feet for five minutes, I can't keep up with this young lot." (Final line)
External links
Edit