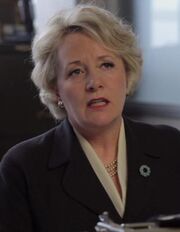 Brenda Whittle was the secretary of Harry Elton when he was an executive producer at Granada Television in the late 1950s and early 1960s.
The character was portrayed in the 2010 fiftieth anniversary drama by Michelle Holmes and credited as just "Brenda" though a commentator on The Guardian's website stated that she had been a girlfriend of his (and supplied her surname) but recorded that she had been neither "blonde nor brassy".
In the drama she is portrayed as being protective of her boss's time but later on to be supportive of Tony Warren in his drive to succeed in getting Coronation Street to the airwaves.
Ad blocker interference detected!
Wikia is a free-to-use site that makes money from advertising. We have a modified experience for viewers using ad blockers

Wikia is not accessible if you've made further modifications. Remove the custom ad blocker rule(s) and the page will load as expected.