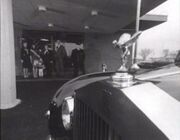 The Brookside Motel was a new departure for the Newton & Ridley brewery when it opened in February 1971, being sited near the M6 Motorway and outside of the environs of Weatherfield. The brewery purchased the land on which it was built for £65,000 from Colonel Cantrill OBE JP and it boasted the Bellman Lounge function room and several modern comfortable hotel rooms for guests.
The brewery decided that they would ask Ella Brough, the President of the Ladies' Licenced Victualler's Association to open the motel for them but she had to pull out for unspecified reasons and instead one of her two Vice-Presidents, Annie Walker, stepped in to fulfil the engagement after a bitter battle with her rival and fellow Vice-President Nellie Harvey.
Annie went to the motel in a taxi but also out on the road that day was the Mayor of Weatherfield's Roll Royce, which had been in the Canal Garage for a service and was being taken out for a ride by garage co-owner Billy Walker along with Irma Barlow and Elsie and Alan Howard. They were mis-directed to the motel by an RAC Man and were mistaken for part of the official party upon arrival, being greeted by manager Mr Whittaker and given a bouquet of flowers by a little girl. Upon hearing that the Howards were from Weatherfield he introduced the group to Annie who had to remain quiet as she had been overheard by them boasting about the "cocktail lounge" she ran back home.
Ad blocker interference detected!
Wikia is a free-to-use site that makes money from advertising. We have a modified experience for viewers using ad blockers

Wikia is not accessible if you've made further modifications. Remove the custom ad blocker rule(s) and the page will load as expected.