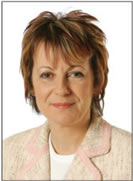 Carolyn Reynolds was producer on Coronation Street from 1991 to 1993, and had three spells as the programme's executive producer, first from 1993 to 1997, then between 1998 and 2000, (including the Spin-off Coronation Street - After Hours), and finally from 2002 to 2005. She has also been executive producer on Families and Hollyoaks, and in the late 1990s was Controller of Drama at Yorkshire Television.
Her television career began at Granada Television in 1978 with work on World in Action, Crown Court, There's Something Wrong in Paradise and Families. She also worked on the Street as a production assistant.
Ad blocker interference detected!
Wikia is a free-to-use site that makes money from advertising. We have a modified experience for viewers using ad blockers

Wikia is not accessible if you've made further modifications. Remove the custom ad blocker rule(s) and the page will load as expected.