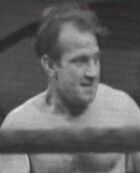 Charles "Chick" Purvey (1927 - 17th November 1966) was a Scottish professional wrestler who appeared on Episode 398 (5th October 1964) of Coronation Street in an undercard match against Terry Nylands as part of the storyline of Stan Ogden taking up the sport.
He regularly appeared on World of Sport where he was usually billed under the better-known spelling of "Chic Purvey".
Ad blocker interference detected!
Wikia is a free-to-use site that makes money from advertising. We have a modified experience for viewers using ad blockers

Wikia is not accessible if you've made further modifications. Remove the custom ad blocker rule(s) and the page will load as expected.