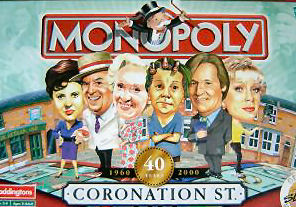 Branded with an "Official The Street Merchandise" label this was a Coronation Street theme version of the popular Hasbro game released in 2000 to tie-in with the programme's fortieth anniversary. The game play was the same as that of the traditional board game but the locations on the board were all locations in and around Coronation Street.
The cheapest location was Elliott & Son butcher's shop, the most expensive was the Rovers Return Inn. The board and box featured cartoons of Elsie Tanner, Fred Elliott, Annie Walker, Hilda Ogden, Ken Barlow, and Natalie Barnes.
The "Chance" and "Community Chest" cards featured a mix of traditional cards with a Street theme, such as: "Get taken in by Con man. Go to Jail" and "Go back to Fred Elliott's Butcher's. I said, Go back to Fred Elliott's Butcher's shop".
The players tokens were the traditional pewter pieces as used in the original game but the four railway stations were replaced by Street icons - Bet's Earrings, Flying Ducks, Ena's hairnet, and Betty's Hotpot.
A two-minute item was broadcast on Yorkshire Television's regional news programme on 7th September which showed William Roache, Tracy Shaw and Alan Halsall playing the game and featured interviews with them and Nicola Gregson of the manufacturers.