This wiki was created on 21st May 2008, and currently has 19,709 articles.
Overview | Browse | Categories | Wanted pages | Users | Discussion | To do list | Random page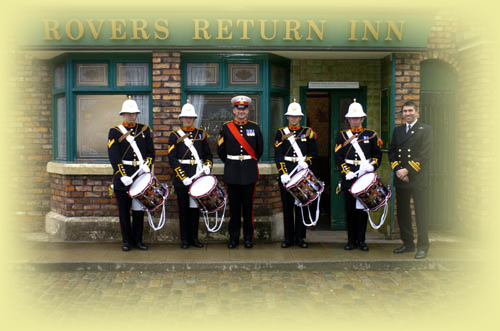 Coronation Street is a British drama serial set in the north of England, chronicling the professional and private lives of the residents of a backstreet in Weatherfield, a fictional suburb of Greater Manchester. Created by Tony Warren and produced by Granada Television and then ITV plc for the country's main commercial network, it first transmitted on 9th December 1960 and is the longest running drama series in the world still in production.

General information about the programme such as broadcast patterns, etc.
Information on specific episodes (complete)
Information on each charactor who has appeared (in progress)
Information about each actor or actress who's been in Coronation Street since 1960 (in progress)
Information on the people who work behind the camera to bring Coronation Street to our screens (in progress)
We also cover the spin-offs!

26th May 2008: A gang of hoodies hit The Kabin. Norris Cole was the only person there and was restrained while a youth took money from the till. As the hoodies left, Norris was pushed into the display stand, though he wasn't seriously hurt. Rita Sullivan and Emily Bishop were just returning to the Kabin at that moment and saw the hoodies run off. The incident had repercussions for several street residents: Norris installed CCTV in the Kabin, a couple decided not to buy No.4 because of the level of crime in the Street, and Jerry Morton had a heart attack while giving chase to the gang after they tried to raid Roy's Rolls.
Megan Hopkins

Megan Hopkins, her husband Cledwin, and their son Idris hailed from Wales. As an adult, Idris relocated to Weatherfield, married Vera, a Lancastrian, and gave Megan a granddaughter in Tricia. At some point after the death of her husband, Megan (or "Gran" to the family) followed her son to Weatherfield. With Idris working nights at a foundry, it was Vera who had to cope with Gran the most and some years before they moved to Coronation Street Gran's unreasonable behaviour caused Vera to have a nervous breakdown. In July 1974, Idris and Vera took Gran to Coronation Street to view the Corner Shop, as Maggie Clegg was selling. Gran had previously run a small chip shop. She thought the shop was pokey but went after it on the basis that, as Maggie had just married Ron Cooke and was emigrating to Zaire, and the sale was entrusted to her London-based son Gordon, that the Cleggs would want a quick sale and she could drive down the price. However, Gordon held them to £4,000 and with Gran refusing to go above £2,000, Vera came up with the solution of having the Hopkins rent the shop for £12 a week with the money coming off the purchase price of £3,500, with £450 for the stock. Gordon agreed and the family then moved into the shop's accommodation.
The Featured Character is the latest Main character article upgraded to "good" status on Corriepedia. For more about Megan Hopkins, go here.
"If you take a mirror and stick it up your nose - like dividing your face - well, if you look into another mirror, you can sort of make one big face out of half of your face, and it's different right and left. One of them's more what your face would be if you were a man, and the other's more what it would be if you were a woman, if you weren't one already. So when you fall for somebody, what you're seeing - now hang on a minute 'cos this bit's complicated - you see the face made up of the halves they'd be if that person were the same sex as you are. So your brain is imagining, although you don't know this, and if your brain is seeing that person as being the sort of person that you think you are yourself, then you fancy that person, and it's as simple as that."
Raquel Wolstenhulme describing something on a television documentary she watched
Refresh for another quote


Coronation Street transmission patterns by country:
Africa, the Middle East and Asia
United Kingdom