This wiki was created on 21st May 2008, and currently has 19,829 articles.
Overview | Browse | Categories | Wanted pages | Users | Discussion | To do list | Random page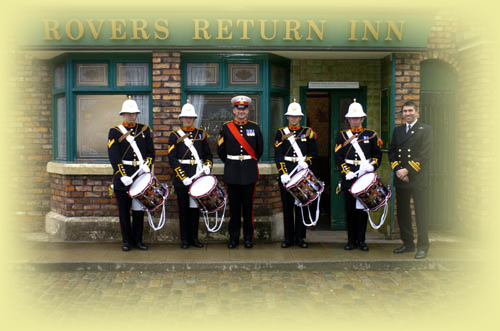 Coronation Street is a British drama serial set in the north of England, chronicling the professional and private lives of the residents of a backstreet in Weatherfield, a fictional suburb of Greater Manchester. Created by Tony Warren and produced by Granada Television and then ITV plc for the country's main commercial network, it first transmitted on 9th December 1960 and is the longest running drama series in the world still in production.

General information about the programme such as broadcast patterns, etc.
Information on specific episodes (complete)
Information on each charactor who has appeared (in progress)
Information about each actor or actress who's been in Coronation Street since 1960 (in progress)
Information on the people who work behind the camera to bring Coronation Street to our screens (in progress)
We also cover the spin-offs!

27th July 1981: Ken Barlow married Deirdre Langton at All Saint's Church in Weatherfield. Ken and Deirdre had had an on-off relationship since 1979, but Ken had often been non-committal as Deirdre was still separated from husband Ray Langton when they started dating and he was worried about being cited in the divorce. More recently, Deirdre had been seeing Mike Baldwin, much to Ken's chagrin, but when Mike deserted her at a party, Deirdre finished with him and got back together with Ken, who proved his commitment to her by proposing. Most of the Coronation Street residents turned out for the wedding, and Deirdre's mother Blanche Hunt made one of her infrequent visits to Weatherfield to see the couple tie the knot. The Barlows took their honeymoon in Corfu.
Mark Casey
Mark Casey was a young mechanic who worked under Kevin Webster at his father Tom's garage from 1989 to 1990. For his 21st birthday, Mark was given the garage, and in 1991 he sacked Kevin for doing foreigners. Without Kevin to keep him right, the inexperienced businessman ran the garage into the ground within a year. Mark was born on 15th October 1969. He was the only child of Tom and Jean Casey, businesspeople and owners of Casey's Autos in Weatherfield. At Weatherfield High, he was always getting into trouble, and once took the wheels off his teacher's car as a prank. At 19, Mark's two main passions were cars and women. He had two years experience working in garages and was a skilled mechanic but lacked discipline. When Tom bought Tilsley's Garage in Albert Road which was managed by the late Brian Tilsley's hired hand, Kevin Webster, he sent Mark to work there under Kevin, hoping that it would be an education for his son.
The Featured Character is the latest Main character article upgraded to "good" status on Corriepedia. For more about Mark Casey, go here.


Coronation Street transmission patterns by country:
Africa, the Middle East and Asia
United Kingdom