This wiki was created on 21st May 2008, and currently has 22,285 articles.
If you wish to contribute, please read our manual of style first.
Pages which need creating are listed as "wanted pages" below
Overview | Browse | Categories | Wanted pages | Users | Discussion | To do list | Random page
Kaleidoscope, the television archive organisation who have helped us with access to vintage episodes of Coronation Street are hosting this event on 8th December at which Episode 317 (25th December 1963) will be given a screening: https://www.eventbrite.co.uk/e/the-parkside-christmas-party-tickets-51614782203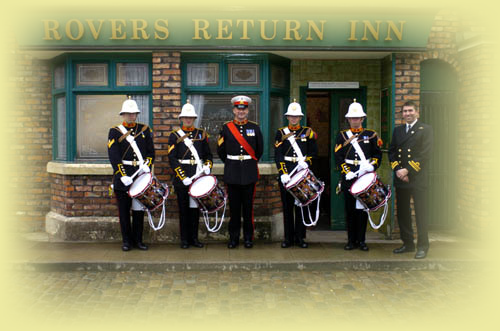 Coronation Street is a British soap opera which chronicles the lives of the residents of a backstreet terrace in Weatherfield, a fictional town in the north of England. Created by Tony Warren and produced by Granada Television and then ITV plc for the country's main commercial network, it was first transmitted on 9th December 1960 and is the world's longest-running television drama series.

16th November 1998: Having decided to leave Weatherfield, Tony Horrocks packed his things and prepared to move on. Before he left, however, his troubles caught up with him as three thugs arrived at 6 Coronation Street demanding money he owed them for drugs. When he couldn't pay up, they attacked him. Tony's stepfather Des Barnes entered and tried to intervene but he was knocked out, hitting his head on a coffee table. The thugs fled as Natalie Barnes discovered the scene. Des later died in hospital from a heart attack, leaving Natalie a devastated widow after less than a month of marriage.

Billy Walker
Billy Walker was the son of Rovers Return landlords Jack and Annie Walker who had a brief spell as the pub's licensee after his mother retired in 1984. Billy grew up in Coronation Street before moving south to make his millions in 1961. Most of the 1960s was spent running garages in London while searching for Miss Right; by 1969, he had been in two serious relationships and engaged once but never married. In 1970, Jack's sudden death forced Billy to return home to Weatherfield. He did his duty by living at the Rovers and helping out at the pub to support Annie, but resisted the brewery's attempts to install him as landlord, preferring to forge his own path. Returning to his trade, he bought the Canal Garage and divided his time between that and the Rovers. In 1975, he was weeks away from marrying Deirdre Hunt when his fiancée called it off. Billy decided that it was time to move on and left to work in a hotel bar in Jersey, which he made his home.
Previous featured characters: David Barlow; Maggie Cooke; Steph Barnes; Jackie Ingram; Phil Jennings; Jenny Connor.


Next episodes: Wednesday 14th November at 7.30pm and 8.30pm on


Coronation Street transmission patterns by country:
Africa, the Middle East and Asia
United Kingdom