This wiki was created on 21st May 2008, and currently has 21,621 articles.
MANY CONGRATULATIONS TO ITV AS ON 1ST MARCH 2018 "CORONATION STREET" BECAME THE LONGEST-RUNNING TELEVISION DRAMA EVER MADE!!
If you wish to contribute, please read our manual of style first.
Pages which need creating are listed as "wanted pages" below
Overview | Browse | Categories | Wanted pages | Users | Discussion | To do list | Random page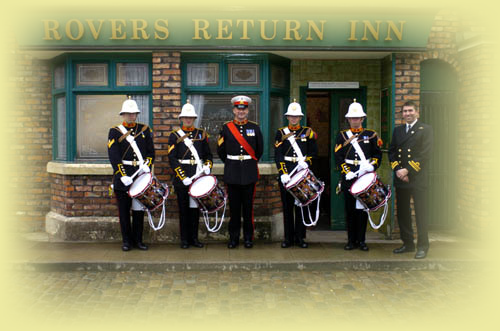 Coronation Street is a British soap opera which chronicles the lives of the residents of a backstreet terrace in Weatherfield, a fictional town in the north of England. Created by Tony Warren and produced by Granada Television and then ITV plc for the country's main commercial network, it was first transmitted on 9th December 1960 and is the world's longest-running television drama series.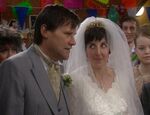 23rd April 1999: A momentous day for Roy Cropper and Hayley Patterson as they prepared to marry, but trouble was afoot from the off as Les Battersby sunk to a new low by tipping off some reporters that "two blokes" were marrying, inadvertently revealing the location of the wedding. The press wasted no time in hunting down the wedding party, but fortunately Emily Bishop caught on in time to stop Hayley from arriving at the church, leaving a hapless Spider Nugent and the minister Jessica Lundy to bluff the reporters. As the wedding party congregated at Roy's Rolls, Hayley admonished herself for ever expecting a happy ending. However, there was no reason they had to marry in a church, so Roy gathered everyone in the cafe and the ceremony went ahead there, with Hayley's Great Uncle Bert giving her away. Hayley then changed her surname to Cropper although due to UK law their union was not legally recognised.

Maggie Cooke

Maggie Cooke was Betty Turpin's younger sister and owner of the Coronation Street Corner Shop from 1968 to 1976. Maggie was born and raised in Tile Street, Weatherfield. She moved to Birmingham with her husband Les Clegg when they adopted their son Gordon, in order to protect their secret that he was Betty's illegitimate son. The Corner Shop was a fresh start for the Cleggs eighteen years later, intended to help Les beat the bottle. Les relapsed after a few weeks of sobriety and became abusive towards Maggie. After a two-year separation, the couple divorced. Maggie stayed on at the Corner Shop, running it with the help of various assistants, including Irma Barlow who was Maggie's partner in the business from 1970 to 1972. She was close to Alf Roberts, but a romance never formed. In 1974, Maggie married Ron Cooke and emigrated to Zaire, leaving Gordon to look after the shop. She visited to the Street for the final time that Christmas, when she informed Gordon that Betty was his real mother.
The Featured Character is the latest Main character article upgraded to "good" status on Corriepedia.
For more about Maggie Cooke, go here.



Coronation Street transmission patterns by country:
Africa, the Middle East and Asia
United Kingdom