Coronation Street in 1977
Talk

0
15,648pages on
this wiki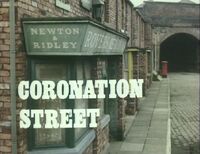 1977 was Coronation Street's eighteenth year. Two former producers, June Howson and Leslie Duxbury, returned to the position as relief for Bill Podmore for episodes 1738 to 1739 and 1744 to 1744 respectively. Podmore was producer for the rest of the year and would remain in the role until Episode 2269 on 29th December 1982 - a record-breaking run which has been unmatched since.
The early part of the year saw ratings climb to their highest level since the mid-1960s, reaching a peak of 9,500,000 homes, or 20.90 million viewers, with Episode 1697 on 20th April. This was the most-watched episode of Coronation Street of the 1970s and saw Len Fairclough marry Rita Littlewood, five years after the couple started their on/off relationship. Additionally, as of 1st August, viewing figures were now measured by number of viewers rather than homes as previously.
Storylines included Janet Barlow committing suicide by overdose, Bet Lynch co-habiting with Mike Baldwin and then finding out he'd lied about being married, the birth of Tracy Langton to Deirdre and Ray (the decade's only Street birth), Deirdre being assaulted under the viaduct, the Street's Silver Jubilee celebration, Hilda and Stan Ogden's second honeymoon, Ena Sharples having a fall while baby-sitting Tracy, and the death of Mavis Riley's Auntie Edie. The only new characters in 1977 were Suzie Birchall and Steve Fisher, a young couple who were partnered with Gail Potter.
104 new episodes were broadcast on ITV in 1977.
Main cast
Edit
Storylines
Edit
Who lives where
Edit
Coronation Street
Others