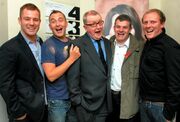 Damon Alexis-Rochefort was born in Cardiff on 22nd February, 1965. His first job was as a music writer for Smash Hits and The Sun 's Bizarre column. He then became a songwriter, record producer with his international No.1 hit I Wanna Give You Devotion by Nomad, then a chat show host with his live BBC show Damon Rochefort Tonight. Turning to television writing, he has written for Birds of a Feather, Boyz R Us and Britannia High as well as contributing 206 episodes of Coronation Street since 2004 including one co-credited with Mark Wadlow and another with John Kerr. The writer was credited under his birth name of "Damon Rochefort" until Episode 9043 (25th November 2016) when it was changed to reflect his recent marriage to Dan Alexis.
Episodes written by Damon Rochefort
Edit
2004 (1 episode)
2005 (10 episodes)
2006 (16 episodes)
2007 (14 episodes)
2008 (13 episodes)
2009 (17 episodes)
2010 (18 episodes)
2011 (14 episodes)
2012 (13 episodes)
2013 (17 episodes)
2014 (14 episodes)
2015 (20 episodes)
2016 (22 episodes)
2017 (17 episodes)
Ad blocker interference detected!
Wikia is a free-to-use site that makes money from advertising. We have a modified experience for viewers using ad blockers

Wikia is not accessible if you've made further modifications. Remove the custom ad blocker rule(s) and the page will load as expected.