David Barlow was Frank and Ida Barlow's youngest son and husband of Irma.
Born in 1942, David followed a very different career path from his elder brother Ken, getting his first major break as a professional footballer for Weatherfield County FC before transferring to a second division London team in 1961. He was forced to retire from football after tearing a ligament during a match in 1965, just weeks after marrying Irma Ogden.
David and Irma spent the next two years running Coronation Street's Corner Shop. Eventually, David yearned to resume his sports career and signed with an Australian team. Irma was already pregnant when they emigrated, and later that year she gave birth to their son, Darren. In 1970, David and Darren were fatally injured in a car crash which David was driving.
Biography
Edit
1942-1960: Early life
Edit
David Barlow was born on 4th July 1942 and spent his formative years at 3 Coronation Street, Weatherfield, which had been home to the Barlows since 1938. David was Frank and Ida's second-born, after Kenneth in 1939.
For the first three years of David's life, postman Frank was away fighting in the war, and Ida was raising the boys alone. Like any toddler, David got up to his share of mischief; when he was one, he un-threaded his cot blanket and stuck the wool up his nose, resulting in Ida rushing him to hospital where a doctor spent two hours pulling it all out.
David was educated at Bessie Street School and grew into a bright and affable lad. When he was old enough, he went to work at Ajax Engineering and signed up for night school classes to learn the trade. His first girlfriend was Linda Tanner from No.11. When Linda agreed to go out with him, David borrowed a friend's tandem and took her up to the hills, where he kissed her. The moment was spoiled when Linda told David that she and Christine Hardman were going out with two American servicemen from a nearby base. David remarked bitterly that Linda was turning into her mother, who according to some had "entertained more Yanks in the war than the Hollywood Canteen". They never dated again and David received a slap across the face for his troubles.
1961-1965: Football career
Edit
From an early age, David stood out as one of the best footballers in his class. In 1957, he won a medal for playing with the school team and after leaving school he kept up the sport, competing in his firm's squad. It was while at Ajax in March 1961 that David was headhunted by Mr Lawther, talent scout for Weatherfield County FC, and offered the chance to sign for County as an amateur. David accepted and in his first match he scored a goal for the team, helping them win 3-0. After six weeks, he was picked to play in the first team.
David had embarked on his football career with youthful enthusiasm, promising his parents that he would carry on with night school to assuage their concerns over his long-term future. However, in June a second division London team offered £1,000 to transfer David, who packed in his job and his studies to pursue football full-time and move to London. On his last day in Weatherfield, David was given a travelling clock by his workmates as a farewell present and his club sang "We'll Meet Again" to him.
David lived in London until 1965 with four home visits in the interim in September 1961, April 1962, June 1963 and December 1964. The first was for Ida's funeral after she was tragically hit by a bus in Gray Street. David watched his mother being buried from a distance, too upset to join the others at the graveside. He next returned on Easter Monday 1962 when his team played against County, and in 1963 he turned up as a surprise to Frank on the occasion of his DIY shop opening for business in Rosamund Street.
In 1964, David was suspected of taking a bribe and suspended from the team. Seeking an escape from his troubles, he went to spend Christmas with Ken and his wife Val at 9 Coronation Street (Frank having moved to Wilmslow), making out that he was on the injured list. Eventually the local papers reported on his suspension and the residents found out about the bribe, with the majority presuming him to be guilty and sending him to Coventry for "ruining the game". Events came to a head when David and Ken went to the Rovers to show that they didn't care what people thought and got into an argument with Stan Ogden and Len Fairclough. In a speech defending David, Ken accidentally revealed that he believed his brother had accepted the bribe, leading David to thump him and give everyone a piece of his mind before returning to London in disgust. He was cleared of any wrongdoing in February 1965.
In April, David tore a ligament during a match and was soon back in Weatherfield lodging with Albert Tatlock at 1 Coronation Street. David announced that he was bored with football and planned to retire but the following month he was offered a two-year contract as a player coach for Weatherfield Athletic by the company's chairman Sid Lambert and accepted, moving back to Weatherfield permanently for £35 a week. He also ran the Athletic's social club as social and sports officer.
David lasted just seven months at the club as in December 1965 while playing at a benefits an aggressive tackle by Larry Palmer resulted in him rushed to the Royal Infirmary in an ambulance. Dr. Aston told David that the ligament in his left knee had been irrevocably damaged and he wouldn't be able to play football professionally again. David refused to believe it until his leg buckled the next time he tried to play. The news left Sid Lambert with no choice but to sack David from the club, but out of sympathy he invited him to work as an engineer on the factory floor at Lambert Engineering. David rejected the offer, considering it a step down, and left football after four years with just £300 compensation to show for it.
1965-1967: Irma and the shop
Edit
On David's Christmas 1964 visit to the Street, Irma Ogden of No.13 fell for him and they went on a date. Neighbours were surprised to see David take up with "common" Irma but David found her to be good company. When he came back in April 1965, they resumed their relationship, and on the coach back from the Blue John Mines in June David asked Irma to marry him and got a 'yes' back.
On the back of his Weatherfield Athletic earnings, David could afford one of the new £3,600 detached houses on the Sandy Lane estate and in December he put down a deposit. The wedding presented more of a problem; Stan and Hilda couldn't afford a big do, and eventually David convinced Irma that they should elope on 8th December without telling their families, with a few of his footballing mates acting as witnesses. The couple were married at the Ridgeway Road Registry Office on that date and had their reception at the Elizabethan Rooms. As they were debating whether they'd done the right thing, their relatives and neighbours surprised them from behind a screen, having found out about their plans thanks to a talkative taxi driver, Ernie Bond.
The Barlows had a two-day honeymoon in Blackpool before settling into digs at 17 Attlee Street. They were waiting to move into the Sandy Lane house when David had his accident and, without his football wages, they had to pull out of the purchase. Irma then suggested buying the Corner Shop as her employer Lionel Petty was selling. David was initially too proud to accept living in Coronation Street, causing Irma to walk out on him, but after a pep talk from Val David changed his mind. The shop and its accommodation were handed over to the Barlows on 26th January 1966.
David did what he could with the shop but his heart was never in it. The shop was typically where the women of the Street went to gossip and he found that he missed his old life. Irma - a flighty young woman - also found the reality of running a business underwhelming; after four months she got sick of the early starts and went for a job at the PVC factory across the street, returning three months later after getting bored and packing it in.
In July 1967, Irma fell pregnant. David was excited to be a father and when she lost the baby in November, he pressed her to try again. However, the miscarriage scared Irma into thinking that she couldn't bear children and to placate his wife David started exploring other options. At Christmas, they became foster parents to Jill Morris, whose mother was in hospital. The Barlows were surprised to meet Jill as they'd been told they were getting a boy and had bought Christmas presents for "him" accordingly. The experience was positive for the couple, and left an impression on Jill; a year later she turned up in the Street looking for them, only to find that they'd moved out.
1968-1970: A new beginning and a tragic end
Edit
David's mind continually drifted back to football. In 1967, he managed the Weatherfield Hotspurs, an all-woman's team, and the following February, he played in his first match since the accident. Having made it to the full-time whistle without a twinge, David declared that he was going back to play professionally while he was still young enough. Irma slapped him when he told her and refused to support his application to an Australian team. David let his wife have her way but when he was offered the contract and Irma saw the picture of the house that went with the job, she had to admit that the opportunity was too good to pass up.
The Corner Shop went up for sale in March and was eventually bought by Les and Maggie Clegg. That same month, Irma discovered she was pregnant again. As the couple prepared to leave in early April, Hilda sent drayman Vince Boyle round to tell Irma horror stories about Australia in a misguided attempt to dissuade the Barlows from moving. Her scheming only succeeded in causing the couple to spend their last day in Weatherfield rowing. Irma went to Australia on the promise that she would feel differently once they arrived. After a final drink with his brother in the Rovers, Ken drove the Barlows to the station to begin their journey.
The Barlows' son Darren was born on 20th November, weighing 8lbs.
In April 1970, the Barlows were involved in a car crash while David was driving. David and Darren did not survive. The news was relayed to Ken and the Ogdens through a long-distance telephone call which came through from the hospital ten minutes after David had died. According to Irma, she and David had been arguing over her unhappiness at being in Australia at the moment of the crash. Irma used this fact to blame herself for the accident and the deaths of her husband and son. When Hilda brought her home to Weatherfield, she was a damaged woman who would be forever haunted by her loss.
Relationships
Edit
Ken Barlow
Edit
David and his brother Ken Barlow had something in common - they both married someone who wasn't much like them at all. Ken and his wife Valerie had many more ups and downs than David and Irma, and Ken usually ignored David's advice when it was offered. As a teacher who put his principles above his family sometimes, Ken was even willing to go to prison for seven days in 1967 by joining a student demo and refusing to pay a fine after being caught by the police. David and Val considered paying the fine behind Ken's back but Val refused as it would undoubtably be a massive betrayal to Ken.
Despite their different interests the brothers got along well.
Other information
Edit
David was godfather to Ken and Val's twins, Peter and Susan Barlow, born 1965.
David helped out when a train crashed through the viaduct in 1967. He was the one who rescued Ena Sharples.
Background information
Edit
Creation and casting
Edit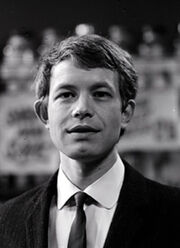 David was one of the original characters of Coronation Street, appearing in the first episode. In the early planning stages, Ken Barlow had a sister named Enid, who was not an early version of David but a separate character who lived at No.7 with her husband Harold. In the final dry run scripts, Ken was the only Barlow child to appear; it is likely that Enid and Harold had been dropped by this stage. Further rewrites took place after the pilots were shot, incorporating feedback from producers and Granada's top executives. Tony Warren was asked by bosses to give the programme a male teenage presence and David Barlow was the result.
Oldham-born Alan Rothwell was one of the last actors cast for the new serial. Rothwell had worked extensively on radio as a child actor, appearing in plays with Tony Warren, Doris Speed and Violet Carson. He later worked at Oldham Rep (with William Roache) and spent a year at RADA before doing his National Service. He came to the casting directors' attention when he appeared on television in Love on the Dole, adaptation of Walter Greenwood's novel set in working class Salford. His performance in the BBC drama led to him being offered the role of David Barlow without an audition: "People at Granada saw it and offered me a part in Coronation Street. They offered me David Barlow straight from that." (The Coronation Street Story, Boxtree Ltd, 1995)
Development
Edit
Rothwell left Coronation Street in June 1961 in order to pursue another role. He was the first cast member to leave the programme. Rothwell: "At the end of six months I asked to be written out because Associated Rediffusion were doing a detective thing called Top Secret, which was set in South America, and they were looking for somebody to play the main detective sidekick. I was chosen for that. It was before the Equity strike." (50 Years of Coronation Street: The (very) Unofficial Story, JR Publications, 2010) Top Secret was cancelled after one season due to the Equity actors' strike.
David was frequently mentioned after his departure, notably returning to Weatherfield for his mother Ida Barlow's funeral in September 1961 despite remaining off-screen. Rothwell returned to the part for two episodes in June 1963 and again for six episodes over Christmas 1964. With Episode 456 on 26th April 1965, Rothwell re-joined Coronation Street as a full-time cast member. He quit again in 1968: "I had never wanted to be in the same thing for ever and eventually in the Street I became unhappy... I couldn't continue to play the same part." (The Coronation Street Story) His last appearance was in Episode 764 on 10th April 1968.
Once again, David's story continued off-screen; the birth of his son Darren was announced later in 1968 and his wife Irma, who had been written out with David, returned for three weeks over Christmas 1969. Producers hoped to follow this up by bringing the family back full-time. Sandra Gough, who played Irma, signed a new contract but Rothwell was unable to commit to the same as he was busy with theatre work. Writers took the decision to kill off both David and the unseen Darren in a car crash so that Irma could return from Australia without any ties. Rothwell took the news of his character's death on the chin: "I was a bit surprised and a bit sad. Not too much. I saw what the reason was and I thought, 'That's fair enough'. I'd always been able to run back if things got tight." (50 Years)
First and last lines
Edit
"'ello, Ma"
---
"Ta-ra everybody."
Appendices
Edit
Residential history
Edit
Employment history
Edit
External links
Edit