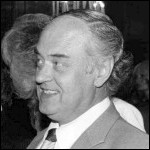 Dennis Spooner (1st December, 1932 - 20th September, 1986) was a prolific television scriptwriter and story editor, perhaps best known for his work on Doctor Who and numerous ITC shows such as Thunderbirds and Captain Scarlet. He co-created Man in a Suitcase with Richard Harris, and The Champions, Department S, Jason King and Randall and Hopkirk (Deceased) with Monty Berman.
Dennis's contribution to Coronation Street was just one instalment - Episode 87 (11th October 1961) - however he also co-wrote an episode of the spin-off Pardon the Expression (The Little Boy Lost) in 1965. He passed away in 1986 after suffering a heart attack, aged 53.
Ad blocker interference detected!
Wikia is a free-to-use site that makes money from advertising. We have a modified experience for viewers using ad blockers

Wikia is not accessible if you've made further modifications. Remove the custom ad blocker rule(s) and the page will load as expected.