Dennis Tanner was the son of Elsie Tanner and a Coronation Street resident from 1942 to 1968, and then again from 2011 to 2014. He is the estranged husband of Rita Tanner, the brother of Linda Cheveski, and the uncle of Paul and Martin Cheveski.
Dennis was the black sheep of the Tanner family. An ex-borstal boy, Dennis pursued a legitimate career as a talent scout for Lenny Phillips and spent a few years working in clubs. His camp, charming manner made him a natural entertainer, but his hare-brained schemes never went to plan and after a few years he quit the business.
In 1968, now a sales rep, Dennis married Jenny Sutton and the two moved to Bristol. Five years later, the marriage had broken down and Dennis found himself in prison for conning money out of pensioners. After some lean years, including a spell of homelessness in late 2010, Dennis found himself back on the Street in 2011 after some forty years away.
Within months of his return, Dennis entered into a romantic relationship with old flame Rita Sullivan. Though reluctant to continue the relationship for fear of sponging off her, the couple ended up realising their love and got engaged in March 2012, marrying in June of the same year. However after many complications, their marriage hit a rocky patch in February 2014 and Dennis left Weatherfield with friend and neighbour Gloria Price, although this union didn't last as he was back in Weatherfield by April. Despite his best efforts to try and reconcile with Rita, he ended up leaving in July that year.
Biography
1942-1960: Early life
Dennis Tanner was born at 11 Coronation Street, Weatherfield on 1st April 1942, the son of Elsie and Arnold, and younger brother of Linda. He was delivered by neighbour Vi Todd, and the family continued to live in the house, such as it was: Arnold and Elsie separated in 1945 and Arnold didn't contact Elsie again until 1961. Growing up without a father figure, Dennis was frequently in trouble as a child. At nine years old, he even managed to etch "Dennis Tanner 1951" into the window ledge of No.11. He always lived by his own rules and ended up spending time in a borstal in 1960 for petty theft.
When he returned home, he spent more time moping around the house than looking for a job, however unlikely it was that anyone would employ him. When he won £25 at the dog track, people were quicker to believe he had stolen the money. Elsie was relieved when neighbour Harry Hewitt revealed that he had seen Dennis win the money, providing him with an alibi.
1960-1963: Career in showbusiness
When Dennis did find work, it was in the auditorium of the Orinoco Club; a job with prospects but not quite in the way Elsie had envisioned. He briefly dated one of the club's acts, Joyce Bond, but when he took her home Elsie was unwelcoming. Dennis told Elsie that he was embarrassed to bring girls home and called her a hypocrite - she had had more than her fair share of boyfriends over the years.
Dennis was intrigued by the world of showbusiness; after a few months, he took a regular singing spot at the club, performing under the stage name "Ricky Dennis". He hoped that an agency would recognise his talent and sign him up, but when well-known agent Lenny Phillips asked to see him, he was advised by Lenny to abandon his singing career as he wasn't very good, and work for him as a talent scout. Dennis was made Assistant Manager at the Orinoco and in 1962 left Weatherfield for London to open an office there for Lenny's agency.
In 1963, Dennis returned and moved back in with Elsie. True to form, he immediately caused trouble by opening the door to bailiffs, unaware of the lengths Elsie had gone to keep them out. He was quiet about his life in London, but when Mavis Fox arrived looking for a Dennis Tanner who lived in a detached house in Coronation Street, Elsie smelled a rat and got it out of Dennis that he had been living with Mavis' family and that the upper-class girl had believed he was from a wealthy family. He tried to pretend that his gran lived in Coronation Street and Elsie was the maid but had to admit the truth eventually. When he did so, Mavis lost interest in him and returned home.
Still working for Lenny Phillips, Dennis kept his eye out for new talent. He was ecstatic when he met window cleaner Walter Potts, who turned out to be a talented singer. Walter agreed to hire Dennis to find him gigs. Walter's career was just starting to take off when Lenny's partner Laurie Frazer showed up and put Dennis under pressure for not signing up Walter officially, only on gentleman's agreement – Walter had since signed a three-year contract with a London agency, invalidating his agreement with Dennis. Amazingly, Dennis wasn't sacked, but later lost the job anyway for failing to open the office over Christmas.
1964-1966: Back to square one
To the residents' surprise, Dennis went back to square one when he got a new job in the loading bay at Amalgamated Steel. It was a physical job he wasn't suited to and he didn't get along with his workmates. Without a care, he took the blame for damaged stock so he would be sacked.
Next up was a job at the Viaduct Sporting Club, which he had to thank Elsie for as she was dating its manager Laurie Frazer. Surprisingly, he packed it in after only a few months to study hairdressing. The course was unpaid but Elsie approved of it and wanted to encourage him, and so she secretly took a job posing for art students in order to fund Dennis while he wasn't earning. When Dennis found out, he offered to drop out of the course for Elsie's sake but she persuaded him not to. After passing his exams, he got a job at the posh Gerald's Salon.
Later in 1964, Dennis met Sandra Petty, who fell for him. To his horror, Sandra's dad Lionel Petty bought the Corner Shop, making it impossible for Dennis to avoid her. In exchange for use of the shop storeroom to keep bulk items he intended to sell, Dennis agreed to go out with Sandra. His scheme worked until Sandra got into trouble for storing 144 boxes of crackers in the loft at Gamma Garments for Dennis. She finished with him, calling him selfish. Dennis was disheartened - but only because he now had 108 Christmas trees and nowhere to put them!  In December of the same year, Dennis spotted his friend Rita Littlewood in the Rovers Return and allowed her to stay the night at the Tanner residence.  Rita would become an important figure in Dennis's life almost half a century later.
In 1965, Dennis decided he wanted to work somewhere else but a clause in his diploma meant that he couldn't practice hairdressing professionally at anywhere other than Gerald's. He left the business anyway, and - after a short spell working at the Corner Shop - got a job as a salesman for the Children's Novelty Toy Company. In typical Dennis fashion, he started out with a zest for the new challenge but after a few months got bored by it and got himself sacked by skipping work.
The following year, Dennis decided to get back into showbusiness. After a short-lived venture running an auction room with borstal friend Jed Stone, Dennis took a job as the Entertainments Manager at a holiday camp in Carlisle, and left Weatherfield to move closer to work. He returned to the Street in June, hotly pursued by two thugs who were after £94 he owed them. Elsie found Dennis a job at Dave Smith's Betting Shop in Rosamund Street but he gambled away his earnings, and when he found out the thugs were after him, he hid away in No.11 until a generous Len Fairclough paid the thugs off and offered to let Dennis work at Fairclough and Booth to pay off the debt.
1966-2010: Leaving the Street
With few job prospects, Dennis stayed on at the yard but quit after accidentally setting Len's house on fire while decorating it. Dennis accepted a job offer from Emily Nugent to manage the men's section at Gamma Garments. He got on well with his co-workers Emily and Lucille Hewitt.
In 1967, Dennis taught English to Swede Inga Olsen and the two started dating. They were caught in Gamma Garments late at night by Emily and the owner Mr Papagopolous. He would have been sacked anyway, but he resigned so Emily wouldn't have the burden of firing him. Keen on Inga, he went to Sweden with her, returning a month later not with Inga, but her sister Karen, who he signed off as his au pair, claiming to be Steve Tanner (the real Steve Tanner was Elsie's fiancé). The affair ended when a Swedish official visited Weatherfield to check on Karen and discovered the deception. Karen was sent elsewhere.
Dennis went through a few more jobs but never stayed anywhere for long. When Elsie married Steve, the newlyweds moved and Dennis took in some circus performers as lodgers, which horrified the neighbours. Elsie wasn't shocked that Dennis was up to his usual tricks and was fine with it as long as the bills were paid and the house stayed in one piece. Eventually Dennis got rid of the lodgers but couldn't even manage the cooking on his own, relying on the neighbours to help him out.
The Tanners reunited at No.11 to spend Christmas together before Elsie and Steve emigrated to the United States of America. When Dennis was left alone again, a party at No.11 went out of hand when the party-goers – hippies – decided to squat there. The neighbours complained to the landlord who wanted everybody out, including Dennis. With his family all gone, Dennis decided there was nothing left in the Street for him and didn't fight the eviction.
He took a shine to one of the hippies, Jenny Sutton, and got her a job at the hotel where he worked as a waiter. Jenny was impressed when Dennis blackmailed his boss who had groped her. Hoping for romance, Dennis followed her to London when she left Weatherfield abruptly.
Later in 1968, Elsie separated from Steve and moved back into No.11. Dennis returned with Jenny in tow, lying that they were married so that Elsie would let them sleep together. Elsie wasn't fooled and tried to make Jenny feel uncomfortable but became more supportive when they announced that they were actually going to get married.
Dennis got a job as a salesman again, selling hairdressing toiletries. A crisis arose when Dennis's boss asked him to be in Bristol for a work meeting on 29th May, the day of his wedding. Dennis waited until after he and Jenny had married to tell her, but Jenny understood that he'd been put in a difficult position and his boss was so impressed by his dedication to the firm that he offered him the position of area manager in Bristol. He accepted, and the Tanners moved to Bristol for a new and better life.
In 1973, Dennis was sent to prison for for three years for defrauding pensioners in a double-glazing scam. By this point, Dennis and Jenny's marriage had broken down and she left him. Although Elsie continued to live in the Street for over a decade afterwards, Dennis never returned to visit her. Elsie often complained but her affection for her son still stood: when he was sent to prison, Elsie visited him, allowing her neighbours in Weatherfield to think that she was having a secret affair.
In 1984, Elsie left the Street to run a wine bar in Portugal with her old boyfriend Bill Gregory. Dennis reconciled with her not long after she and Bill married, and was a frequent visitor to the Gregory household until the two were killed in a road accident in the mid-2000s.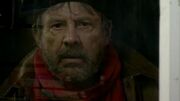 Dennis gradually found that his "speciality" acts were becoming increasingly unneeded and unwanted in the 21st century. However, around 2009, he found a lifeline, and meal-ticket, in Norma Fountain. Dennis moved in with Norma and, pretty soon, they made arrangements to marry. Dennis knew he didn't love her but found it difficult to tell her face-to-face. On the day of their wedding, he didn't turn up, leaving Norma confused and upset.
2010-2011: Back in Weatherfield
By late 2010, with Elsie no longer around to lean on, Dennis' luck finally ran out and he ended up homeless. He found himself back in Weatherfield, frequenting a local soup kitchen run by the Roof & Refuge charity. During one of his visits to the kitchen in May 2011, Dennis ended up chatting to two teenagers who volunteered there, Sophie Webster and Sian Powers, who were charmed by his manner and stories. They invited him to Roy's Rolls in Victoria Street for some dinner. Not realising how close in proximity the cafe was to his birthplace, a hesitant Dennis made a quick exit. Under the cover of night, he returned to Coronation Street to examine No.11. He was tackled by ex-cabaret singer and one-off girlfriend Rita Sullivan, running off when the two recognised each other.
Rita managed to track Dennis down while volunteering at the soup kitchen the next day, and after initially making yet another hasty exit, returned to see her, nearly fifty years after their last encounter. The two talked and reminisced about the old days over tea, with Rita offering Dennis her sofa in her flat above The Kabin. A clean-shaven Dennis made his first visit to the Rovers in four decades, along with Rita who reintroduced him to Ken Barlow and Emily Bishop - and introduced him to a somewhat irate Norris Cole, who warned Rita that Dennis may be up to no good. In spite of this, Rita and Dennis began to grow close and, after months of living together, entered companionship.
A chance remark in July 2011 helped to unearth a link between Dennis and the Grimshaws of No.11: after Dennis revealed that his mother Elsie's maiden name was Grimshaw, Julie Carp convinced herself that Dennis was related to her half-sister Eileen Grimshaw. Researching the family trees of all involved, Julie discovered that Arnley Grimshaw, a cousin of her and Eileen's father, was also Elsie's cousin - making Julie and Eileen long-lost nieces of Dennis.
In November 2011, it transpired that the Roof & Refuge charity was in fact a money-making scam set up by its managers Rob and Janet White. When the two were tracked down and arrested, a well-meaning Norris contacted the Weatherfield Gazette to tell them of Dennis' personal story and his struggle with homelessness - without informing Dennis himself. The article, which included particular details including the address of The Kabin, was published in the evening edition. Dennis flew off the handle, insulting Norris for wading into his life in such a manner - and his worst fears were confirmed when Norris told him that a woman called Norma Fountain had turned up at The Kabin in search of Dennis. True to form, Dennis disappeared. He was tracked down by Rita and Deirdre Barlow and, with Rita's encouragement, faced Norma in the Rovers. He admitted to Norma that he never loved her - but she revealed that she already knew, and that all she wanted was somebody to look after. She left, finally putting the matter to bed.
2012-2015: Later life
In March 2012, Norris built on Dennis' insecurities by pointing that he had made no effort to pay Rita for her hospitality. Rita insisted that it was not necessary, but Dennis felt guilty for "taking advantage". He managed to contact an old friend in Birmingham, who offered him a job in a DIY shop. He accepted, leaving Rita devastated. She revealed to Audrey Roberts that she did not want him to leave - Dennis had filled a gap in her life and she had grown to love him. Nonetheless, both she and Dennis remained unable to convey their true feelings to each other, and the two parted tearfully. However, Dennis - spurred on by the thought of Rita's support over the last year - changed his mind and returned. Finally admitting that they both loved each other, Dennis proposed to Rita and she accepted. However in June prior to the wedding, Dennis began seeing Norma again in secret as he was supporting her after her son ended up in a car accident. When Norris spotted Dennis letting Norma into the flat, he informed Rita who thought Dennis was cheating. Despite finding out it was just a misunderstanding, she claimed she couldn't trust Dennis, leaving him to wonder if she would go ahead with the wedding. At the register office, Dennis became worried that Rita was late, unaware she had been kidnapped by loan shark Rick Neelan. Dennis believed he had been jilted, and it wasn't helped by Norris' constant jabbing. However, Rita later turned up in the safety of the police, and they went ahead and got married.
In late 2012, Dennis decided he didn't want to sponge from Rita anymore, so got himself a job at Bessie Street School as a Lollipop man. He was too ashamed to tell Rita about his new occupation, so made out that he had a better job. However Steve McDonald spotted Dennis as a patrol man and made a joke about him. Dennis then told Rita who turned out to be happy with it. However Dennis entered into a feud with Steve, and began deliberately blocking the road to stop him getting by in his taxi. A fed-up Steve decided to have his own revenge and told headmaster Brian Packham that Dennis was being mean to the children. Brian approached Dennis about the accusation, and Dennis packed in the job feeling he was unfairly accused. Dennis' mentor and now retired lollipop man Malcolm Lagg decided to help Dennis get his own back at Steve, so gathered up loads of lollipop men and women from across Weatherfield to block Coronation Street, preventing any Street Cars taxis from being able to leave. Malcolm then got Steve to apologise to Dennis and drop the accusation, and Dennis resumed work at Bessie Street.
In late 2013, Dennis began to reminisce about his days as a talent agent, much to the displeasure of Rita. He contacted old client Ritchie de Vries, and with the help of Gloria Price, set up a gig at Nick's Bistro with Ritchie's band, leaving Rita feeling left out. Dennis became jealous of Richie and Gloria's closeness and later tried to impress Gloria by dressing up in fancy gear much to the displeasure of Rita. In amidst a discussion in the Rovers, Dennis let it slip that Gloria was younger than Rita, Angered, she told him to leave her alone. Giving Gloria an opportunity to hone in on Dennis, she invited him to stay over at No.13 although he returned to The Kabin the next day to reunite with Rita. This reconciliation was short-lived as Gloria let slip that he had slept in the couch the night before and the future of his marriage to Rita looked bleak. When Ritchie informed them that he'd been poached by an international management outfit, Dennis vowed to retire from the music business and begged Rita for another chance.
A few days later however, Dennis discovered that Gloria was planning on leaving Weatherfield for a new life. She invited him to join her, telling him that he would feel trapped with Rita. Deciding he'd had enough of married life, Dennis left Rita in the Rovers with friends Emily Bishop and Mary Taylor without warning, packed his bag and accompanied Gloria in her new sports car, saying farewell to the stunned Price family and broken Rita in the Street. Dennis and Gloria, regretting nothing, then drove away with the intention of boarding a ferry. The following day - on Rita's birthday, Dennis sent her a text message apologising for his actions.
However the relationship with Gloria didn't last and Dennis returned to the UK only being able to afford a plane ticket back. He was again living rough on the streets, and in April 2014 he was beaten up whilst sleeping in a doorway and admitted to Weatherfield General. He contacted Rita and she came to visit him, although she was still angry about the way he'd upped and left a couple of months previously. She left the hospital refusing to be drawn in by his charm and wittiness. However when he was discharged later in the day, Rita waited for him at the hospital with the offer of letting him live with her temporarily until he found proper accommodation. Despite his best efforts to impress her, Rita refused to take Dennis back, so he moved in with Julie Carp at No.12, determined not to give up on Rita. When Tina McIntyre was viciously assaulted in May, Dennis began offering his support to Rita while she kept a bedside vigil, much to the dismay of Norris. 
In July, Dennis orchestrated a plan to get back with Rita by getting Julie to throw him out of her flat in a staged argument, knowing that Rita would take him back in as she wouldn't want him back on the streets. Despite the plan seemingly working, Norris exposed the scam when Julie let it slip and Rita ended things with Dennis. In the Rovers, Dennis revealed his plans to leave Coronation Street to Julie much to her dismay. The next day Dennis turned up at The Kabin to see Rita with his bag, only to come face to face with Norris who made more snide remarks. Having enough of him, Dennis punched Norris to the ground and attacked him in an attempt to take money from the till but was caught by Rita who then threw a devastated Dennis out. He later stood outside No.11 with Julie reminiscing about Elsie and his markings "Dennis Tanner - 1951" under the bay window. After a tearful goodbye to Julie, Dennis departed as a saddened Rita looked on.
Rita received a letter from Dennis in November 2015 - fifteen months after he left Weatherfield, stating that he wanted a divorce.
Personality
Camp and charismatic, Dennis lived life on the edge, charming his way through his problems, even though things rarely went his way. He lived by his own rules, and was difficult to trust as he would be dishonest if it suited his interests to do so. He was also impulsive and self-assured, an attitude that caused great distress to his mother Elsie, who greeted his latest escapades with trepidation. In later life, many of the attributes that coloured his early years - running away from his problems rather than tackle or resolve them head-on - remained with him unless he was persuaded otherwise.
Hobbies and interests
Dennis tried his hand at everything while he lived in the Street, but tended to move quickly onto new interests. He briefly played the guitar, but gave it up in favour of singing - which he also later gave up.
Other information
Background information
First and last lines
"Where's what?" (First line)
---
"Make sure Eileen never covers that up. See you love." (Final line to Julie Carp, with reference to his name marked under the bay window of No.11)
See also
External links
Ad blocker interference detected!
Wikia is a free-to-use site that makes money from advertising. We have a modified experience for viewers using ad blockers

Wikia is not accessible if you've made further modifications. Remove the custom ad blocker rule(s) and the page will load as expected.