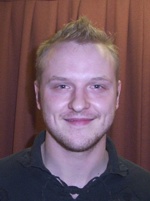 Dominic Leclerc gained in 2004 a year's sponsorship from Channel 4 for a programme to fund trainee theatre directors. He is also a choreographer who extensively for Sheffield Theatres and worked on many productions on the stage in that role and as assistant director, in particular a production of A Midsummer's Night Dream for the Regent's Park Open Air Theatre. He won the Oxford Samuel Beckett Award and the David Fraser Bursary and, making his move into television, directed 30 episodes of Coronation Street from April 2008 to April 2011. He has also worked on Holby City, Emmerdale, Casualty, Skins, Shameless and The Village.
Episodes directed by Dominic Leclerc
Edit
2008 (5 episodes)
2009 (10 episodes)
2010 (10 episodes)
2011 (5 episodes)
Ad blocker interference detected!
Wikia is a free-to-use site that makes money from advertising. We have a modified experience for viewers using ad blockers

Wikia is not accessible if you've made further modifications. Remove the custom ad blocker rule(s) and the page will load as expected.