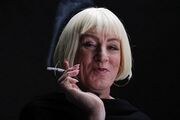 Brenda (better known as Fat Brenda) is an unseen character who works the switch and does occasional driving jobs for Street Cars.
On the Coronation Street Blog, a blogger under the name of Fat Brenda does numerous blogs detailing the character's point of view and the events occurring in the programme. The user officially retired from the character in 2017.
In 2012, actor Steve Huison (who previously played Eddie Windass), appeared as Fat Brenda in a one-man stage production titled Fat Brenda - My Flamin' Story, written by playwright and former Hollyoaks and current Emmerdale storyliner, Joe Parkinson.
In the online spin-off Street Car Stories, it was revealed in the third episode - The Switch - that Fat Brenda has a daughter named Imogen. Steve McDonald and Lloyd Mullaney found her operating the switch and she told them that her mother had gone on a skiing holiday in the Alps. Steve and Lloyd also avoided using the word "fat" to describe Brenda so as not to insult Imogen. It was also implied that Brenda and Steve may have had a fling when attending a Christmas party together as they kissed under the mistletoe, although the exact details weren't given to the viewer as the scene promptly cut to the credits and showed Steve giving off mannerisms when explaining what went on with Brenda.
In the fourth and final episode of Street Car Stories - The Showdown - Steve and Lloyd got themselves into trouble when they challenged Imogen's ex-boyfriend Nigel over the phone to a fight following the couple's split. He turned up in Victoria Street to go after the pair, however Brenda arrived and beat Nigel up for the way he treated her daughter. While Imogen went outside to see everything was okay, Brenda walked in and Lloyd asked nervously how her skiing trip was. Brenda was not physically seen, however she could be heard briefly having a go at Nigel off-screen and getting involved in a fight with him. When she walked into the cab office, the camera only pointed to her feet.
In 2015, the character faced controversy as it was felt deeming her "fat" would cause offense to overweight people, so it was revealed she wouldn't be named that. Since then, the character has been rarely mentioned and when mentioned, using just 'Brenda'.