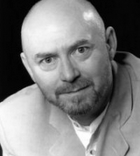 Finetime Fontayne (real name Ian Crossley) played the role of Henry Wakefield on Coronation Street during January and February 1985. He returned to the programme almost thirty years later in July 2014 as Eugene Clelland, who shared a cell with Peter Barlow in Highfield Prison. Also credited as Fine time Fontayne, he has had roles in EastEnders, The Ray Bradbury Theatre and appeared in Alexi Sayle's Itch. Finetime also appeared as the Factory Supervisor in the 1999 Granada film Girl's Night.
Ad blocker interference detected!
Wikia is a free-to-use site that makes money from advertising. We have a modified experience for viewers using ad blockers

Wikia is not accessible if you've made further modifications. Remove the custom ad blocker rule(s) and the page will load as expected.