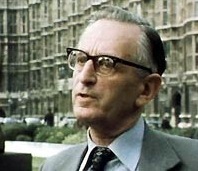 Frank Allaun (27th February 1903 - 26th November 2002) was the Labour MP for the constituency for Salford East which covered the Ordsall district and, within it, Archie Street which was used for the template for the design of Coronation Street and which appeared in the programme's first title sequence.
As a man who passionately identified with the people and places in his own constituency, he was an open admirer and advocate of the programme, writing an article in TV Times in the issue of 28th May to 3rd June 1961 and being photographed with Tony Warren on Archie Street itself. He also mentioned the programme several times in House of Commons debates, always on housing matters, such as on 2nd May 1962 he stated in response to a government statement:
The speech which we have just heard from the hon. Member for Solihull (Sir M. Lindsay) has put the case for building more council houses so clearly and effectively that I hope the hon. Gentleman will cross to this side of the Committee in order to let the Government know fully his discontent with the results of their policy.
I intend to show that not only is it true that one half of the world does not know how the other half lives, but that it is also true that one half of a city does not know how the other half lives. I am one of the 21 million viewers who watch "Coronation Street". It is the most popular programme on television, and deservedly so, because it shows working men and women in an honest way and deals so naturally with their lives that viewers come to know the characters as if they were real people. Harry Hewitt and his wife Concepta and Elsie Tanner and her son become people we know personally. But what many viewers do not realise is that these fine men and women are living in houses which are a disgrace to our society, in houses without a bath, hot water or an inside toilet.
I happen to know this for one very good reason. The shots which open and close each episode of "Coronation Street" are taken in my constituency. I know the street very well. These terraced houses are typical of the great industrial areas of Lancashire, Yorkshire and the Midlands, of houses without a bath, without hot water and without an inside toilet. In these areas, particularly in Lancashire and Yorkshire, we find a Coronation Street in every town.
Allaun campaigned vigorously for better housing for his constituents, ironically against the sort of street that the programme portrayed however he also warned of the dangers of destroying communities by moving to high-rise blocks. He was MP for Salford East from 1955 to 1983.
Ad blocker interference detected!
Wikia is a free-to-use site that makes money from advertising. We have a modified experience for viewers using ad blockers

Wikia is not accessible if you've made further modifications. Remove the custom ad blocker rule(s) and the page will load as expected.