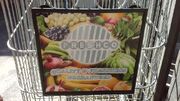 Freshco is the main supermarket in Weatherfield and is used by the residents of Coronation Street. Formerly known as Bettabuys and Firman's Freezers it is unclear whether this was a take over or just a rebrand. Employees of the supermarkets included Reg Holdsworth, Curly Watts, Andy McDonald, Anne Malone, Alma Baldwin, Izzy Armstrong and Hayley Patterson.
Freshco was last seen on our screens in 2011. Notable storylines involving Freshco's were Linda Sykes brother Sean and his mate Lenny Larkin holding Mike Baldwin, Alma, Ken Barlow, Fred Elliott and Ashley Peacock hostage in an armed raid in October 2000 .
In 2014, Deirdre Barlow mentioned that the Frescho aisles had been narrowed and there had been more self-service checkouts.
Freshco FastTrack
Edit
First introduced in 2011, Freshco FastTrack is a convenience store version of Freshco's supermarket, it was first mentioned on 21st February by Dev Alahan, who stated that a store had opened near one of his shops in Manchester.
Former Staff: