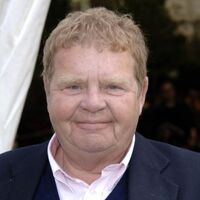 Geoffrey Hughes
(born in Wallasey, Cheshire,
2nd February
1944
-
27th July
2012
) was a British actor whose most famous role is arguably that of
Eddie Yeats
, the jovial ex-con he played on
Coronation Street
from
1974
to
1983
, with a brief reappearance in
1987
. He also appeared on the
Street
as a different character back in
1967
, playing the thuggish
Phil Ferguson
.
Geoffrey made many television roles his own over the years, such as the lazy Onslow in the BBC sitcom Keeping Up Appearances, and the dodgy Twiggy in The Royle Family. His other television credits include Doctor Who and Heartbeat, and earlier in his career he voiced Paul McCartney in the 1968 animated Beatles movie Yellow Submarine. He had a guest role in an episode of Randall & Hopkirk (Deceased) called Somebody Just Walked Over My Grave.
In August 2010 it was reported that Geoffrey was seriously ill and battling prostate cancer. He passed away from the illness in July 2012.
Ad blocker interference detected!
Wikia is a free-to-use site that makes money from advertising. We have a modified experience for viewers using ad blockers

Wikia is not accessible if you've made further modifications. Remove the custom ad blocker rule(s) and the page will load as expected.