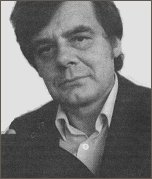 Geoffrey Lancashire (12th March, 1933 - 3rd October, 2004) wrote 75 episodes of Coronation Street between September 1964 and April 1971. He returned to the show to script one more episode in January 1981. For a brief period between March and April 1970 he was also the programme's serial editor. Geoffrey created the Granada comedies Foxy Lady and Cuckoo Waltz, and penned episodes of Street spin-off Pardon the Expression as well as being a contributor the major Granada Television series A Family at War. His daughter is the former Street actress Sarah Lancashire.
External links
Edit
Episodes written by Geoffrey Lancashire
Edit
1964 (1 episode)
1965 (10 episodes)
1966 (13 episodes)
1967 (10 episodes)
1968 (13 episodes)
1969 (13 episodes)
1970 (11 episodes)
1971 (3 episodes)
1981 (1 episode)
Ad blocker interference detected!
Wikia is a free-to-use site that makes money from advertising. We have a modified experience for viewers using ad blockers

Wikia is not accessible if you've made further modifications. Remove the custom ad blocker rule(s) and the page will load as expected.