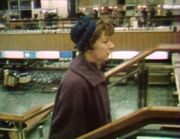 Heathrow Airport is a major international airport situated in London. With two runways, five terminals and passenger numbers in 2014 of 73.4 million, it is the busiest airport in Europe and the sixth-busiest in the world.
In April 1970, Hilda Ogden flew from Heathrow to Australia following the death of her son-in-law David Barlow in a car crash and the hospitalisation of her baby grandson, Darren. As Manchester Airport did not have direct flights at the time, Hilda had to travel from the latter to Heathrow for her connection. She was seen off at Manchester by Stan and Ken and Valerie Barlow. At Heathrow's Terminal 3, she was confused by the vast layout and had to ask at a BOAC desk where she could find the Australian flight. While waiting nervously on the runway for her plane to take off, a telegram was received at 13 Coronation Street saying that Darren had also died.
Background
Edit
A film crew including Baz Taylor, cameraman Bob Boult and sound recordist Neil Kingsbury travelled to Heathrow at the start of April 1970 with actress Jean Alexander to film the sequences at the airport and on board an aircraft on the tarmac, using Terminal 3 for the majority of the shots. This was the first occasion that scenes were shot in London for Coronation Street
Ad blocker interference detected!
Wikia is a free-to-use site that makes money from advertising. We have a modified experience for viewers using ad blockers

Wikia is not accessible if you've made further modifications. Remove the custom ad blocker rule(s) and the page will load as expected.