History of Coronation Street
Talk

29

Coronation Street was created by Tony Warren and has been produced by Granada Television and broadcast by ITV in the United Kingdom since its first episode on 9th December 1960.
Originally following in the style of kitchen sink dramas seen on Armchair Theatre, the series had an early surge in popularity which has endured and kept the show in production for nearly five decades. In that time, it has been a great success for ITV, progressing from two to five episodes broadcast weekly, overseen by twenty-nine producers, and won many awards in the industry. It is currently one of the most-watched programmes on British television, and is also screened in Canada, Australia and New Zealand.
This article is about the production history of the programme. The main Coronation Street article gives more general information about the programme.
Conception
Edit
"There was life before "Coronation Street", but it didn't add up to much." - Russell Harty
In 1960, Granada Television staff writer and former child actor Tony Warren asked producer Harry Elton in desperation to be taken off his staff-writer duties for their series of adaptations of the Biggles adventure stories by W.E. Johns, a task that he loathed. Part of Warren's dislike of the series was that he knew little about the world in which the books were set and Elton enquired what Warren did know enough about which would make a good series. Warren gave two answers: showbusiness and North of England. This latter interest stemmed from childhood memories of his grandmother's neighbourhood in inner Salford. While working at the BBC in 1956 Warren had submitted a script entitled Our Street to his bosses, which was adapted from his first draft Where No Birds Sing. The setting of both was a northern backstreet similar to the ones he remembered. The BBC never replied to Warren's pitch, but Elton liked his idea and gave Warren just one day to come up with an idea that would "take Britain by storm".
Rather than begin work on a new script, Warren adapted Our Street for Granada under the title Florizel Street, set in Weatherfield, a fictional suburb of Greater Manchester. The script would eventually become the first episode of Coronation Street. Warren also wrote a memo for the Granada board, explaining the series and why he thought it was a good idea:
"A fascinating freemasonary, a volume of unwritten rules. These are the driving forces behind life in the working class street in the north of England. The purpose of Florizel Street is to examine a community of this nature, and to entertain".
Granada, with some reluctance, commissioned a 12-part series which Warren readily agreed to write, with Stuart Latham becoming the programme's first producer. They retained the option of a final thirteenth episode in which Florizel Street would be bulldozed, to resolve the series if it wasn't successful. The programme was designed to be shown in the 7.00pm slots on Wednesday and Friday evenings which Biggles occupied until 12th October and which was then filled by two new eight-part serials by Granada: The Odd Man on Wednesdays, and an adaptation of H. G. Wells' Kipps on Fridays which was directed by Stuart Latham.
Before it went into production, also under the leadership of Latham, the title was changed to Coronation Street, after Agnes the tea lady remarked that "Florizel" sounded like a brand of detergent.
Coronation Street
was to be recorded at Granada Studios, and although it was set in a street of terraced houses the actual street set was to be built indoors, complete with drawn-on cobbles. To gain inspiration for the look of the street, set designer
Denis Parkin
visited the backstreets of Salford. Ultimately the layout of
Coronation Street
, and its row of terraced houses, was based on
Archie Street
in the Ordsall district of Salford. Archie Street was filmed and its image appeared in the title sequence of the programme for several years. There were notable differences between Coronation and Archie Street - notably, the
Rovers Return Inn
was included in the fictional street, to give the residents a place to meet and gossip. The indoor set wasn't to scale and the studio - Studio 2 at Granada's Quay Street headquarters in Manchester - was too small for the whole set to be erected at the same time. Recording inside the houses was also done in the same studio.
The show's theme music, a corner piece, accompanied by a brass band plus clarinet and double bass, reminiscent of northern band music, was written by Eric Spear, who was paid £6 for its use. David Browning played the trumpet on the original recording of the theme, and was given the choice of either a royalty payment for each use of the theme on television, or a one-off payment at the time of recording. He opted for the one-off payment. Although it has been re-recorded in the past, and several remixes have been composed, the original theme tune is still used in the show today in its original form.
Coronation Street began its life with a cast of twenty-one actors and actresses. Reportedly, Tony Warren had visited local cemeteries and copied down the name on the headstones to use for the characters. Many of the characters Warren had created were written with specific actors in mind, and were written to be representative of the type of people one would find in a street like Coronation Street, with the crises they face reflecting those of their real world counterparts.
A dry run of Tony Warren's scripts for Episodes 1 and 3 took place several weeks before the series was to begin recording. These pilot episodes differed slightly from the versions that would be seen by viewers, with some changes made to the cast and characters after they were recorded and screened within Granada.
Central to the original set of characters were the Rovers landlady and landlord, snobbish Annie Walker, who thought herself a cut above the other residents of the Street, and her long-suffering husband Jack. Other main characters included idealistic student Ken Barlow, who had been to University and was now feeling ashamed of his roots, much to the disappointment of his father, hardworking postman Frank Barlow. The Barlow family - still in the show today - also included mother Ida Barlow and Ken's brother David Barlow. The remaining houses were inhabited by characters including glamorous "tart with a heart" Elsie Tanner and her wayward son Dennis, hairnet-wearing battleaxe Ena Sharples and her cronies, timid Minnie Caldwell and busybody Martha Longhurst, as well as grumpy pensioner Albert Tatlock, shy Corner Shop owner Florrie Lindley, bus driver and widower Harry Hewitt, his daughter Lucille, and pompous shopkeeper Leonard Swindley.
Launch and early success
Edit
The first episode was broadcast live at 7.00pm on Friday, 9th December 1960 in all but two of the ITV regions; Tyne Tees Television showed an episode of Highway Patrol while ATV's offering was an instalment of Wyatt Earp. The competition from the BBC was an edition of their evening magazine programme Tonight. In Manchester, the next episode of Coronation Street was recorded a quarter of an hour after the live first episode ended for broadcast the following Wednesday. This twice-weekly broadcasting pattern continued until March 1961, when the series' timeslot moved to Mondays and Wednesdays, with all episodes videotaped ahead of transmission. The 'live' aspect of the recording meant that there couldn't be any re-takes, so typically each scene would be set up in advance with the cameras at the centre so that one scene could follow the last with no delay. Actors would wait in position for their scene to begin.
The series was introduced by a one-page article in the TV Times which mainly featured on Tony Warren but described the Street as "four miles from Manchester in any direction" and "it is home to the 20 people who live there, and most of them would not like to change their worn surroundings for something new but less humanised." (It should also be noted that the same article described Ena Sharples as a "kindly ex-barmaid"!)
Coronation Street caught on with viewers very quickly. The use of Northern English language and dialect was very rare on British television drama at the time, but although viewers identified with the "ordinary people" characters, the press did not take to the show, with the focus on everyday troubles of the working class being deemed uninteresting. Some complained that the accents were difficult to understand. After the first episode was shown, the Daily Mirror printed:
"The programme is doomed from the outset... with its dreary signature tune and grim scenes of a row of terraced houses and smoking chimneys. For there is little reality in this new serial, which apparently, we have to suffer twice a week."
However Mary Crozier in The Guardian of 10th December said the programme...
"promises to introduce a view of Northern life which will probably prove extremely popular..."Coronation Street" with all its cliches has something funny and forthright about it...Mr Warren has pinpointed phrase and accent, humour and oddity, and if can keep the mixture sharp and not put in too much treacle it should cook up very well."
One week later, she said that the programme was:
"...getting into its homely stride and the Lancashire backchat hits the authentic note."
The following year, on 27th June, she made her often-misquoted prediction that the programme, "looks like running forever" in a general view of "Granadaland" in which she praised the programmes "authenticity" and the "tremendous care" with which it was made.
The august Times first mentioned the programme in a rather snooty review of on-going serials in television in general in its issue of 1st August 1961 when its unnamed "correspondent" said:
Nothing has ever been greeted with a more unanimous outburst of critical rage than the "Coronation Street" series, but one gathers that is has achieved a degree of popularity which relegates all its elder brethren to the second division of mass appeal.
Executives at Granada agreed somewhat with the more negative press, but the show's popularity grew regardless, and Granada made the decision to extend its run. Actors signed long-term contracts and other writers, including John Finch, H.V. Kershaw, Adele Rose and Jack Rosenthal, began penning scripts for the series. Tony Warren continued to write occasional scripts until 1976. With the characters now established, new characters including builder Len Fairclough, shy Miss Nugent and the Walkers' son Billy were introduced and were quickly integrated into the show's regular line-up.
As the year progressed, the few ITV stations not broadcasting Coronation Street started picking up the series, with ATV in the Midlands the last, first showing it on 6th March 1961. In July, Derek Granger replaced Stuart Latham as producer.
Popular storylines from the show's first year included Ida Barlow being hit by a bus, Elsie Tanner's extramarital affair with Bill Gregory and Harry Hewitt and Concepta Riley getting married. In August the programme reached the number one position in the ratings for the first time, and its popularity seemed assured.
Equity actors' strike
Edit
Main article: Equity actors' strike
On 1st November 1961, an industrial dispute between Equity, the actor's union, and ITV, resulted in an actor's strike which meant actors couldn't sign new contracts. Many ITV programmes were off the air for the duration of the strike, and the channel was denied almost all home-grown dramas but Coronation Street carried on with those actors who were on long-term contracts and thus not affected by the terms of the strike. Since the series was recorded and broadcast in such a short space of time, some characters instantly vanished from the programme, with more leaving as the strike went on and contracts expired. As the strike continued into 1962, the show was left with just fourteen characters.
Despite the problems this posed, the ratings for the series soared, as there was little to no competition on the BBC channels. Although Coronation Street was already popular, the strike established it as a staple of British television and one of ITV's flagship shows, and many of the characters became household names. Ena Sharples, Elsie Tanner and Annie Walker were especially popular.
When the strike ended on 3rd April 1962, actors returned to the programme, and the Rovers was populated by extras again. Although some of the characters who had been unseen for months were supposed to have been living in the street all through the strike months, their absences went unexplained. Some of the newer characters who disappeared when the strike began were never seen again.
In 1962 and 1963, Coronation Street soldiered on under producers H.V. Kershaw and Margaret Morris, and enjoyed healthy viewing figures against such competition as BBC's Steptoe and Son. With an established cast, the series went from strength to strength, with popular storylines such as Ken and Valerie Barlow's wedding, Christine Hardman's depression, Jerry and Myra Booth's debt problems, and Ena Sharples fighting against a plan to rename the Street, a storyline which resulted in a House of Commons debate arising from Ena writing to Prince Philip for his support, when it was prohibited from referencing living members of the Royal Family in stage plays or films. Granada was warned not to do it again.
1964 cast cull
Edit
1964 was a turning point for Coronation Street. When Tim Aspinall was appointed producer, his main agenda was to shake up the street, which he thought had become too predictable and stale. In a bid to put his own stamp on the show, he made sweeping changes, and decided to get rid of many of the show's characters. The Booths' debt storyline ended with their departure, Frank Barlow moved away after a big win on Premium Bonds, Harry and Concepta Hewitt moved to Ireland and Florrie Lindley returned to her (never before mentioned) husband. Lucille Hewitt was supposed to go with her family, but Aspinall was talked round by Granada boss Cecil Bernstein, who pointed out that as Lucille was the only child in the street they had to keep her. Also saved from the chop were Albert Tatlock and Ken and Val Barlow.
Although those characters were certainly popular, the axing of Martha Longhurst, played by Lynne Carol, garnered the most extreme responses from the public, as she was to be killed off. Martha was part of a trio of characters (alongside Ena Sharples and Minnie Caldwell) who were often seen in the Rovers snug, criticising the neighbours while drinking milk stout. They were hugely popular with viewers. Lynne Carol's sacking was such a shock to the cast that actress Violet Carson (who played Ena) threatened to resign in protest. Nevertheless, the storyline went ahead, with Martha suffering a heart attack in the snug while the rest of the Rovers punters celebrated Frank's Premium Bonds win. The episode was the first of the series to use silent end credits.
The reaction to Martha's death was unbelievable. Flowers were sent to Granada in memory of Martha, as if the character was a real person. As Aspinall had intended, viewing figures went up in the short-term, but his decision was criticised by writer Harry Kershaw, who said:
"By killing an established character he gave us a few episodes of high drama and created a talking-point in the factories and laundrettes which boosted our viewing figures for a period, but when the dust settled we were simply left with a Coronation Street without Martha Longhurst."
Though Aspinall's tenure on Coronation Street only lasted for five months, but his legacy was far-reaching; many a producer in the future would chase ratings by writing out a popular character in a big storyline.
Before his departure, Tim Aspinall oversaw the gradual introduction of the popular Ogden family, led by the nosy cleaner Hilda and her hen-pecked husband, the lazy Stan Ogden, and their daughter Irma. The family were the original neighbours from hell, as they were considered common even by Coronation Street standards, but they were the first major additions to the cast since 1961.
Changing with the times
Edit
Harry Kershaw took over as Producer from Tim Aspinall and continued in that position, with a few breaks, until 1972, occasionally credited as executive producer.
1964 and 1965 were among the few years in Coronation Street history that saw more characters leave than join. As the casting budget wouldn't stretch to introducing anybody new to move into the now vacant No.3, which the house remained conspicuously empty until 1968. To avoid the same situation with the Hewitts' former abode at No.7, the writers devised a storyline which saw the house demolished. As this divided the street into two sections, the street set was now easier to erect.
The series' popularity was at an all-time high for the decade, peaking in December 1964 with 21.36 million viewers tuning in on 2nd December. As 1965 began, viewers were enthralled by an ongoing feud between Ena Sharples and Elsie Tanner, and the birth of twins Peter and Susan Barlow. When clothes shop Gamma Garments boss Leonard Swindley left that same year, the character was moved to a new spin-off series, sitcom Pardon the Expression. The show lasted for two seasons and had its own spin-off, Turn out the Lights. Neither of those shows are particularly well-remembered today as they were only modest hits, and Leonard Swindley actor Arthur Lowe later found greater success as Captain Mainwaring in the BBC's Dad's Army.
That same year, the show was first seen in Australia and quickly became a success there.
In spite of enduring popularity with viewers, Coronation Street was criticised by some for its outdated portrayal of the urban working class, and its representation of a community that was "a nostalgic fantasy". By the late 1960s, critics were suggesting that the programme no longer reflected life in 1960s Britain, but reflected how life was in the 1950s. Granada hurried to update the programme, with the hope of introducing more issue-driven stories, including drugs, sex, homosexuality and out of wedlock pregnancy, but all of these ideas were dropped for fear of upsetting viewers.
In 1966, some attempts were made to bring the series up to date and expand its range of characters. The defunct raincoat factory was re-opened as a plastics factory and brought back into storylines with younger characters Irma Barlow (now married to David) and Lucille Hewitt working there along with new character Bet Lynch, played by Julie Goodyear. Also, reflecting the dwindling congregations in Mission halls across the country, Ena Sharples was horrified as the Glad Tidings Mission Hall was turned into a Community Centre. By 1967, however, the Mission was as it was and the factory was once again the domain of characters never seen or heard.
By this point, real-world streets like Coronation Street were being demolished and replaced by tower blocks, which were able to house more people in the same space. Archie Street, which had served as the inspiration for the look of Coronation Street, was being readied for demolition, its houses emptied and it was finally pulled down in 1971. In 1967, the producers were keen to build a proper outdoor set for scenes set in the street, as the current one, while adequate, was very restrictive. A popular 1967 storyline saw a train crash through the viaduct in the street, a very difficult storyline which pushed the set in the studio to its limits. The new set was built in a railway yard near the Granada Studios, and used the same wooden scenery flats that had been erected in the studio. The houses were not constructed in full, only the front of each house was shown, but the street could now be seen in full (although it was not to scale) and daylight now filled the street. The new set also solved the problem of how to reflect the current housing changes; the opportunity was taken to demolish the Mission hall and factory across the street and in their place build a block of modern two-storey maisonettes.
The maisonettes brought about the biggest changes to the street yet, not least because all buildings in the street were now residential except the Rovers and the Corner Shop. However, it quickly became obvious that the maisonettes were creating more problems than they were solving; the cast was not large enough for many characters to live there, with only one new character, widow Effie Spicer, introduced as a resident, and only Ena Sharples and the Barlow family were moved there. The brutalist style of architecture that inspired the design of the maisonettes dated very quickly and there was now no venue for community functions that the Mission had provided nor employment opportunities for younger characters that the factory had permitted.
In the late 1960s the series continued under producers Jack Rosenthal and Richard Everitt with popular storylines such as Elsie Tanner's marriage to Steve Tanner, with Steve Tanner so named because it meant such a popular character as Elsie wouldn't have to change her name when they got married! By 1967, many of the characters who had been axed in the purge of 1964 had returned, some as regulars once again such as shy builder Jerry Booth, and some for brief appearances such as Harry and Concepta Hewitt. Harry was killed off on his return so that the popular Lucille Hewitt would have a reason to stay in the street.
The Tanners were at the centre of Coronation Street's biggest storyline yet in 1968, as Elsie's husband Steve Tanner was murdered while he and Elsie were separated. Steve hadn't been a popular character as viewers had wanted Elsie to marry Len Fairclough. However, 1968 was also the year the Tanners parted ways as a family as Elsie's daughter Linda Cheveski and Linda's husband Ivan made the last of their fleeting appearances in the street (although Linda would later return after Elsie's departure in 1984) and Elsie's wayward son Dennis got married and left. Reportedly, actress Patricia Phoenix was unhappy with Philip Lowrie for quitting the show and refused to speak to him unless it was required for a scene.
Also that year, Corner Shop owners David and Irma Barlow left Weatherfield for a new life in Australia. This left only eight original characters still appearing in Coronation Street.
See also: Colour Television
As the 1960s came to an end, British television channels were getting ready to start producing and broadcasting new programmes in colour. This would prove to be a new beginning for Coronation Street, as its sets had been designed especially for black and white television. Consequently, some of the indoor sets were redesigned to show more natural colours and the Grape Street set was re-built entirely in brick.
1968 and 1969 saw an influx of new characters, such as new Corner Shop owner Maggie Clegg and son Gordon, as well as her sister Betty Turpin and policeman husband Cyril. Mischievous builder Ray Langton became a regular character as well as photographer Ernest Bishop, both of whom had appeared earlier in the decade, and the show increased its quotient of younger characters with newlyweds Dickie and Audrey Fleming moving into No.3, and Elsie Tanner's niece and nephew moved into No.11. This influx of new characters was part of a plan to modernise the show, plans which included the introduction of a black family to live in one of the maisonettes. These plans never came to fruition.
Popular storylines of 1969 included Minnie Caldwell's gambling addiction and an excursion to the Lake District for most of the residents, which ended in tragedy when the coach they were travelling in crashed into a tree, injuring many. The Lake District episode was made entirely on location and was supposed to be the first episode of Coronation Street to be made in colour. The following episode, which saw the residents in casualty, and the next three instalments, ended up taking that honour although they were not actually transmitted in colour as ITV (and the BBC) did not begin broadcasts in that medium for another two weeks. It is possible the episodes were recorded in colour as an experiment so that the producers would have an idea what looked good in colour and what needed to be changed before the changeover to colour on 17th November.
Coronation Street ended the decade with the broadcast of its first colour episodes and a brand new title sequence.
As Coronation Street approached its tenth anniversary and thousandth episode, it was affected by strike action at Granada which kept the show off the air for most of June 1970. The ITV colour strike later in the year meant the series was recorded in black and white from November 1970 to February 1971.
Arrivals and departures
Edit
June Howson took over as producer from Harry Kershaw in early 1970. Howson oversaw several cast returns, including Julie Goodyear as Bet Lynch, now installed as a barmaid in the Rovers, and Sandra Gough as Irma Barlow, whose return storyline saw the character grieve for husband David after the off-screen death of the character, with Alan Rothwell choosing not to reprise the role. To make way for these returns, the Flemings and the Butlers, who had not made the impact producers had hoped for were dropped from the programme. The series was propelled into the new decade with the year's biggest storyline seeing Steve Tanner's killer Joe Donelli return to the Street and take hostages, culminating in the character shooting himself dead in No.5. 1970 also saw Elsie Tanner marry Alan Howard, with Patricia Phoenix personally choosing Alan Browning to play the character Elsie was to marry.
Having enjoyed a stable core cast throughout the 1960s, the Coronation Street producers were faced with the departures of several key actors in the early 1970s. Actor Arthur Leslie, who had played Rovers landlord Jack Walker since the beginning, died from a heart attack on 30th June 1970, marking the first time a character had to be killed off because of an actor's death. Out of respect for Leslie's family, Jack's funeral took place off-screen and the character's death was treated as a known fact by the other residents. Doris Speed, who played Leslie's screen wife Annie Walker, considered leaving the show also but was talked round by H.V. Kershaw, who returned to his role of producer later in the year. Kenneth Farrington returned as Billy Walker, with the character supporting Annie in the Rovers.
The producers were also faced with writing out Valerie Barlow when actress Anne Reid quit, believing ten years to be enough time to spend playing one character (although she would also later state that she left to start a family). Val was killed off in a memorable storyline which saw the character electrocuted in her home. The opportunity was taken to write out the Street's maisonettes at the same time, replacing them with a Community Centre and warehouse, which provided more potential for storylines than the flats. Sandra Gough also quit only eighteen months after her return, although the writers did not have time to prepare for her exit and the character merely disappeared from the programme.
Eric Prytherch
Edit
Producers Leslie Duxbury and Brian Armstrong took charge in 1971 and 1972. In 1972, Harry Kershaw completed his final stint as producer before handing the reigns to Eric Prytherch, who remained in the role for two years, the longest tenure of any producer yet.
Prytherch was keen to introduce more younger characters and interweave them with the established ones, bringing the show into the 1970s. Additions included Diana Davies as shop assistant Norma Ford, Anne Kirkbride as bespectacled teenager Deirdre Hunt and Barbara Mullaney as Rita Bates, soon revealed to be Rita Littlewood, who made a one-off appearance in 1964. Rita was especially successful, taking over from the now-married Elsie as the love interest of Len Fairclough, as well as cementing her place in the street as manager of newsagent the Kabin, soon to be joined by Thelma Barlow as shy assistant Mavis Riley. Further, Lynne Perrie had joined the show in the previous year as warehouse employee Ivy Tilsley, and her character was developed over the decade.
Having established a new set of characters who quickly rose to prominence, the series began to depend less on old favourites, although in many circumstances it was unavoidable; Violet Carson's health was in decline and so her character Ena Sharples was written out for most of 1974, Elsie Howard was hurriedly written out as Patricia Phoenix decided to quit while on holiday from the programme, with Alan Howard also departing, and Doris Speed took two months off so Annie Walker too disappeared. Elsie in particular was very popular and her departure marked the beginning of a period with more new arrivals than usual, as writers struggled to fill the void, with Gail Potter, Blanche Hunt, Eddie Yeats, Vera Duckworth and the Hopkins family all debuting in 1974.
Although still a very popular programme, after 1971 Coronation Street did not so regularly top the viewing charts as it had done in its formative years. At the same time, ITV daytime soap Crossroads saw a marked increase in viewers, as its own established cast grew in popularity after the programme began to be fully networked for the first time in October 1972. Further, aside from Elsie's sudden departure, several storylines during this period were unpopular with viewers, such as Ken Barlow's marriage to "superbitch" Janet Reid, who had previously tried to break up Elsie and Alan's marriage. The marriage didn't last and Janet left Ken after only a few months.
Other storylines during this period included the marriage of Ernie Bishop and Emily Nugent, the appointment of Alf Roberts as Mayor of Weatherfield, and an increase in comedic content for the Ogdens.
Susi Hush's producership
Edit
Eric Prytherch was replaced as producer in 1974 by Susi Hush. The year did not begin well as Violet Carson's health took a turn for the worse and she suffered a stroke. She did not return until the end of the year.
Hush felt the show was out-of-date and that it should be tackling controversial storylines. She began her producership by overseeing the departure of Corner Shop owner Maggie Clegg, who left the Street after marrying Ron Cooke. The shop became the domain of the Hopkins family, led by the acid-tongued Granny Hopkins, her son Idris and his wife Vera. The family was designed as a vehicle to develop the character of teenager Tricia Hopkins, who had been introduced the year before. Gail Potter, played by Helen Worth, was also introduced as a friend of Tricia's. The family did not fit well into the Street - matriarch Granny Hopkins was partly intended to provide the battleaxe presence of the absent Ena Sharples, but viewers did not take to them, and the family remained outsiders, rarely getting involved with the lives of the other residents. Their biggest storyline was also Hush's most controversial, seeing them discover that Maggie's son Gordon Clegg was actually her sister Betty Turpin's illegitimate son. Irene Sutcliffe, who had already left the series, objected to the storyline, feeling that Maggie's devotion to her son was the foundation of her character. Having failed to take off with viewers, the Hopkinses were axed early in 1975, and only Tricia remained.
Hush was also notable for firing actress Jennifer Moss, who had played Lucille Hewitt since 1960. Moss was sacked due to her problems with alcohol, with the character disappearing to Ireland, never to return.
The mid-1970s was also a time of evolution for Coronation Street. Two storylines - the murder of abused housewife Lynn Johnson, of which Len Fairclough was a suspect, and a fire which gutted the Mark Brittain Warehouse, which claimed the life of Edna Gee, were two of the programme's most ambitious storylines yet. Geoffrey Hughes was introduced as rogue Scouser Eddie Yeats, Deirdre married Ray Langton and her mother Blanche Hunt was introduced, initially played by Patricia Cutts for two episodes but replaced by Maggie Jones when Cutts committed suicide.
After thirteen years playing Jerry Booth, 34-year-old actor Graham Haberfield died of a heart attack in late 1975. His widow, Valerie, insisted he not be edited out of his remaining untransmitted episodes but that they remain intact as a tribute to him.
The period also saw the programme's first foreign location filming as several residents went on holiday to Majorca in October 1974.
Bill Podmore arrives
Edit
By 1976, Coronation Street had been on air for sixteen years. Margot Bryant had played pensioner Minnie Caldwell since Episode 2, but had to leave the programme in April because of ailing health. The character's best friend, Ena Sharples, was seen overseeing the sale of No.5 after Minnie moved to Whaley Bridge.
Bill Podmore, the show's longest-reigning producer, replaced Susi Hush in February, though when first offered the producer's job he had turned it down flat. As former Coronation Street writer John Stevenson later recalled in a BBC Radio 2 documentary, "Coronation Street was on a downward slope at the time. No-one wanted to work on it, the quality of the scripts had dropped, the storylines were poor and it was becoming something of a joke within the TV industry to have to work on it".
Podmore accepted the job regardless. A veteran of several comedy productions for Granada, he wanted to include more humour in the programme's storylines - the show had established itself as a kitchen sink drama in the 1960s and popular characters had ensured its success, but in the 1970s it had yet to enjoy the success it had seen in its early years as it relied on the enduring appeal of characters who were past middle age and leaving one-by-one.
Podmore sought out the areas "crying out for a facelift or even a face change" and began to put his stamp on the show. He referred to this as "re-decoration, not demolition" meaning that he intended to capitalise on the strengths he already had there; the Ogdens were brought to the fore, with Hilda ruling the roost over her hen-pecked husband Stan and lodger Eddie Yeats, and Hilda's famous mural, or "murial" of flying ducks, was hung on the wall at No.13. Fred Feast joined the cast as Fred Gee, the new potman at the Rovers, where Annie lorded it over her staff, much to the bemusement of barmaids Bet Lynch and Betty Turpin. Podmore brought in Madge Hindle to play the new Corner Shop owner Renee Bradshaw, hoping to make the shop once again a venue for gossip as it had been under Maggie Clegg. Johnny Briggs was introduced as Londoner Mike Baldwin, who arrived in the street to open his denim factory Baldwin's Casuals on the site of the old warehouse, employing characters including Ernie, Ivy and Vera Duckworth. Finally, Patricia Phoenix was persuaded to return as the now-separated Elsie Howard after a three year absence and moved back into No.11, taking in lodgers Gail Potter and Suzie Birchall. The mixing of characters old and new was a key ingredient in Podmore's new direction for the programme.
Coronation Street was launched into a new era with a new title sequence, the first to incorporate a cat among the sweeping views of Weatherfield.
The Podmore era
Edit
Ratings stabilised under the new producership and the late 1970s saw an upward trend in ratings. An April 1977 episode which saw Len Fairclough and Rita Littlewood tie the knot gained the highest for the decade with 20.90 million viewers, with 1977 seeing viewing figures comparable to those in the early 1960s.
In 1977, Stephen Hancock decided to leave the role of Ernie Bishop. Hancock was involved in a disagreement with Bill Podmore over the cast payment system, which guaranteed the longest-serving cast members got paid for every one of the year's episodes, regardless of how many they actually appeared in. When Granada refused to change the payment system, Hancock decided to stand by his principles and resign. The character was killed off during a botched robbery at Baldwin's Casuals, where he worked as a wages clerk - one of the most violent scenes ever seen in the show. After the episode was broadcast, Granada's switchboard was jammed by angry viewers. Letters of complaint arrived in their hundreds, and the Lobby Against TV Violence fiercely objected to Granada's decision to show the episode. Granada stated that the storyline was not about violence, but that it aimed to show the desolation and loss felt by Ernie's wife, Emily.
Ernie's murder was not the only storyline that shocked viewers in the late 1970s. Janet Barlow was killed off by suicide - the first time a regular character had taken their own life, and Deirdre Langton was the victim of an attempted rape under the viaduct, after which she was consumed with guilt and shame and struggled to tell her husband Ray about it. Grim scenes such as these were counterbalanced by happier storylines such as the birth of Tracy Langton, the street's Silver Jubilee celebration and the wedding of Alf Roberts and Renee Bradshaw.
Another sudden departure caused trouble for the writers when Neville Buswell quit in 1978, deciding to retire from the acting business. The popular Langton family - Ray, Deirdre and daughter Tracy - were split up when Ray had an affair with Janice Stubbs, and while Ray moved abroad Deirdre continued as a single mother.
At this point, Coronation Street had little competition within its prime time slot, and certain critics suggested that the programme had grown complacent, moving away from socially-viable storylines and again presenting a dated view of working-class life. In 1979, however, its popularity grew, once again regularly claiming the number one position in the weekly viewing charts.
Coronation Street was again hit by network trouble in when a technicians' strike put the entire channel off for eleven weeks in the summer of 1979, the show's longest absence from the airwaves since it was launched. Despite the reduced number of episodes that year, a number of characters were introduced who would soon become stalwarts - Ivy Tilsley was given a family, with husband Bert and son Brian joining, the family moving into No.5. The wedding of Brian and Gail Potter was one of the biggest storylines of the year, and saw the introduction of Gail's mother, flighty Audrey Potter, and Vera Duckworth's work-shy husband Jack, who was played by William Tarmey, a longtime extra in the show.
Coronation Street saw out the 1970s with storylines including a lorry crashing into the Rovers, the Ogdens keeping hens, and the departures of Suzie Birchall and Steve Fisher.
The first major event of the decade was the last appearance of Violet Carson as Ena Sharples. Carson's health had continued to deteriorate in the latter half of the 1970s, and by 1980 she was no longer able to continue in the role. The character had been absent for long spells before, so it was assumed at first that Carson would return, however this did not happen. Violet Carson's final 'appearance' as Ena was in June for a street party celebrating the 2000th Coronation Street episode. TV Times published a commemorative magazine featuring photographs from the event, containing an introduction by Peter Adamson.
The new set
Edit
The early 1980s would prove to be one of Coronation Street's most popular periods, and the show enjoyed consistently high viewing figures unseen since the mid-1960s. The 1981 wedding of Ken Barlow and Deirdre Langton received over 24 million viewers - a higher ITV audience than the Royal Wedding of Prince Charles and Lady Diana received two days later (and only 4 million less viewers than the combined ITV/BBC total). Press interest in the show reached unprecedented levels, with some speculating that actors William Roache and Anne Kirkbride would get married in real life (they didn't).
With the series experiencing new heights of popularity, established characters remained at the fore of the show's storylines, which included Emily Bishop marrying bigamist Arnold Swain, Fred Gee marrying Eunice Nuttall, Bert Tilsley's search for employment, and marriage problems for Rita and Len Fairclough. A significant cast change came in 1980 courtesy of producer Bill Podmore. Madge Hindle was told she would no longer be continuing in the role of Renee Roberts, a move designed to strengthen the character of Alf Roberts, releasing him from a marriage the producer felt wasn't working. Renee was killed in a car crash in one of the best-remembered storylines of 1980, and Alf took over the Corner Shop.
In 1981, it was decided to finally replace the outdoor set. The cast had disliked the current set as it was some distance from the studio and it had a reputation of being cold and draughty. The new purpose-built set was constructed using real Salford bricks and roofing slates, and with the cobbles pointing in the right direction; while the previous set was little more than a facade, the attention to detail in the design and construction would give the new set a greater look of authenticity. Also, the problems, that had necessitated the loss of No.7 in 1965 were no longer an issue so a new No.7 was built, with its construction worked into the plot of the show via builder Len Fairclough. Further, a ginnel was added between the Rovers and No.1 and part of Rosamund Street was also built, including the building that would later hosue the Graffiti Club.
The set was visited by the Queen and the Duke of Edinburgh on 5th May 1982 and first seen in the show in Episode 2210 on 7th June 1982.
Also in 1982, six episodes from the first five years of Coronation Street were released on VHS The Magic of Coronation Street, the first ever commercial release of episodes from the programme. The video was followed by several themed releases in the 1980s and 1990s.
Mervyn Watson takes over
Edit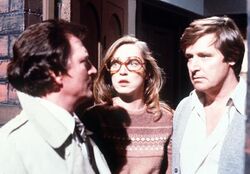 Later in the year, Bill Podmore stood down as Producer, taking on the role of Executive Producer. Mervyn Watson took over as Producer. Around the same time, Channel 4 was launched in the UK, providing viewers with more choices of programmes to watch, including edgy Liverpool-based soap Brookside. Although it never enjoyed Coronation Street's popularity or high viewing figures, it did make Coronation Street look dated by comparison, with many of its aging cast now in their sixties or older, and studio recording still following a pattern established two decades ago.
Mervyn Watson's producership would prove to be one of the show's most difficult periods behind-the-scenes. Watson pushed for a storyline which would see Deirdre Barlow have an affair with factory owner Mike Baldwin, a risky move given the popularity of Ken and Deirdre as a couple. Actor William Roache was initially dismayed by the storyline, believing it would invalidate the work he and Anne Kirkbride had done to make the pair's marriage credible despite the age difference between the characters. The storyline ended with Ken and Deirdre still together and stronger than ever - although the writers hadn't yet decided who Deirdre would end up with when the storyline started.
The love triangle storyline turned out to be one of Coronation Street's greatest successes to date, and one where fact and fiction almost blurred together for the audience - not only did tabloid speculation reach fever pitch, but when the episode where Deirdre chose to return to Ken was screened, the scoreboard at football stadium Old Trafford, where Manchester United were playing against Arsenal, read "Deirdre and Ken united again!" and "Ken 1 Mike 0" in big letters, to a stadium of cheering fans.
The feud between Ken Barlow and Mike Baldwin would prove to be a reliable source of storylines for the pair for many years to come.
1983/84 cast exodus
Edit
As 1983 continued, cast problems started to surface. By the end of 1984, for various reasons, many of the show's core cast had left, including all of the remaining members of the original cast except for William Roache. Actor Peter Dudley, who played Bert Tilsley, asked to be written out of the programme to prepare for a court case, but tragically he died from a heart attack before it could take place. Bert was not recasted and the character died in hospital after suffering a nervous breakdown.
More departures followed. Geoffrey Hughes quit as Eddie Yeats; Eddie and his wife Marion left the Street. After 23 years in the show as Rovers landlady Annie Walker, Doris Speed quit abruptly after suffering a breakdown. Annie moved to Derby off-screen, never to be seen again. Peter Adamson, who played Len Fairclough, was sacked for breach of contract by Bill Podmore; Adamson had been suspended in 1982 for giving interviews to the press that criticised his fellow cast members and the following year sold his life story to a newspaper to pay legal bills. Not only was Len killed off, but he was done so in a manner that would sully the character's memory - Len was revealed to have had a mistress, and died after falling asleep at the wheel while driving home. Ironically, Len's death provided widow Rita with her biggest storyline yet.
Throughout 1982 and 1983 there had been many press rumours hinting of the return of Ena Sharples, but this was not to be. Violet Carson died aged 85 in December 1983. The following year, death claimed another two Street veterans - Jack Howarth, who had played Albert Tatlock since the first episode, died aged 88, and Bernard Youens, who played Stan Ogden, died from a heart attack. While Carson's Ena was not killed off, both Howarth's and Youens' characters had dignified off-screen deaths, with Stan's widow Hilda crying over Stan's glasses case in one of the best-remembered scenes of the decade, and the Barlows inheriting No.1.
The last of the cast departures was that of Patricia Phoenix, who quit the role of Elsie Tanner. Fortunately the writers were able to prepare for it and give Elsie an appropriate exit, reuniting with her old flame Bill Gregory and leaving the street in a taxi, soon to leave for a new life in Portugal.
Fortunately, this period of turmoil behind-the-scenes was countered by the success it was currently enjoying. By the mid-1980s, a wave of new characters had already been established, while the focus shifted to the longterm characters who remained. Jack Duckworth joined his wife Vera and son Terry as the new residents of No.9, Phyllis Pearce and Percy Sugden became the street's main pensioners, Kevin Kennedy joined as bespectacled binman Curly Watts, factory machinist Shirley Armitage became the show's first major black character, and the Webster family, including car mechanic Kevin Webster, moved into No.11. Further, following a brief return by Kenneth Farrington as Billy Walker to take over the tenancy of the Rovers, Bet Lynch became the new landlady, ushering in a new era of the show.
In 1985, John G. Temple replaced Mervyn Watson as producer. Temple continued to introduce new characters, introducing the Clayton family as the new residents of No.11. The Claytons were an unusual addition to the series as they were introduced all at once rather than being built up over time as most successful families had been in the past. They were conceived as a 'normal' family, with their storylines focusing on everyday problems, but were axed after only seven months when they failed to make an impression on viewers.
The EastEnders effectEdit
That same year, the BBC launched its own twice-weekly drama serial, EastEnders. The London-based soap, which had a grittier style and more emphasis on social realism than Coronation Street, launched to impressive viewing figures after an extensive publicity campaign by the BBC. Its popularity quickly grew and by the end of the year it was regularly displacing Coronation Street at the top of the weekly viewing charts (although its figures were calculated by combining the numbers for the original showing of each episode with those of its omnibus repeat. At the time, Coronation Street did not have an omnibus edition).
Although Coronation Street retained its audience, the success of EastEnders did have a knock-on effect on ITV's flagship soap. Notably, the record-breaking viewing figures for its Christmas 1986 edition made it clear that there was an audience for soaps on Christmas Day. Christmas Coronation Street episodes of the past had always received low ratings, and by 1985 it was a rarity for an episode to be broadcast on that day, even if Christmas fell on a Monday or Wednesday. Beginning with 1987 (excepting 1993), a Coronation Street episode has been broadcast on Christmas Day, and is often the highest-rated episode of the year.
The comparable viewing figures achieved by the two soaps throughout the ensuing years has been something of an obsession of the press, especially on the (few) occasions where their timeslots have clashed.
The immediate effect of EastEnders, with its modern, cynical approach to storytelling, and ethnically diverse cast, was that Coronation Street was again accused of being old fashioned. Changes were afoot, however; the Corner Shop was given a makeover, with Alf turning his pride and joy into a self-service mini-market, youngsters continued to be introduced including Jenny Bradley, Sally Seddon and Martin Platt, with Susan Barlow returning full-time, soon involved in a storyline which saw her marry Mike, sparking further conflicts between Ken and Mike. The biggest change came for the Rovers Return, which had its first major facelift since 1960. In one of the programme's most ambitious episodes yet, the Rovers caught fire, with Bet trapped inside. The refurbished Rovers had no snug or select, with the public expanded around the bar, resembling a more modern pub.
Popular storylines of the period included the breakup of Gail and Brian Tilsley's marriage, Sarah Louise Tilsley's birth, the wedding of Kevin Webster and Sally Seddon, the wedding of Bet Lynch and Alec Gilroy, who went on to run the Rovers together, the turbulent relationship of Rita and Alan Bradley, and the departure of Hilda Ogden. After 23 years in the soap, Jean Alexander decided to bow out, with her final episode screened on Christmas Day 1987 to 26.65 million viewers - Coronation Street's highest ever audience (although, as with EastEnders, it was calculated by adding the figures from a one-off omnibus repeat). When asked if she thought her departure would dent the show, Alexander replied: "It's the Street itself that's the star... we're just the players."
Expansion
Edit
After a final stint as producer from 1987 to 1988, Bill Podmore stood down, also relinquishing his role as executive producer. Mervyn Watson returned to produce the show, while David Liddiment took over as EP. At around the same time, the show began to feature more location filming, which was now completed on videotape rather than film as had been the norm for many years. The additional location work was completed on weekends, which caused some upset among the cast. New locations included a supermarket, standing in for Weatherfield's Bettabuys. The Street itself also underwent changes, with the disused Community Centre as well as factory Baldwin's Casuals demolished to make way for three new houses and several business premises on their side of the Street.
In 1988, actor Christopher Quinten, who played Brian Tilsley, decided to pursue a Hollywood career, but wanted to carry on playing Brian part-time. His request was refused and the character was killed off, dying after being stabbed by youths outside a disco, only a few months after reconciling with Gail.
The most significant addition to the show came in 1989 when a third episode was added to Coronation Street's weekly lineup, broadcast on Fridays. To avoid overworking the existing cast, the cast was expanded, with the new detached houses serving to accommodate characters old and new when completed in early 1990. New characters included the McDonald family, consisting of dad Jim, mum Liz and twins Steve and Andy, who moved into No.11, with Alf and Audrey living away from the Street, Reg Holdsworth, who quickly became a hit with viewers, and Don Brennan, who married widow Ivy Tilsley and moved into No.5 with her.
The launch of the new weekly lineup came as one of Coronation Street's most popular storylines reached its climax. The previous year, Mark Eden's Alan Bradley had remortgaged No.7 under the guise of his partner Rita's deceased husband, Len, to fund his business. Viewers had watched Rita discover his fraud and confront him earlier in 1989, and Alan's subsequent arrest, only for him to be released after being remanded in custody. The slow-burning storyline, coupled with the launch of a weekly omnibus, saw Coronation Street regain the pole position in the charts. The conclusion of the storyline saw Rita flee to Blackpool, where she was confronted by Alan, who was hit and killed by a tram while chasing her, in one of the show's highest rated episodes ever.
Other storylines of the era also proved popular, including the wedding of Mavis Riley and Derek Wilton, Gail Tilsley beginning a relationship with toyboy Martin Platt, and Ken Barlow's affair with Wendy Crozier, which marked the end of Ken and Deirdre's marriage.
As the 1980s came to an end, Coronation Street was at its peak with viewers and critics alike.
With Coronation Street now going out three times a week, Granada decided to give the show its own dedicated production base. The studio sets were moved from the main Granada TV studios building to a refurbished warehouse across from the outdoor set. The new studio would be used solely for making Coronation Street and allowed the cast to rehearse in the real sets as well as, for the first time, their own dressing rooms.
Throughout the year, the new houses and business outlets started being integrated into storylines. The Kabin moved from its Rosamund Street premises to Coronation Street, Emily Bishop opened a charity shop at No.2, Mike Baldwin established MVB Motors garage and installed Kevin Webster in charge, Derek and Mavis Wilton were finally given a house on the Street, No.4, and yuppies Des and Steph Barnes moved into No.6. The Street's new modern look gave the show a more contemporary feel. This, coupled with the introduction of a new title sequence which, in accordance with the show itself, was recorded on videotape, established it as a programme for the 1990s as it approached its thirtieth anniversary.
Flying high
Edit
Mervyn Watson's producership continued until 1991, when Watson was replaced by Carolyn Reynolds. Viewing figures remained strong, with storylines including Ken and Deirdre Barlow's divorce, the Christmas births of Rosie Webster and David Platt, Liz McDonald's late pregnancy and the Platts' nanny Carmel Finnan falling in love with Martin. On the casting front, new additions reflected the programme's penchant for strong female characters, with Denise Osbourne and Fiona Middleton starting work in the new salon, and Tanya Pooley and Raquel Wolstenhulme installed behind the bar at the Rovers, now run solo by Bet Gilroy. Raquel in particular was a hit, with her feisty-but-dim personality proving popular with viewers.
Despite the changes that had been made, not everyone was happy. In 1992, while Reynolds settled into her role, the show came under fire from Lord Rees-Mogg, chairman of the Broadcasting Standards Council, who criticised the programme's all-white cast. The press reported on his comments, with many defending the programme. Patrick Stoddart of newspaper The Times wrote:
"The millions who watch Coronation Street – and who will continue to do so despite Lord Rees-Mogg – know real life when they see it even if it is heightened and sometimes lightened in the most confident and accomplished soap opera television has ever seen".
During the year, the BBC launched another prime-time soap, Elderado. With a massive publicity budget (some suggestions put it at over one million pounds) and with the resultant press attention, there were fears that this newcomer would do to the programme's ratings what EastEnders had done in the 1980s. Determined to "strangle it at birth", ITV Executives ordered that two episodes of Coronation Street, planned originally to be shown two days apart as per the normal schedules, be edited together and shown at 7.00pm directly opposite the new programme on Monday 6th July. They needn't have been concerned as Eldorado was a ratings and critical disaster for the Corporation.
1993 saw Carolyn Reynolds take on the role of Executive Producer, with Sue Pritchard becoming the new Producer. The period saw an increase in the amount of slapstick and physical humour in storylines, with comic characters such as Reg Holdsworth and his waterbed, with pompous butcher Fred Elliott and nosy Norris Cole debuting in 1994. Meanwhile, dramatic storylines began to play out over longer periods, with plots including Terry Duckworth selling his own son, Tanya Pooley's affairs with Charlie Whelan and Des Barnes, and Ken Barlow fathering an illegitimate child. The year also saw the departure of Lynne Perrie after 23 years as Ivy Brennan; the actress was sacked after having cosmetic surgery, angering programme bosses who had not been consulted. The character did not depart on-screen and was later said to have moved into a convent, where she died the following year.
Celebrations
Edit
In 1994, when EastEnders launched its third weekly episode, ITV twice broadcasted episodes of Coronation Street in direct competition in an attempt to dent the London soap's ratings. The episodes were comprised of two editions edited together having been written and recorded separately but the event marked the first the show had been broadcast as hour-long specials. In both cases, Coronation Street received more viewers. The first as-conceived one-hour edition was broadcast in 1995 for the programme's 35th anniversary, and featured the wedding of Raquel and Curly Watts. The episode attained an impressive 19.42 million viewers.
To mark the anniversary, a spin-off video entitled Coronation Street - The Feature Length Special was released, the events of which followed on directly from the main show and featured Curly and Raquel on their honeymoon, joined by stalwarts Rita and Mavis. The first of its kind for Coronation Street, the special was shown on ITV only three months after its release, angering some consumers who had purchased the "exclusive to video" spin-off.
The anniversary came just as Julie Goodyear quit the series, having played Bet Lynch for 25 years. The character, famous for her leopard print clothes and beehive hairstyle, bowed out in October after unsuccessfully trying to buy the Rovers from the brewery. Her replacements in the pub were Jack and Vera Duckworth, soon joined by a returning Alec Gilroy.
In 1996, with the show's 4000th episode approaching, a fourth weekly episode was added to the programme's lineup. From November, viewers would also see an episode at 7.30pm on Sundays. As another episode could not be worked into the current system of rehearsal and studio days, the structure of production was given an overhaul, replaced by a new recording style where scenes would be rehearsed and then immediately recorded. As this meant it took less time to make the show, most actors greeted the new production method with enthusiasm, although others were unhappy with the reduced rehearsal time.
1996 also saw confectionary giant Cadbury become the first sponsor of Coronation Street, while Sky viewers were given a chance to see classic episodes as channel Granada Plus, owned by ITV, began broadcasting episodes from 1976 onwards, the first time non-current episodes had been given a regular timeslot.
Coronation Street continued to bring in viewers with storylines including Steve McDonald and Vicky Arden's brief marriage, the death of Samir Rachid, Alf Roberts being awarded the OBE and meeting the Queen, and the departure of Raquel, with Sarah Lancashire leaving the role after five years. Viewers also saw the last of Phyllis Pearce as Jill Summers left due to ill health, as well as Reg Holdsworth, with Ken Morley also quitting the series. New characters included oddball Roy Cropper, salon assistant Maxine Heavey and Fred's nephew Ashley Peacock.
Brian Park's new broom
Edit
By 1997, Coronation Street's viewing figures had slipped and the programme was flagging behind EastEnders. With the programme again coming under fire for being dated, ITV bosses were keen to make sweeping changes, with a particular eye on attracting younger viewers. When Sue Pritchard stepped down as Producer, Brian Park was appointed as her successor, with orders to take whatever means necessary to get Coronation Street back to the top spot.
On his first day in the job, news leaked that Park had sacked actor Peter Baldwin, who had played Derek Wilton on and off since 1976. Derek was killed off after suffering a heart attack during a road rage incident. Other characters, including Don Brennan, Bill Webster, Percy Sugden, Andy McDonald, Billy Williams and Maureen Holdsworth were also axed and followed Derek out of the show during the year. In interviews, Park later explained the reasons behind the axings:"I inherited an over-large cast. Decisions have to be taken to create space and give the show some oxygen. Some characters have run their course."
The cast cull left many actors worried about their jobs, while others were outraged by the sackings, with Thelma Barlow, who played Derek's widow Mavis, resigning from the show after 25 years in light of Peter Baldwin's dismissal. The changes brought about by Park also had casualties among the production crew, with writers Barry Hill, Adele Rose and Julian Roach quitting.
Cast additions and storylines during 1997 reflected Park's desire for the programme to have a fresher, younger feel. Maneater Natalie Horrocks was introduced and broke up the Webster marriage after having an affair with Kevin, an armed siege took place at No.11, single mother Zoe Tattersall sold her baby to the Malletts, Nick Tilsley was recast, with heart-throb Adam Rickitt taking on the role, and a new family, the Battersbys, moved into No.5 following Don Brennan's spectacular death. Other additions included Martin Hancock as eco-warrior Spider Nugent and Matthew Marsden as hunky mechanic Chris Collins.
The changes upset many viewers, and the media was also critical of what it saw as an attempt to emulate more modern soaps such as Brookside and EastEnders, with the sex-driven storylines and the neighbours-from-hell Battersby family proving particularly unpopular. The Battersbys, including loudmouth dad Les, gobby Janice, and teenage daughters Leanne and Toyah, were brought in deliberately to disrupt life in the Street, antagonising many of the established characters with their loud music and brash personalities. It was Park's hope that even if people hated the family, they would tune in to see how the other characters were coping with them.
Despite some viewers going as far as to say they would never watch the programme again, Coronation Street's viewing figures rose steadily throughout the year, soon regaining the pole position in the charts.
The Weatherfield One
Edit
Park's biggest storyline came to the fore in early 1998. Viewers had watched Deirdre Rachid fall for airline pilot Jon Lindsay, only for her to discover he was leading a double life. When Jon's crimes of fraud were discovered by the police, he was able to put the blame completely on Deirdre, who was found guilty and sent to prison. Deirdre's imprisonment sparked a media frenzy, with viewers jamming Granada's switchboards to complain, the press demanding her release, and even Prime Minister Tony Blair raised the issue in Parliament, commenting that "anyone with eyes in their head" could see that Deirdre was innocent. Some were baffled by the nation's sudden obsession with the fate of a fictional character, with the Daily Mail saying: "Now the dividing line between Coronation Street fiction and real life fact has not so much blurred as completely disappeared up the nation's aerials."
When the storyline concluded with Deirdre's release after three weeks in prison, the "Justice for Deirdre" campaigners declared victory, although the ending had actually been recorded prior to the screening of Deirdre's sentencing.
In April, Brian Park quit his role as Producer, and left to set up his own production company. Speaking to The Mirror, Park reflected on the current success of the programme:
"It's an experience I wouldn't have missed for the world. Coronation Street is a national institution. It dominates your life and I probably won't miss it until I've left. Then it will hit me. It's been a real rollercoaster ride. When I arrived, Corrie had gone past its sell-by date and would have continued to decline. There was an image problem and what I set out to do was to crank it up a gear. I have no regrets about what I've done and the viewing figures speak for themselves."
Park went on to say that his proudest achievement in his tenure as Producer was the creation of character Hayley Patterson, played by Julie Hesmondhalgh, the first transsexual in a British soap. It was Park's intention that Hayley's introductory storyline, which saw her fall in love with café owner Roy Cropper and break the news of her background to him, was about Hayley as a character and not an "issue". Roy and Hayley became popular with viewers and the couple married the following year.
David Hanson
Edit
David Hanson became the new Producer after Park's departure. Hanson stayed until 1999 and oversaw storylines including Des Barnes dying after being beaten up by drug dealers, only weeks after marrying Natalie Horrocks. Des's exit was the most-watched episode of the year, with 20.30 million viewers. Other storylines included Emily and Spider camping out in a tree to protest the renovation of the Red Rec, Zoe joining a dangerous cult, Nick Tilsley marrying Leanne Battersby, and the departure of Alec Gilroy, with Roy Barracloughmaking his final appearance in the programme at the end of the year. Alec sold the Rovers Return to Natalie Barnes and left Weatherfield.
After 38 years in the programme, Alf Roberts was killed off in the New Year, suffering a heart attack at Nick's birthday party. Actor Bryan Mosley had not wanted to leave but had been forcibly retired from the role following his recent health problems, including several heart attacks. Tragically, Mosley died only weeks after his character's demise.
1999 was a landmark year for Coronation Street. The programme's first Asian family, the Desais, took over the Corner Shop, although dad of the family, Ravi Desai, played by actor Saeed Jaffrey, was axed after only a few months in the soap. By the end of the year, Dev Alahan, a relative of the family, had taken over the shop. Other new arrivals included Tyrone Dobbs, Duggie Ferguson and Linda Sykes, while Tina O'Brien took over the role of Sarah Platt. The year saw several cast returns, with Maggie Jones as Blanche Hunt joining permanently after several years of fleeting appearances, and Tracie Bennett returning as Sharon Gaskell for a high-profile wedding storyline.
Following the success of the cruise video, and a further video spin-off entitled Viva Las Vegas! featuring Jack and Vera Duckworth in 1997, another series of spin-offs were produced in 1999, this time shown on TV. Entitled Coronation Street - After Hours and set in Brighton, it featured the characters of Bet Gilroy, Vicky McDonald and Reg Holdsworth, with the actors returning to their roles, along with current characters Steve McDonald and Vikram Desai. The spin-off ran for six episodes and was a minor hit, with its final episode achieving 11.95 million viewers.
The year also saw another expanion of the outdoor set, with Victoria Street built in full to accommodate more business properties and flats. Café Roy's Rolls was opened there, along with Fred Elliott's Butcher's Shop and Steve McDonald's cab firm Street Cars.
Jane Macnaught took over as Producer later in the year. Coronation Street ended the decade with storylines including Ashley and Maxine's wedding, Judy Mallett dying of an embolism while hanging out the washing, and Nick leaving the Street after Leanne aborts his baby. Viewing figures remained strong.
Coronation Street's fortieth anniversary year began with the return of Sarah Lancashire as Raquel Watts for two episodes, including the programme's first two-hander, featuring Raquel and Curly Watts. The anniversary itself was celebrated in December with a live episode, the first since the practice was abandoned in 1961. The episode saw the Street residents protest a council plot to tarmac over the famous cobbles, and included guest appearances by Sir Trevor McDonald, Noddy Holder and Prince Charles, who played himself in a pre-recorded insert.
In 2000, Coronation Street featured a high number of violent storylines, such as a siege at supermarket Freshco's and drug dealer Jez Quigley's terrorism of Steve McDonald, which ended with Jim McDonald being sent to prison after beating Jez to death. The storyline marked actor Charles Lawson's exit from the series after twelve years playing Jim, although he made occasional appearances afterwards.
Jane Macnaught's time as Producer was also noted for its high frequency of issue-driven plots, which were especially prominent in 2001 with storylines including Roy and Hayley Cropper going on the run with their abused foster child Wayne Hayes, Sarah Platt being lured to the home of an internet pervert, Alma Halliwell's death by cervical cancer and the 'whodunit' rape of Toyah Battersby. Despite hopes that the increased emphasis on the younger cast and hard-hitting storylines would lure viewers to the programme, Coronation Street in fact experienced a rapid decline in viewership throughout the year, with ratings reaching their lowest levels for more than ten years in August. The press were also critical of the change of emphasis, citing Toyah's rape as a poor attempt to emulate the grittier style of EastEnders, which that year had launched its fourth weekly episode. On its first week in the slot, the extra EastEnders episode clashed with an episode of Coronation Street and the London soap emerged as the victor by over a million viewers.
In October, ITV abruptly reassigned Macnaught, even though there was no Producer in line to replace her. The day-to-day running of the show was handled by Granada Drama Controller Carolyn Reynolds, who assumed the role of Executive Producer, while Kieran Roberts soon took over as Producer. Reynolds, who had produced the show in the 1990s, signed up several writers who had worked on Coronation Street during her earlier stint, while Roberts hoped to return the emphasis to "gentle storylines and humour". Several of the newer characters were axed so that popular characters could take on more prominence.
Despite the unfavourable press responses to some storylines of the period, many others were well received by viewers and critics, such as the underage pregnancy of Sarah Platt, and Linda Sykes's affair with fiancé Mike Baldwin's son Mark Redman, which won Best Storyline at the British Soap Awards in 2001. New characters included Shelley Unwin, Karen Phillips, Maria and Kirk Sutherland and the Grimshaw family, while new actors took on the roles of David Platt, Rosie Webster and Peter Barlow.
The year ended with the last of Macnaught's storylines, including the car crash death of Dennis Stringer and the unlikely one-night-stand of Deirdre Rachid and Dev Alahan.
The nation's favourite
Edit
In January 2002, in accordance with current TV trends, Coronation Street began transmitting in 16:9 widescreen format. A new title sequence was made to match up with the new aspect ratio. The new sequence used CGI to give viewers a view of the area surrounding Coronation Street.
Early in the year, it was announced that Julie Goodyear would be returning as Bet Lynch after an absence of seven years. Although Bet returned to much fanfare in June, Goodyear bowed out of the show due to exhaustion after only two weeks and did not return, resulting in plans for the character to return to her position as landlady of the Rovers being shelved. Despite the setback, Coronation Street's popularity and viewing figures were steadily rising again, with the popular Richard Hillman serial killer storyline proving particularly popular. Hillman, played by Brian Capron, had been introduced in 2001 and married Gail Platt in 2002. While viewers saw Richard plot and murder to secure his family's financial future, Gail was oblivious. When Richard confessed his crimes, including the murder of Maxine Peacock and the attempted murders of Emily Bishop and Audrey Roberts, to Gail in a February 2003 episode, 19.43 million viewers watched, the highest viewing figure of the decade. A month later, the storyline's conclusion, which saw Richard kidnap the Platts and drive them into the Weatherfield canal, was seen by 17.84 million viewers. The success of the storyline saw Coronation Street reclaim its place at the top of the TV ratings.
A fifth weekly episode was gradually introduced in late 2002. Transmitted at 8.30pm on Mondays, the episode was initially reserved for 'big' events so that a single day could play out over two episodes, but the extra episode became used more and more until it was part of the schedule full-time by the end of 2003.
Coronation Street continued with storylines including teacher Ken Barlow losing his rag and thumping disruptive school pupil Aidan Critchley, Kevin and Sally Webster re-marrying, Peter Barlow's bigamy, and a returning Tracy Barlow (now played by Kate Ford) almost destroying Roy and Hayley's marriage by claiming that Roy was the father of her unborn child. 2003 also featured the programme's first gay kiss, as well as the final appearance by Kevin Kennedy as Curly Watts after 20 years. The character was axed along with wife Emma, with the couple moving to Newcastle, while new family the Harrises were introduced with a twist - the family was living under a false name and had been relocated under the witness protection scheme.
At the end of the year, Kieran Roberts stood down as Producer. His replacement was Tony Wood, who had produced the programme for a short time in 1993.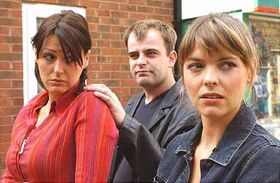 Tony Wood
Edit
Coronation Street under Tony Wood continued the success of the previous regime, with the most-watched episode of 2004 gaining 16.33 million viewers in February.
After initiating the programme's first gay kiss the previous year, Todd Grimshaw's confusion over his sexuality was a prominent storyline in 2004. The storyline saw Todd have an affair with nurse Karl Foster and confess to his pregnant fiancé Sarah Platt. After years of criticism about non-representation, the programme's first regular gay character, Sean Tully, joined that same year.
Following the success of the Richard Hillman storyline, Coronation Street began to feature more villains, including bunny boiler Maya Sharma, whose revenge campaign against former lover Dev Alahan and wife Sunita concluded with Maya trying to kill the pair, and womaniser Charlie Stubbs, who psychologically abused Rovers landlady Shelley Unwin, resulting Shelley developing agorophobia until she jilted him at the altar. 2004 and 2005 also featured a higher quotient of celebrity guest appearances than normal, with Status Quo playing themselves, and Norman Wisdom, Peter Kay, Honor Blackman and Ian McKellen taking on roles.
In an example of history repeating itself, Ken and Deirdre Barlow re-married in 2005 on the same week as the Royal wedding of Prince Charles and Camilla Parker Bowles. Ken and Deirdre's wedding amassed 13.03 million viewers, six million higher than the Royal wedding. The storyline featured the return of Neville Buswell as Tracy's father Ray Langton after an absence of a record twenty-seven years.
A popular storyline in 2005 saw the breakup of the Harris family, with Katy Harris killing her dad Tommy in a fit of rage and committing suicide after being unable to live with the guilt. Mum Angela went to prison for perverting the course of justice by protecting Katy, leaving Craig the sole surviving member of the family. Katy had been involved in a relationship with Street veteran Martin Platt since the age of sixteen and after the storyline had concluded it was intended that Martin would be involved with an even younger girl, but plans were scuppered when actor Sean Wilson, who played Martin, objected to such a storyline. Martin was later axed from the show after twenty years.
Arrivals during the period included Fiz Brown's mother Cilla and brother Chesney and a new Baldwin family, with Mike's son Danny arriving to run the factory with Mike. After the new Baldwin clan was established, Mike left the series in 2006, with Johnny Briggs quitting after thirty years. Mike was killed off after a storyline which saw the character struggle with Alzheimer's disease, dying in the arms of his former rival Ken Barlow. 12.34 million viewers watched Mike's exit.
50th Anniversary Year
Edit
2010 was the 50th Anniversary year for Coronation Street, and had seen many high profile storylines such as Joe McIntyre's death after attempting to fake his death, wife Gail McIntyre's imprisonment accused of killing him, the beginning of John Stape's killing spree, Tony Gordon's siege on Underworld and also the death of Blanche Hunt after the real life passing of Maggie Jones, a story which had paved way for the return of killer granddaughter Tracy Barlow.
Kim Crowther had left as producer after nearly 2 years, and was replaced by Phil Collinson. Collinson was to oversee the 50th Anniversary in December that year, which was to involve a tram crash and a live episode. Collinson was also responsible for axing the long-running Peacock family.
The Anniversary Week was shown from the 6th to 10th December, with a live episode on the 9th. The affects of the tram crash would be felt throughout the next 12-months of the show.
Post-Tram Crash
Edit
2011 saw the return of Philip Lowrie as Dennis Tanner after a 43-year absence which had earned him a record for the longest absence in a television character. This also reunited Rita and Dennis after 47 years, and properly disclosed the fate of his mother Elsie Tanner (Patricia Phoenix) who was said to have died a few years previously.
Early 2011 saw Peter Barlow recovering after being injured in the tram crash, and discovering that former fiance Leanne had an affair with ex-husband Nick Tilsley. In a dramatic episode in February 2011, Peter had revealed to the whole church about Leanne's betrayal, and had served her divorce papers. However Peter later forgave Leanne and took her back.
The McDonald family where on the front-line for most of 2011, especially with the return of Tracy Barlow, who wanted Steve back and worked to ruin his marriage to Becky McDonald. Beverley Callard left the role as Liz McDonald, who departed in April 2011 after Jim McDonald had robbed a Building Society to get the money to buy her the Rovers.