Jenny Bradley (formerly Midgeley) was Rita Fairclough's foster daughter and daughter of Alan Bradley.
Jenny came to live with Rita in 1986, just after her mother Pat died in a road accident. Alan had left Pat and Jenny six years earlier but he was traced and re-entered her life.
Jenny lived most of her teenage years in the Street under Alan and Rita's watchful eyes, giving them no end of trouble with her wayward behaviour. When Alan completed a prison sentence for swindling and assaulting Rita, Jenny supported him and blamed Rita for his death in Blackpool. In 1989, she started studying Biology at Manchester Polytechnic but in 1991 she dropped out of her course and left Weatherfield with a married man, Robert Weston.
Having last visited the area in the autumn of 1993, Jenny returned again in February 2015 after meeting Kevin Webster through a dating website. She departed again in June 2015 after attempting to abduct Kevin's son Jack. She returned again in January 2016 after she was released from hospital and made contact with Rita wanting forgiveness.
Biography
Edit
1986-1991: Early Years on the Street
Edit
In January 1986 Jenny's mother, Pat Bradley, was run over and killed. Don Worthington, her social worker insisted that she moved into Larchfield Children's Home until she found a foster parent. Jenny fiercely protested against the idea of being put into a foster home and begged Rita Fairclough to adopt her. A few days later Jenny's father Alan Bradley was found and Don said Jenny could go live with him but Jenny was not keen on the idea due to him walking out on her as a young child. Alan decided to move to Weatherfield in a attempt to rekindle his relationship with her daughter. Eventually Jenny moved in with Rita and Alan soon followed.
In 1987 Jenny told her father that she was sick of school and wanted to go to France, alongside Martin Platt, for a school trip. Alan disproved of her wish and said she would not be going, only to find a note later in the day that said that she had left for France. Alan was furious with her decision and booked a flight to France to try and track her down. Rita noticed that Martin had returned to Weatherfield on the 5th October. Rita asked where Jenny was and Martin told her that Jenny was still in France; she went off with a load of French students when he decided to return. Alan returned from France unsuccessfully and accused Martin of abandoning her. Martin told him she had actually met a new boyfriend over there. The following day Jenny finally returned saying that she was in love with a man named Patrice Podevin. Before heading back to France, Patrice temporally stayed in Weatherfield so Alan could get to know him. While staying in Weatherfield, Patrice proposed to Jenny despite him saying that they would marry for another two years. Patrice moved back to France soon after. In December he called Jenny saying that he will return for Christmas but the day prior to Christmas he rung her saying the he wouldn't be back for Christmas. Patrice returned in January and tried to rush Jenny into marrying him but before Patrice could whisk her back to France, Lisa Woods told him that she had cheated on him with Gary Grimshaw. Jenny tried to cover it up by saying it was a Christmas kiss. Later on Patrice confronted Gary and told him to back off, Gary ended up telling him that Jenny had taken off her engagement ring on that Christmas Night. The following day Jenny was dumped by Patrice.
In 1989 Rita and Alan's relationship stating going downhill. First due to Alan selling the deeds to her house to buy Weatherfield Security Systems on Curzon Street. Soon after the opening of his shop he hired Dawn Prescott as a receptionist and a few months later he tried rape the young women. Dawn told Rita about the attack and about the letters that arrived in Len's name to the workplace. Rita discovered the fraud and on the night of Jenny's 18th birthday party, she confronted Alan at No.7. She told him that she had informed the building society about him and that he was about to go under. Alan went mad, hit her and tried to murder her by suffocating her with a cushion. She was saved by the return of Jenny and Martin Platt, who were concerned when she wasn't answering the phone. Despite the attempted murder Jenny stood by her father even after he went on the run from the police. Alan was captured and sentenced to two years in prison but was released as he had already served time in prison, and he walked out of the courtroom a free man.
Rita decided to go to Blackpool to hide out for a while but Alan eventually tracked her down and attempted to stuff her into his car but as Alan got into the car Rita got out and ran for her life. Alan gave chase but accidentally ran in front of a tram, killing him. On the day of her fathers funeral, Jenny was the only attendee with Martin, Sally and Kevin Webster providing her support.
Following her fathers death, Jenny began studying biology at Weatherfield Polytechnic. In April 1990 Rita moved out of 7 Coronation Street and Jenny's college mates Felicity Khan and her sister Joanne Khan moved in.
Later that year, Jenny started dating Mark Casey. Mark considered asking her to marry him. He wanted to live with her and planned to oust Angie Freeman from No.7 so they could have the house to themselves. The following year in January Jenny and her mate Steph Barnes did a promo at the Adelphi Hotel. While there, Jenny met a man called Robert Weston. Later on, Mark turned up to the promo and assumed that Robert was Steph's boyfriend. Following the evening, Steph told Jenny to tell Mark about Robert. Eventually Mark and Jenny broke up and she continued her relationship with Robert, despite him being married. In February Robert told Jenny that he was going to break up with his wife, after that Jenny moved into a flat with Robert and left the street.
1993: Brief Return to Weatherfield
Edit
In 1993, Jenny came back to Weatherfield, now without Robert but with a rare breed of dog named Mitzi. Jenny was welcomed back warmly by her foster parent, Rita. A few days later Jenny broke down when she found out that Robert had cleared out their joint bank account. Rita felt sorry for her and offered her a small loan. Later on Derek Wilton looked after Mitzi for a day but while out walking her she was snatched. Upon being told by Derek, Jenny knew immediately that it would have been Robert who had taken her. In October Jenny asked why Rita didn't live in her house in Oakhill that she had inherited from her dead husband Ted Sullivan. Her question was answered by Mavis Wilton who said she didn't live there for legal reasons. Jenny suggested to Rita that she sell her flat. Rita saw right through her, telling her it was obvious that she was counting on the house as inheritance herself. The following night Jenny, who was desperate for money, begged Rita for £30,000 so she could open her own salon but Rita instantly refused her request. She told Rita that it wasn't fair as she always seems to profit from her tragedies but Jenny didn't. Rita was furious and told her that she'd never see a penny of her money when she died. She wrote Jenny a cheque for a thousand pounds and told her to be gone by morning.
1993-2013: Away from the Street
Edit
After leaving Weatherfield Jenny married at some point and gave birth in June 2008 to their son Tom Midgeley. The four-year-old child however tragically drowned after Jenny momentarily left him playing in a paddling pool during April 2013.
2015: Reunion with Kevin Webster
Edit
Following a messy divorce, Jenny had taken up internet dating and in
February 2015
made contact with former neighbour
Kevin Webster
. They had agreed to meet up and went to a bar together and caught up over the goings on in the past twenty-two years. Jenny hesitantly asked after Rita, and pondered whether or not to see her again especially as they hadn't parted on good terms the last time.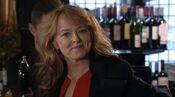 The day following their date, Jenny went for meal with Kevin at Nick's Bistro and later the Rovers, where she ended up in a confrontation with Rita's friend Norris Cole, who'd heard about Jenny and berated her for her treatment of Rita in the past. Despite the incident, Jenny was still keen to see Kevin.
In June, while everyone else was at the funeral of Maddie Heath, Jenny abducted Kevin's son Jack. She took him to an apartment in Hull that she'd rented under the alias of "Melanie Davis". While there Jenny celebrated her deceased son's birthday with Jack, but when she noticed that he wasn't participating she lashed out at the child and ordered him to go to his room. Jenny then phoned a worried Rita and asked her to come and meet her alone. Rita told Kevin and Sophie that she was going to see Jenny, but Kevin and Sophie insisted on going with her. When Rita arrived, Jenny quickly discovered that Kevin and Sophie had tagged along. Jenny shortly contemplated jumping off the balcony claiming she had nothing to live for but instead broke down in tears and was brought down and arrested by the police.
2016-: Reunion with Rita and Blackpool Trip
Edit
Jenny was released from hospital and moved into rundown accommodation. She used Wi-Fi to contact Rita on social media and they met in the park. Having second thoughts Jenny ran off, but Rita managed to track her down as she had left her purse behind containing her address to her bedsit where she was surprised by her living conditions and offered her refuge at her home. Jenny accepted but dreaded seeing Kevin and Sophie again after what had happened. Upon her return, Jenny was met with a frosty reception from the Websters but later met with Kevin and told him that she'd received psychological help and would stay away from Jack. Later she managed to secure a job at Underworld as a cleaner. Shortly after her arrival things began to go missing from the factory and Sally and Beth Sutherland were suspicious of Jenny although Marta Zarek later proved to be the culprit.
In May 2016, Jenny and her boss, Johnny Connor, went to visit Blackpool to properly lay her long deceased father to rest. At the same time, Tim Metcalfe and Kevin were taking Jack for a visit to the resort but while the trio were eating in the Seashore Snack Bar, Jack ran away. He was spotted by Jenny running past her towards an oncoming tram. Jenny sprinted after the boy and snatched him before her could be run over, twisting her ankle in the process. Later in the day, back at the Rovers, Jenny was thanked sincerely by Sophie.
Personality
Edit
Background information
Edit
In the late 1980s Jenny was a member of a band.
After leaving Weatherfield in 1993, Jenny worked behind the scenes on a cruise ship.
"Who were you expecting?" (First line)
External links
Edit
Ad blocker interference detected!
Wikia is a free-to-use site that makes money from advertising. We have a modified experience for viewers using ad blockers

Wikia is not accessible if you've made further modifications. Remove the custom ad blocker rule(s) and the page will load as expected.