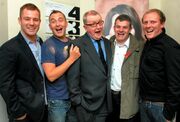 Jonathan Harvey was born in Liverpool in 1968 and following university became a secondary school teacher in English at a special needs school in London. He wrote his first play in 1987 attracted by a possible prize of £1,000 from the Liverpool Playhouse and his early works were almost exclusively for the theatre, winning many major awards. Branching into television he was best known for the comedy series Gimme, Gimme, Gimme with Kathy Burke and James Dreyfuss. Harvey is openly gay and his sexuality has defined many of his works. It was one of the reasons why he agreed to write for Coronation Street in 2004 having previously rejected Granada's offer, feeling that writing for the programme would be "beneath him". Initially guiding the storyline for Todd Grimshaw, the programme's first gay character, his favourite character to write for is now Sean Tully. Despite his previous reluctance to write for the programme he has now contributed 244 episodes including two episodes co-credited with Stephen Bennett and Julie Jones.
He also penned the script for the August 2010 hit stage play Corrie! and the ten internet episodes for Ken and Deirdre's Bedtime Stories in 2011.
Episodes written by Jonathan Harvey
Edit
2004 (10 episodes)
2005 (19 episodes)
2006 (20 episodes)
2007 (20 episodes)
2008 (15 episodes)
2009 (24 episodes)
2010 (18 episodes)
2011 (16 episodes)
2012 (18 episodes)
2013 (19 episodes)
2014 (20 episodes)
2015 (21 episodes)
2016 (12 episodes)
2017 (13 episodes)
Ad blocker interference detected!
Wikia is a free-to-use site that makes money from advertising. We have a modified experience for viewers using ad blockers

Wikia is not accessible if you've made further modifications. Remove the custom ad blocker rule(s) and the page will load as expected.