Ad blocker interference detected!
Wikia is a free-to-use site that makes money from advertising. We have a modified experience for viewers using ad blockers

Wikia is not accessible if you've made further modifications. Remove the custom ad blocker rule(s) and the page will load as expected.
Kimberley Taylor was an employee at Bettabuy supermarket who was engaged to Curly Watts. Kimberley stymied Curly's attempts to get her into bed by refusing to sleep with him until they were married. They split in 1992 when Curly blew £2,000 converting his loft into an observatory.
Biography
Edit
1989-1991
Edit
Kimberley Taylor was the daughter of Randolph and Brenda Taylor. She was an only child and had a strict, sheltered upbringing as her parents were old-fashioned and religious.
In October 1989, Kimberley met Curly Watts, the new Assistant Manager at Bettabuy supermarket where Kimberley was a shelf-stacker. On Curly's first walk around the shop floor, Reg Holdsworth invited him to point where Kimberley had made a mistake in her shelf-stacking technique. Curly re-arranged the display so that it would be more eye-catching to the customer, introducing himself to Kimberley as he did so.
Kimberley was taken with "Mr. Watts" and a mutual attraction was noticed by Vera Duckworth when she started at Bettabuy. Vera tried to matchmake them by inviting Kimberley over for tea as a surprise for Curly, who didn't want to ask Kimberley out himself as he was her boss.
The following May, Kimberley was promoted to checkout at Curly's recommendation. As the Duckworths were away, Kimberley agreed to stay the night with Curly. She told her parents she was staying at her friend's house as she knew they'd disapprove of her having sex before marriage but the guilt stopped her from going through with it and she decided to sleep alone, to Curly's disappointment. The next morning, Brenda called at No.9 and caught Kimberley there in her dressing gown. Kimberley talked Curly into announcing his intentions towards her to her parents, but due to a misunderstanding the Taylors thought that Curly was planning a wedding. Kimberley took it as a proposal and accepted!
Kimberley and Curly went ahead with the wedding preparations; Curly bought Kimberley an engagement ring and they planned a holiday together to which the Taylors invited themselves and changed it to a caravanning trip to Barmouth. Curly then decided to drop out, which Kimberley took as a slight against her parents and poured a pint over his head. Curly then decided to go on the holiday after all.
As Christmas approached, Kimberley finally agreed to spend the night with Curly. They booked a hotel to stay at over Christmas, using a visit to Curly's parents as a cover. However this backfired when Brenda phoned his parents to thank them for having the couple over Christmas. When confronted by the Taylors, Kimberley was shamed into confessing and Curly was thrown out for seducing their "little girl". Curly thought the engagement was over but the Taylors visited him to make amends a few days later and he agreed to bring the wedding forward to placate them. Curly didn't like the way Kimberley and Randolph (who he got on with) were treated by Brenda but when he started openly criticising her mother, Kimberley got upset and returned his ring.
Their relationship over, Kimberley requested a transfer from Bettabuy, but Curly used his position as manager to refuse the request, convinced Kimberley would change her mind. In January 1991, Kimberley's cousin Adrian Gosthorpe started lodging with the Taylors. While stalking Kimberley, Curly saw them together and, spurred on by jealousy and sexual frustration, confronted Adrian at the building society where he worked and accused him of stealing Kimberley. After hearing Adrian boast about sleeping with Kimberley, Curly rowed with Kimberley on the Bettabuy shop floor, causing Reg to intervene and make Curly grant Kimberley's transfer request. Kimberley moved to the Bolton branch.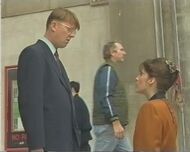 By August 1992, Kimberley had joined Cupid's Arrow Introduction Bureau and under the guise of Janet Shaw was paired up with Gerald Murphy who turned out to be none other than Curly. Deciding fate had brought them together they gave their relationship another go.
One problem was Angie Freeman, Curly's lodger. Kimberley wasn't comfortable with Curly living with a woman and told him to throw her out. Curly tried to make her believe their relationship was platonic, and tried to satisfy her by asking her to marry him. Kimberley accepted but they hid his living arrangements from parents. When Brenda found a bra at No.7 which Curly said wasn't Kimberley's, she assumed Curly was a womaniser and refused to give her blessing to the marriage. Curly decided to stand up to the Taylors, telling them all about Angie and that they wouldn't stop him from marrying Kimberley.
With their wedding delayed until Spring because of Randolph's hernia, Kimberley and Curly went on holiday to Cornwall. Their plans to consummate their relationship during the outing were scuppered by Kimberley's sickness, though they did finally have sex when they got back.
Since Curly last knew her, Kimberley had become more assertive. Curly took this as a sign she was turning into her mother and, looking with horror at the Taylors' marriage, started deliberately upsetting Kimberley to let her know she wouldn't be the boss in their relationship. In November, he indulged his passion for astronomy by converting No.7's loft into an observatory, and buying an expensive telescope. He let Kimberley believe he was having a third bedroom converted, but Neil Mitchell innocently told her the truth. At first Kimberley was upset about Curly not trusting her but once she discovered the project would cost £2,000 - when they were saving for a wedding - she told him to choose between the telescope and her. Angie had accused Curly of using the telescope to push Kimberley into breaking the engagement, but whatever his motivation, Curly went ahead with the loft conversion and let Kimberley walk out of his life for the last time. Kimberley collected her things from No.7 and returned Curly's ring, telling him he had given her the confidence to believe in herself.
Other information
Edit
Before leaving Bettabuy, Kimberley lodged a sexual harassment complaint against Curly Watts to Head Office. This along with similar complaints from other women got him sacked in 1994.
At the time of her second engagement to Curly in 1992, Kimberley was working for Krazy Kuts, a rival supermarket to Bettabuy. Reg Holdsworth briefly entertained the idea that Kimberley's engagement to Curly was actually a front for her to steal Bettabuy's secrets. Once he realised he was mistaken, Reg tried to get Curly to pump Kimberley for information about Krazy Kuts' festive plans. Kimberley told Reg they were using topless checkout girls.
"Hello Mr Watts." (First line, to Curly Watts)
External links
Edit