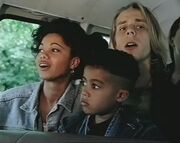 Knowlsey Safari Park is a visitor attraction in the grounds of the ancestral home of the Earl of Derby near the village of Knowsley outside of Liverpool. It opened in July 1971 and allowed tourists to drive round large fenced enclosures containing African wild animals in the safety of their cars while the animals themselves roamed free, a concept based on the success of Windsor Safari Park which had opened two years earlier.
The first visitors to the park in May 1990 were Dave Barton, Deirdre and Tracy Barlow - who were accompanied by Tracy's schoolfriend, Donna Cox. Dave had recently completed work on the kitchen at 1 Coronation Street after Tracy had caused a blaze when she left a chip pan unattended. As husband Ken had left the marital home and moved in with Wendy Crozier, Dave and Deirdre struck up a friendship and the day out was a complete hit.
In August 1993, Andy McDonald took girlfriend Amy Nelson and her young son Dominic to the park for a Bank Holiday treat. Dominic was going through a period of being obsessed by wild animals. The lions pawed the windscreen wipers of the park's safari van containing the three, the guests were permitted to feed the elephants through slightly opened windows and Andy and Amy commented on the similarity between the sad faces of the baboons and their boss at Bettabuy supermarket, Curly Watts. At the end of the day, Amy was impressed with the attention that Andy had given to her son and the day out that he had provided for the exhausted youngster.
A less successful was a trip taken in August 2005 by Bev Unwin and Deirdre Barlow as a treat for the latter's granddaughter Amy. Despite the many warnings, Deirdre opened the car window to get a closer look at the monkeys and one of them snatched off her spectacles. When they returned home, Deirdre was forced to dig out a previous and hideously unfashionable pair to wear which made Amy cry with fright each time she saw her.
The park is part of the Knowsley Hall estate. The hall itself was used to record the wedding scenes of Gail Platt and Richard Hillman in Episode 5310 (28th July 2002) and Eva Price and Aidan Connor in Episode 9251 (18th September 2017) and Episode 9252 (18th September 2017).
Ad blocker interference detected!
Wikia is a free-to-use site that makes money from advertising. We have a modified experience for viewers using ad blockers

Wikia is not accessible if you've made further modifications. Remove the custom ad blocker rule(s) and the page will load as expected.