Manchester Central Library is the headquarters of the Manchester Library and Information Service. A Grade II listed building, it was opened by King George V on 17th July 1934 and was at the time the largest library in the country provided by a local authority. The rotunda form of the library was inspired by the Pantheon in Rome and the basement of the building was the home of the Library Theatre Company for many years, a repertory company who included many actors who have appeared in Coronation Street, including Anne Reid. The building has been used three times for location filming for Coronation Street (see below).
The Library in Coronation StreetEdit
In January 1985, recently-widowed Hilda Ogden took in Henry Wakefield as her lodger. He told her he was an unemployed foundry worker but Curly Watts recognised him from the reading room of the library. He admitted to Hilda that he had been blacklisted from work for breaking a strike and she managed to persuade Mike Baldwin to employ him at Baldwin's Casuals. Soon afterwards union rep Ida Clough received an anonymous letter detailing Henry's past and threatened a strike unless he was fired. Mike Baldwin had no option but to comply. Henry disappeared from No. 13 and Percy Sugden suggested that she looked for him in the library. Sure enough, she found him in the maze of bookshelves and brought him home but he soon left Weatherfield to start afresh.
In November 1990, Ken Barlow, deeply suspicious of businessman Phil Jennings and his developing relationship with Deirdre Barlow, asked a student contact named Linda Patterson to investigate Phil's past in the newspaper cuttings archive in the library but the search turned up nothing.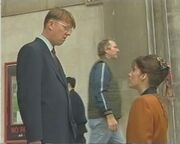 In August 1992, a lovelorn Curly Watts joined the Cupid's Arrow Introduction Bureau where he was soon paired with a "Janet Shaw". They agreed to meet under the portico entrance of the library but, arriving under the pseudonym of "Gerald Murphy", he was stunned when Miss Shaw turned out to be his former fiancee Kimberley Taylor. They decided that fate had brought them together and they agreed to give their relationship another go although the second time around proved to be equally as unsuccessful as the first.
Ad blocker interference detected!
Wikia is a free-to-use site that makes money from advertising. We have a modified experience for viewers using ad blockers

Wikia is not accessible if you've made further modifications. Remove the custom ad blocker rule(s) and the page will load as expected.