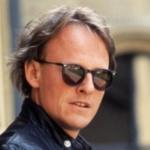 Marek Kanievska (born 30th November 1952 in London) directed 2 episodes of Coronation Street in September 1977.
Of Polish ancestry, his television career began in Australia in the early 1970s. He returned to the UK in the middle of the decade and worked on a series of programmes including Within These Walls, Thomas and Sarah, ITV Playhouse, Shoestring, Hazell and Muck And Brass.
He then moved into feature films winning awards and acclaim for his debut with Another Country in 1984 and he then moved into the area of directing commercials for Ridley Scott's company for which he won several awards. He then moved back to feature films with Where the Money Is and A Different Loyalty but is now retired and is a full-time traveller and photographer.
Episodes directed by Marek Kanievska
Edit
1977 (2 episodes)
Ad blocker interference detected!
Wikia is a free-to-use site that makes money from advertising. We have a modified experience for viewers using ad blockers

Wikia is not accessible if you've made further modifications. Remove the custom ad blocker rule(s) and the page will load as expected.