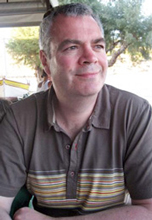 Mark Wadlow
has been a member of the
Coronation Street
script-writing team since
1993
and has contributed
346
scripts to date, including one episode co-credited with
Joe Turner
and three double episodes co-credited with
Damon Rochefort
,
Jayne Hollinson
and
Mark Burt
.
He was born in 1963 in Middlesbrough and attended Leeds University in 1982 where he met fellow student Peter Morgan (later to be the screenwriter of the Oscar-winning film The Queen). Morgan had ambitions to be an actor but a bad case of stage fright caused him to team up with Wadlow and the two of them wrote a play entitled Gross based on Wadlow's experience of a summer job in a call centre which brought them to the attention of a training video company producer when it was staged at the Edinburgh fringe. They worked on such productions for the next few years and then moved to films with work on the John Schlesinger's movie Madame Sousatzka in 1989. They also worked on Dear Rosie (1990) and The Secret Touch (1992).
Wadlow and Morgan then split up their partnership and Wadlow moved into television writing with Coronation Street being among his first work for the medium. He has also written for Robin Hood, Holding the Baby and Bad Girls.
Wadlow remains fiercely proud of his Middlesbrough roots and uses any opportunity he can to insert references to his home town into his work, including many passing mentions in his Coronation Street scripts. He currently lives in Shropshire.
Episodes written by Mark Wadlow
Edit
1993 (4 episodes)
1994 (10 episodes)
1995 (7 episodes)
1996 (6 episodes)
1997 (9 episodes)
1998 (14 episodes)
1999 (15 episodes)
2000 (17 episodes)
2001 (18 episodes)
2002 (14 episodes)
2003 (15 episodes)
2004 (15 episodes)
2005 (16 episodes)
2006 (15 episodes)
2007 (17 episodes)
2008 (14 episodes)
2009 (17 episodes)
2010 (18 episodes)
2011 (17 episodes)
2012 (17 episodes)
2013 (14 episodes)
2014 (15 episodes)
2015 (15 episodes)
2016 (14 episodes)
2017 (11 episodes)
Ad blocker interference detected!
Wikia is a free-to-use site that makes money from advertising. We have a modified experience for viewers using ad blockers

Wikia is not accessible if you've made further modifications. Remove the custom ad blocker rule(s) and the page will load as expected.