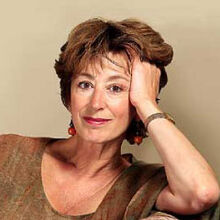 Maureen Lipman CBE (born 10th May 1946 in Hull) is a British actress of film, theatre and television success. As a member of Laurence Olivier's National Theatre Company at the Old Vic from 1971 to 1973, she made her stage debut in a production of The Knack at the Palace Theatre, Watford. The 1970s also saw Miss Lipman appear in sitcoms such as The Lovers and Doctor at Large.
In 1998 she would star alongside Hugh Jackman in a National production of the musical Oklahoma! as the character Aunt Ella.
July 2002 saw her appear on Coronation Street as Lillian Spencer, a character who was brought in as a relief manager of the Rovers where she would grace our screens for six episodes.
On the documentary Stars on the Street, actress Sue Nicholls who plays Audrey Roberts said of the character: "She was a totally different person behind the bar, that we've had really since the lovely Annie Walker".
Ad blocker interference detected!
Wikia is a free-to-use site that makes money from advertising. We have a modified experience for viewers using ad blockers

Wikia is not accessible if you've made further modifications. Remove the custom ad blocker rule(s) and the page will load as expected.