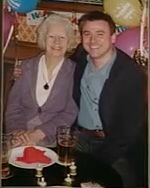 Nel was the grandmother of John Stape. She had shared a close relationship with her grandson, and after her passing in 2008 she had left John her house in the countryside and £190,000 in her will. John used her country house to keep kidnapped Rosie Webster. When he was sent to prison, he sold the house and gave the money from her will to Rosie as compensation for what he put her through.
The photograph right was seen in Episode 6939 (3rd November 2008). It is unknown who the woman is as John's grandmother.
Ad blocker interference detected!
Wikia is a free-to-use site that makes money from advertising. We have a modified experience for viewers using ad blockers

Wikia is not accessible if you've made further modifications. Remove the custom ad blocker rule(s) and the page will load as expected.