Nick Tilsley
Talk

7
15,641pages on
this wiki
Nicholas Paul "Nick" Tilsley (previously Platt) is a former resident of Coronation Street. He is the firstborn son of Gail and Brian Tilsley, a businessman, and known to break a few hearts. He was born in 1980 and grew up in the Street.
Nick became troublesome in his teenage years and began smoking, later marrying his girlfriend Leanne Battersby. He left for Canada in 1999 after he got her to abort their child. When he returned to the Street in 2003 he resumed his relationship with Maria Sutherland. They had had a brief fling when he visited for his mother's wedding to Richard Hillman a year before. He began working with Mike Baldwin at Underworld but lost the job. He later left again for Canada in 2004. Sometime after that he returned to Britain and moved to Nottingham.
He returned again in 2009 when Audrey wanted him to talk Gail out of marrying Joe McIntyre; Nick didn't mind him. He moved back to the Street in 2010 when Gail was accused of murdering Joe. After briefly running Underworld with Carla Connor he set up a bar called The Joinery under the viaduct which was managed by Leanne. They had a brief affair despite Leanne being engaged to Peter Barlow. Nick tried to stop Leanne from marrying Peter but Leanne realised her mistake and spurned Nick. He currently lives at No.8 with Gail and his half-brother David Platt. His godmother is Elsie Tanner
Biography
Edit
1981-1996: Early Years
Edit
Gail and Brian
Edit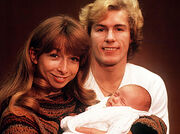 Nick Tilsley was the first-born child and only son of
Brian Tilsley
and
Gail Platt
He was born on New Year's Eve 1980 and was known as "Nicky".
Nicky's first few years were spent in a happy home but over time Brian and Gail clashed strongly over Gail's desire to work and get out from under her interfering mother-in-law Ivy's thumb. They also fought over Brian's immaturity. By 1986 Gail had had an affair with Tilsley family cousin Ian Latimer, falling pregnant; Brian and Gail split up. The child, Sarah Louise, was Brian's but he refused to believe it. Brian began dating lawyer Liz Turnbull with Nicky a major issue throughout the relationship: Gail resented the thought of Liz spending time with him. Liz finally dumped Brian because she realised Nicky meant more to Brian than she ever could. Meanwhile, Gail was dating plumber Jeff Singleton. When Brian saw Jeff and his son together he snapped and kidnapped Nicky. The police set up a nationwide search, leading to a standoff between Gail and Brian at a motorway service station where Brian again departed with his son. Finally, Brian realised Nicky needed his mother and Brian and Gail reconciled.
Gail and Brian remarried in 1988 but the marriage was one of convenience as they had become very different people. In 1989 Gail told Brian she wanted a divorce, leading to a major argument when Gail refused to let Brian take Nicky. Brian stormed out, going to one of the clubs he had begun frequenting. When he stepped in to help a girl who was being pestered by a group of men in an alleyway, he was stabbed to death.
Gail and Martin
Edit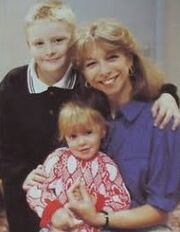 After his father's murder Nicky began to act out but
Martin Platt
proved a calming influence. In
1991
Gail and Martin, now married, planned to have Martin adopt Nick and change his last name to Platt. This would become a huge source of conflict in the family upon Ivy's death. Nick became an altar-boy at St. Luke's, which Ivy made him do in exchange for getting him a place on the football team. When Martin dragged Nicky away from the football pitch Ivy reported Gail to Social Services as an unfit mother. In spite of these difficulties the adoption proceeded.
Call Me Nick
Edit
Nicky slowly began to regard Brian as the saint his grandmother Ivy Brennan painted him to be, resulting in friction with Martin. Nicky saw Brian as tough and Martin as soft, telling Martin to not try to order him around as Martin wasn't his biological father. Nicky began to rebel, taking up smoking and demanding to be called 'Nick'. When Ivy died in 1995 her will stipulated that Nick must revert to his original surname Tilsley in order to inherit her house. This he did and the family became embroiled in a row over the property which was still occupied by Ivy's widower Don. Don eventually bought the house from Nick for £12,000.
In July 1996 Nick chose to stay at home while the rest of the family went on holiday to Prestatyn. He got sick of Audrey fussing over him and ran off. He was missing for weeks and the family feared the worst. When he returned he claimed he'd been living rough in London and eventually went to work in a cafe. Martin was furious with him but Gail was mostly relieved. Nick's bold stories caused Jamie Armstrong to want to run away to London; when angrily confronted by Jamie's mother, Nick admitted that he'd only lasted two hours in London and spent the rest of his time in Torquay.
In 1996 Nick went to Canada. He returned in 1997 to study PE at Tech.
1997-1999: Relationship with Leanne
Edit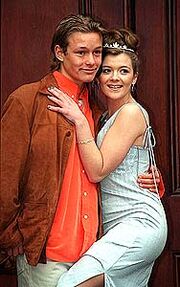 Nick lost his virginity to
Leanne Battersby
. Their fling was kept secret as Nick knew Gail did not approve of Leanne or her family. They chose to elope to Scotland and broke the news to his horrified mother. They eventually rented a room from
Ashley Peacock
and tried life as a married couple.
While Nick was at college, studying humanities his class had a visit from convicted murderer Darren Whateley, who was giving a first hand account of prison life. Nick was horrified to discover that he had come face to face with his father's killer. He wanted to make Darren pay and when he learned Darren was facing parole soon he began to write under Leanne's name, asking to meet Darren. Darren agreed, and when he was released went to see Leanne, assuming she wanted him. Leanne was frightened by him and furious with Nick for putting her in danger. Darren attempted to rape her. When Nick told Darren who he was Darren threatened to kill Nick the same way he'd killed Brian, but then got Nick to realise he was still too young to understand what had happened. Nick told the police what Darren had done, and he was returned to Strangeways prison for breaching his parole conditions.
Leanne's money was not enough for the couple to live on so Nick became a model for teacher Miranda Peters. Leanne eventually began to suspect him of adultery and confronted him as he posed for Miranda. She left him, even refusing to attend his eighteenth birthday party.
Nick was shocked when Leanne told him of her pregnancy. Miranda told him Leanne should have an abortion and Nick demanded her to do so. Leanne somewhat reluctantly agreed and was then upset to learn he had told everyone she'd lost the baby. Nick decided to move to Canada, going on his own when Leanne told him she didn't love him.
1999-2004: Return and Maria Sutherland
Edit
Nick arrived for his mother's wedding to Richard Hillman in July 2002. He began a relationship with Maria Sutherland and she left with him for Canada . She returned soon after, unhappy with the experience.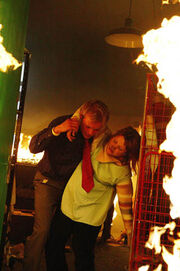 Nick returned in September 2003 and became friends with his younger sister Sarah's boyfriend Todd Grimshaw. Todd and Sarah were having problems, and one night while Nick was asleep a tipsy Todd kissed him on the lips. Nick was in no way receptive to Todd's advances and was disgusted when Sarah forgave Todd.
Nick found work at Mike Baldwin's factory, Underworld. When Janice Battersby made fun of him, he planted alcohol in her bag and had her fired, but was forced to reinstate her when cleaner Harry Flagg said he had seen what Nick had done. When Janice accidentally started a fire at the factory, Nick saved her, and was hailed for his efforts.
Nick reconciled with Maria and she moved into his family home at No. 8, although Gail did not care for her. Nick's ex-wife Leanne had recently returned to Weatherfield. She was angry with Maria for sleeping with her sister Toyah's boyfriend, John Arnley. Nick and Maria planned to return to Canada but Leanne convinced Nick to come by her flat. Leanne later sent Maria a photo of the two of them together. Maria dumped Nick and he returned to Canada alone. Sometime later, Nick returned to Britain and moved to Nottingham and ran his own business.
2004–: Nick the Businessman
Edit
When
Audrey
couldn't convince
Gail
to call off her wedding to
Joe McIntyre
, she decided to summon Nick back to talk some sense into her. Nick met
Tina McIntyre
in a bar and introduced himself, but she didn't know he had any relations to David or Gail. He told her that he was back to stop his mum marrying a loser. Tina later left the bar, because she was already in a relationship with
Jason Grimshaw
, whom she'd argued with earlier on. Later he Learnt that his half-brother David was once involved with Tina. The two had  a brief flirt and the result was David flying off the handle, he threatened to kill Nick like his dad before him, and Nick went mental and smashed David into the wall, and told him to behave or else.
In 2010, Nick bought up Tony Gordon's shares of Underworld, and was a business partner to Factory Owner Carla Connor. In June that year, Carla's murderous husband broke out and took Carla hostage in the factory, before setting it on fire. Carla managed to escape but Tony perished. When Carla went of with her boyfriend Trevor on a break because of the recent incident, Nick decided to set up his own clothing firm, under the trade name Nick's Nicks. Carla had returned and wasn't happy when she discovered what Nick had been up to, as he had stolen her work force. She then gave his buyer a better deal which he accepted, and Nick decided to let her work with him until the factory was rebuilt.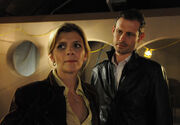 When the factory was eventually rebuilt, Nick wasnt happy when Carla hired Trevor to become trainee manager, and eventually quit. He then decided to use the Joinery to set up a bar, a plan previously thought up by Leanne and her new fiancee
Peter Barlow
. Nick then offered Leanne to come and work with him, which she had accepted. The bar had eventually opened up, but Nick couldnt hold his feelings for Leanne and they both started an affair. But they where caught by Leanne's soon-to be father-in-law
Ken Barlow
and decided to leave Nick as she and Peter where due to get married soon and Ken decided to keep the affair a secret as long as she promised that she was sure the affair was over. Nick still couldnt contain his feelings, and later told Leanne to marry him, but she declined, insisting she still loved Peter.
During Peter's stag-night on the 6th December 2010, Nick intended on telling Peter about the affair. He took him in the office, but where interupted by Ashley Peacock who wanted to talk with Peter first. But then the Joinery Exploded due to a gas problem, which caused a Tram to come of the viaduct and into Coronation Street. Trapped inside, Nick and Ashley needed to help Peter who was badly injured. Ashley managed to hold up a pillar to help Nick get Peter out, but Ashley was later killed after rubble collapsed and crushed him to death. A day later after the total devestation, the Joinery got investigated and so did Nick as he was warned about the gas problems by Ciaran McCarthy the chef of the Joinery. Gossip got around the street about Nick probably being responsible, which upset Ashely's widow Claire. This caused Nick to decide to leave the street again, however was relieved when a detective looking on it told him it wasnt his fault and it was due to shoddy work done on the bar. Nick later slepped with Tracy Barlow who was released from prison and where both caught by Leanne. Tracy later revealed it to his mother Gail (who Tracy attempted to get sent down earlier in the year) and found out she also slept with David, which angered Nick. Tracy was found unconscious and beaten up in the New Year, and Nick was suspected alongside most other street residents who Tracy wound up and insulted, although the culprit was Claire Peacock.
Nick still wanted Leanne, and attempted to tempt Peter back on the drink, hoping for him to fall off the wagon. However, Peter discovered the affair between Leanne and Nick from Tracy after she overheard in the Rovers toilets Leanne and Carla arguing about it. Peter then invited Nick to be his best man at his wedding (Peter and Leanne where to renew their vows) and Nick eventually accepted, unknown Peter knew all about the affair and was plotting something. On the wedding, Peter announced to the whole church about the affair and wanted to divorce Leanne. When Nick was inside the ruined Joinery gathering his thoughts, Peter turned up and threatened him with an iron bar. Trying to get away, Peter knocked him to the ground and raised the bar, stating he was going to kill him, but didn't, saying Nick saved him from the bar and thats the reason he will let him live. Peter left, but later got back with Leanne and they decided to put the whole mess behind them.
The Joinery was later rebuilt and running again, and he made Cheryl Gray manager, also his mother wanted the job. She later became cleaner for the Joinery. Nick is currently running the bar.
Background Information
Edit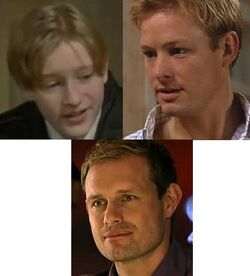 Warren Jackson played the role of Nick from infancy to the age of 15. Jackson then had to leave the role to concentrate on his GCSEs. He expected to return after he completed his studies but new producer Brian Park recast the role with Adam Rickitt. Rickitt left the show as a regular in 1999 to concentrate on his music career, making periodic returns until Nick was written out in 2004. With the decision to bring back the character, the offer was made for Rickitt to resume the role but he declined to return, choosing instead to work on the New Zealand soap opera Shortland Street.
In July 2009, plans were announced to recast the role. [1] In October, former Footballers' Wives star Ben Price was announced as the new Nick. [2]
Todd kissing an unconscious Nick has been called the first gay kiss on Coronation Street [3],