ITV introduced a Twitter page for the character of Norris Cole as a feature on their Coronation Street site in May 2010 entitled "@NorrisMole". Over the next four years it predominantly featured single posts supposedly written by the character but the site was upscaled in the week of Peter Barlow's trial in October 2014 for the murder of Tina McIntyre: as well as photographs taken to illustrate the days of the trial (such as the notice board at Weatherfield Crown Court showing the witness order) all of which Norris referenced in Episode 8490 (13th October 2014), specially-scripted "selfie" videos were also uploaded featuring the character and Mary Taylor. These were written by Martin Sterling and directed by Alan Toner.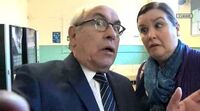 Perfect Diction (Uploaded on 13th October 2014)
As Norris awaits his appearance in the witness box to give evidence, he decides to undertake a series of vocal exercises chanting sonorous vowels to change the timbre of his voice. Mary Taylor thinks he's taking a selfie but Norris corrects her, informing her that Laurence Olivier used to do such exercises before each performance. Mary reminds him that this is a trial and not King Lear and she refuses his suggestion that she should join him, preferring to make a trip to the toilet instead.


Crossword (Uploaded on 13th October 2014)
As Mary surreptitiously films Norris, he finds a discarded newspaper which pleases him as it means it will "stave off the boredom" of sitting in the waiting room with her. Even better, he finds an unfinished crossword and starts with the clue "One who is self-opinionated" which is formed of six letters. He ponders the answer and rejects Mary's suggestions of "bloody-minded", "obstinate", "stubborn", "pig-headed" and "intractable" as all being too long. Preparing to phone a friend, he realises he is being filmed...

The answer to the crossword clue was given on the twitter page as "Wilful".
Ad blocker interference detected!
Wikia is a free-to-use site that makes money from advertising. We have a modified experience for viewers using ad blockers

Wikia is not accessible if you've made further modifications. Remove the custom ad blocker rule(s) and the page will load as expected.