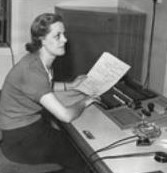 As well as directing 62 episodes of Coronation Street between October 1961 and November 1965, Pauline Shaw was the programme's joint-producer (with Bill Podmore) for forty-six episodes from Episode 2216 (28th June 1982) to Episode 2261 (1st December 1982).
She also produced Crown Court, A Kind Of Loving, and A Brother's Tale all for Granada Television where she was a staff director after joining the company at its foundation in 1956.
Episodes directed by Pauline Shaw
Edit
1961 (8 episodes)
1962 (34 episodes)
1963 (12 episodes)
1964 (4 episodes)
1965 (4 episodes)
Ad blocker interference detected!
Wikia is a free-to-use site that makes money from advertising. We have a modified experience for viewers using ad blockers

Wikia is not accessible if you've made further modifications. Remove the custom ad blocker rule(s) and the page will load as expected.