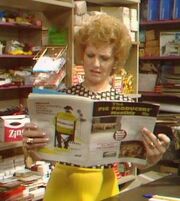 The Pig Producers' Monthly was an innocuous publication which nevertheless caused some puzzlement to Len Fairclough and Rita Littlewood when they opened the Kabin newsagents in June 1973 in premises formerly occupied by Biddulph's.
On the first day of business, Rita had half a dozen men come in and ask for the magazine, some of them dry-mouthed and nervous as they did so. When they found that Rita was behind the counter in place of the now-retired Walter Biddulph they either cancelled their subscriptions or asked where the supplement to the magazine was. One of them was a bit more forthright, asking if Walter had had troubles with his supply from Denmark, and leading new assistant Mavis Riley to see a connection between Danish bacon and pigs. Len was equally as puzzled, knowing that there wasn't any sign of a piggery within five miles of the shop.
The mystery was solved when P.C. 243 called in and asked if the shop had been cleaned up. He explained that they had had their eyes on Biddulph for some time as they knew he had been selling pornography under the counter. Len and Rita instantly realised that porcine publication had only been a cover for the real wants of the customers, none of whom ever came back for their order.
Ad blocker interference detected!
Wikia is a free-to-use site that makes money from advertising. We have a modified experience for viewers using ad blockers

Wikia is not accessible if you've made further modifications. Remove the custom ad blocker rule(s) and the page will load as expected.