The Pineapple Inn was one of several Weatherfield pubs which Martin Downes and Steve Baker went round in July 1974 looking for Martin's mother who he only knew by name - Elizabeth - and that she was a barmaid. He eventually traced her to the Rovers Return Inn as Bet Lynch. At the Pineapple, Steve waited outside while Stan Ogden cleaned the windows and then went into the pub for a spot of worker's refreshment. In view of his own war record as a soldier, Stan changed the habit of a lifetime and offered to buy Steve a drink.
Later on in the Rovers, Bet commented that Stan often called into the Pineapple on the way home.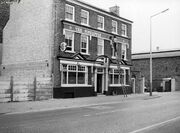 The Pineapple was a real pub situated on Water Street in Manchester near to the Quay Street studios and on the opposite side of the road from the western end of the Grape Street set. Its interior was used for location filming for Episode 2374 (2nd January 1984) and Episode 2466 (19th November 1984). It was also frequented by many of the actors and production staff involved from Granada Television. In 1986, the interior was used to film part of the Rovers Return fire (as described in Daran Little's 'Life & Times at The Rovers Return' It was later demolished to make way for a car park for the Granada Studios Tour.
Ad blocker interference detected!
Wikia is a free-to-use site that makes money from advertising. We have a modified experience for viewers using ad blockers

Wikia is not accessible if you've made further modifications. Remove the custom ad blocker rule(s) and the page will load as expected.