Platt Fields Park is a large public park in Fallowfield, Manchester, which is home to Platt Hall which dates back to 1746. The Platt family obtained the estate in 1225, and owned the land for the next 400 years. In 1625 it passed to the Worsley family who owned the estate until 1907. The Manchester Corporation then purchased the estate in 1908 at a cost of £59,975 to prevent development and demolition of the hall, building a boating and fishing lake in the centre. The park was formally opened on 7th May 1910 by the Lord Mayor of Manchester.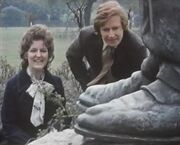 In 1919 a statue of Abraham Lincoln was unveiled in the park. This was sculpted in bronze by George Grey Barnard and had been intended for London outside the Houses of Parliament but its appearance proved controversial. Manchester had links with Lincoln in that he wrote a letter to "the working men" of the city who suffered high unemployment during the American Civil War from the resulting "cotton famine", praising them for their part in the fight against slavery. The statue was moved to the newly-established Lincoln Square in the centre of Manchester in 1986.
In May 1973, Ken Barlow took Faye-Marie Schofield, the wife of Ena Sharples's great-nephew, to see the statue. The twosome were a subject of gossip as Faye-Marie had pretensions to intellectualism and the visit was part of a cultural tour she made with Ken. During the visit, she confided in Ken that she was bored with Tom as he was not interested in discussing such things with her.
As well as the location shoot in 1973, Platt Hall on the northern edge of the park was also used for location filming of the exterior of Weatherfield Register Office in Episode 1510 (7th July 1975). It was also used as the location of Greenfield Park in Episodes 9196 (30th June 2017) and 9197 (30th June 2017)
Ad blocker interference detected!
Wikia is a free-to-use site that makes money from advertising. We have a modified experience for viewers using ad blockers

Wikia is not accessible if you've made further modifications. Remove the custom ad blocker rule(s) and the page will load as expected.