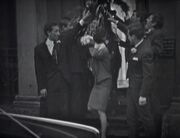 Ridgeway Road Registry Office was the venue where David Barlow and Irma Ogden were married in December 1965. Their witnesses were footballing friends of David named Johnny and Steve and as the bride and groom came down the steps of the building, they were showered with confetti from football boots held by David's teammates.
Ad blocker interference detected!
Wikia is a free-to-use site that makes money from advertising. We have a modified experience for viewers using ad blockers

Wikia is not accessible if you've made further modifications. Remove the custom ad blocker rule(s) and the page will load as expected.