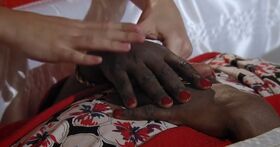 Sadie Smith was the wife of Freddie Smith who passed away in March 2016. She was a regular customer at Audrey's salon on Coronation Street. After her passing, the salon's nail technician Kylie Platt arrived at the couple's house in order to do Sadie's nails, although she was unaware she was actually deceased and laid out in her casket. Kylie offered support to Freddie through the grieving process and spoke fondly of Sadie.
Sadie appears as a corpse in Episode 8857 (11th March 2016). The woman portraying her is unknown and only close-ups of her hand is seen.
Ad blocker interference detected!
Wikia is a free-to-use site that makes money from advertising. We have a modified experience for viewers using ad blockers

Wikia is not accessible if you've made further modifications. Remove the custom ad blocker rule(s) and the page will load as expected.