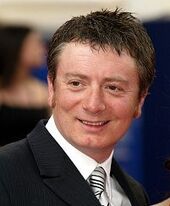 Sean Wilson was born 4th April, 1965 in Ashton-under-Lyne in Greater Manchester. He is an English actor who played Martin Platt in Coronation Street from 1985 to 2005. He has also appeared in Casualty, Silent Witness, and Dalziel and Pascoe. He trained at the Oldham Theatre Workshop and first auditioned for the parts of Kevin Webster and Terry Duckworth. Prior to his debut in the Street, he appeared for Granada in Crown Court.
Wilson left Coronation Street by mutual agreement in 2005 as he refused to take part in a storyline which would have seen his character have a relationship with an underage girl. He gave up acting and opened a cheese making business. Shortly afterwards it was stated by a Coronation Street spokesman that the door would always be left open for Wilson to return, and in 2009 he was reported as saying that he would be interested in a return to the programme. However in 2013, he vowed he would never return to the street.
Ad blocker interference detected!
Wikia is a free-to-use site that makes money from advertising. We have a modified experience for viewers using ad blockers

Wikia is not accessible if you've made further modifications. Remove the custom ad blocker rule(s) and the page will load as expected.