Stephanie "Steph" Barnes (née Jones) was the daughter of Maurice Jones and first wife of Des.
The Barnes were an upwardly mobile couple who were always falling out. After just a year of marriage, Steph left Des for Simon Beatty and they got divorced in 1994. When she last saw Des, Steph was heavily pregnant with her ex-boyfriend Chris Fox's baby.
Biography
Edit
1965-1991
Edit
Steph and Des Barnes moved into the newly built 6 Coronation Street on their wedding night in February 1990. Steph's dad Maurice Jones owned the new side of Coronation Street and sold No.6 to the Barnes' at cost price. As they arrived in the Street, the newlyweds were already arguing as Des didn't like Maurice and begrudged having to thank him for fixing them up. When Des carried Steph over the threshold, he banged her head against the door, causing Steph to lock it behind her with Des still outside.
After their honeymoon in Majorca, the Barnes settled into the Street. Des worked as a bookie's clerk and Steph at the make-up counter at Ashcroft Department Store in Manchester. They had a give-and-take marriage and didn't live out of each other's pockets, each doing their share of the cooking and cleaning. They liked a good laugh; when Steph noticed how uncomfortable Kevin Webster was when she flirted with him, she bet Des that she could shave off his moustache at their housewarming party. Steph won the bet, and so Des had to keep up his end of the bargain by going into the Rovers without his trousers on.
Later that year, Steph got an evening job promoting Pomme de Lite, a new cider. When one of the promo nights was at the Rovers, Des filled the pub with mates to embarrass her, but Steph got revenge by flirting with the customers and doing a strip tease on the bar top.
In February 1991, Steph suggested to Des that he take up a hobby. So Des went to a boat show and bought an old boat for £500, planning to do it up in the back garden. The boat became an obsession of Des's and he let the house turn into a pigsty as he spent all of his spare time on the boat. Steph dug her heels in and refused to do more than her share of the housework, but this led to more arguing, with Des annoying Steph by treating it as a joke. Eventually, deciding to leave Des to it, Steph booked a skiiing holiday for one. This made Des realise he was being stupid and he apologised but despite this and Steph falling off the boat and hurting her ankle, Steph still went on the holiday.
On the holiday, Steph was pestered by Clive Parnell, who climbed onto her balcony at night and wrote on Steph's leg plaster: "Rome was not built in a day. But Steph was laid flat in two nights. None shall sleep." Des believed Steph had been faithful but on discovering Clive was a local man, he pretended to be a client so he confront Clive. Clive turned out to be a skilled fighter who overpowered Des easily and Steph had to break up the fight, but she was pleased that Des had fought for her honour.
Some months later, Steph met architect Simon Beatty at work. Simon wanted to go out with Steph and with Des still going on about the boat, Steph enjoyed Simon's attentions and went with him to the theatre. They started an affair but were soon spotted by Derek Wilton having dinner together when Steph told Des she was at a friend's leaving party. Derek agreed not to tell Des but Mavis suggested to Des that Steph had a lover.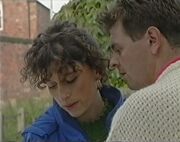 With the boat finished, Des planned its maiden voyage and organised an outing to the canal with Steph, Martin, Gail and the kids. It was during this outing that Steph confessed to her affair to Des, and told him she was leaving him, blaming his selfishness. Steph returned to the Street with the Tilsleys and packed her things but became worried when Des didn't return from the trip. Eventually a despondent Des phoned Steph to tell her where he was and she raced over to see him, fearing he was about to do something stupid, only to discover he'd got drunk and set fire to the boat as a symbolic gesture of the demise of their marriage.
Encouraged to try and save his marriage, Des slashed Steph's suitcases, but Steph didn't love him anymore and walked out to live with Simon.
1992-1995
Edit
In April 1992, Steph left Simon and returned to Des, asking if she could stay in the spare room for a few nights. Simon had turned out to be jealous and possessive and Steph was leaving him for another man - but to avoid a messy break-up, she told Simon there was nobody else and the relationship had just ran its course. Staying with Des made sense as Simon knew that Steph would never reconcile with him so she could use it as a refuge until the dust settled. However, her arrival sent out the wrong message to Des, who was eager for a reconciliation and was annoyed when Steph didn't tell him about her new boyfriend until days after her arrival, by which time he'd got his hopes up and lost his current girlfriend, Raquel Wolstenhulme, who left him when he kept ignoring her for Steph. Steph left shortly afterwards.
A year later, the Barnes initiated divorce proceedings and they received their decree nisi in December 1993. Nearly two years after this, while taking Tommy Duckworth out on Tommy's birthday, Des bumped into Steph when she was working at a fast food outlet. Steph was also heavily pregnant but she and the father Chris Fox were no longer in a relationship and she was living in a grotty bedsit, much to Des's horror. Des helped Steph find a flat and paid £500 as a deposit for her. Steph asked Des if he wanted to start again but Des didn't love her anymore and wanted to leave the past in the past.
Other information
Edit
When the Barnes fell out with the Duckworths, Steph hired a strip-o-gram to sing a telegram to Vera at the Duckworths' wedding anniversary party at the Rovers, including a line about throwing stone cladding, thus solving the mystery of who smashed the Wiltons' front window (Vera had been aiming for No.6 but she missed as her aim was so poor).
Steph was briefly the undesired recipient of a young Steve McDonald's attentions. Steph put him up in No.6's spare room when he fell out with Jim and Liz over not returning to school to take his resits. She persuaded Steve to return home but he stole her scarf as a keepsake.
Background information
Edit
When Coronation Street started going out three times a week in October 1989, a big part of the expansion of the show was the building of the new houses and shop units on the other side of the Street. Des and Steph Barnes were created by Producer Mervyn Watson as a young couple who would bring something new to the programme, as he explains in p202 of The Coronation Street Story (Daran Little, 1995), "We wanted something that would catch the eye of the audience. A couple with loads of money and values that had grown out of the Thatcher years. We wanted them to make an immediate impact as soon as they arrived and we talked up this couple - young, flashy, exciting, lively characters."
On Steph shaving off Kevin Webster's moustache, Amelia Bullmore comments: "At that point, nobody had any reason to like me. I came in an impostor, taking up time from other characters. Nobody had any loyalty to Steph because she'd only been in the programme five minutes, and then she defaces one of its institutions. I got a terrible response" (Little, p203). In p59 of Life in the Street (Graeme Kay, 1991), Bullmore says about the Barnes: "They're a great couple. They really stir things up and they certainly know how to have a good time!"
In her first few appearances, Steph was credited by her full name of "Stephanie Barnes".
Bullmore quit the programme after one year to concentrate on her theatre work. She returned in 1992 and 1995 and last appeared in Episode 3917.
"Yer smashed that door. Yer out of yer box!" (first line, to husband Des)
---
"Did you love her?" (Final line, to Des about Lisa Duckworth)
External links
Edit
Ad blocker interference detected!
Wikia is a free-to-use site that makes money from advertising. We have a modified experience for viewers using ad blockers

Wikia is not accessible if you've made further modifications. Remove the custom ad blocker rule(s) and the page will load as expected.