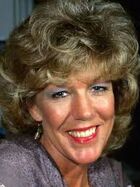 Susan Frances Harmar Nicholls (born in Walsall 23rd November, 1943) is a British actress and singer best known for her role on Coronation Street as hairdresser Audrey Roberts, a part she has played from 1979 to the present day. Trained at RADA, her other credits include Crossroads, The Fall And Rise Of Reginald Perrin and Rentaghost. Sue's stint on Crossroads led to her recording a single, 'Where Will You Be?', which reached #17 in the charts in 1968.
Sue married former Street actor Mark Eden (Alan Bradley) on 6th July 1993.
Ad blocker interference detected!
Wikia is a free-to-use site that makes money from advertising. We have a modified experience for viewers using ad blockers

Wikia is not accessible if you've made further modifications. Remove the custom ad blocker rule(s) and the page will load as expected.