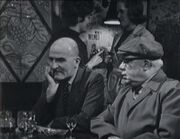 The Grapes was a long-standing pub in Weatherfield. Back during the First World War, Albert Tatlock and Ted Ashley went there when they were on leave and had as good a time as soldiers then away from the front were wont to do. When Ted visited Weatherfield in March 1964, the two old men went on a round of their old haunts and that included The Grapes. Ted was aghast to see that it had been done up into a trendy bar where rich men talked about cars and equally well-to-do women gossiped about clothes and houses. Albert was more philosophical, saying that you couldn't stop progress but he did bemoan the fact that it wasn't as cosy as it had been years ago when he and his wife Bessie had frequently drunk there.
Whatever Albert's reservations, it was one of his stopping-off points on a pub crawl he indulged in on the eve of his wedding to Alice Pickins in September 1969. The party started off at the Rovers and as a heavily-hungover Albert related to daughter Beattie Pearson and Alice the next day they went on to the The Flying Horse, The Britannia, The Grapes, The Artisan, The Druid's Arms and The Top House before Albert was found singing If I Ruled the World slumped up against a lamppost in Burton Road.
Ad blocker interference detected!
Wikia is a free-to-use site that makes money from advertising. We have a modified experience for viewers using ad blockers

Wikia is not accessible if you've made further modifications. Remove the custom ad blocker rule(s) and the page will load as expected.