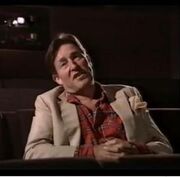 Tim Aspinall (6th January, 1935 - 21st August, 2000) was a prolific television writer, director and producer for more than three decades. He produced Coronation Street from Episode 357 to Episode 395 (May to September 1964), and wrote 3 episodes eleven years later, in 1975.
He remains best remembered for his controversial decision in 1964 to sack several actors from the programme and especially for his decision to "kill off" the popular character of Martha Longhurst. Several actors, Violet Carson among them, complained about Aspinall's move to senior Granada management and many years later figures such as H.V. Kershaw and Bill Podmore criticised the decision, saying it was one of the worst in the programme's history. Kershaw however went on to say that he preferred to remember Aspinall as the man who introduced the Ogdens to the show.
Before his stint on Coronation Street he was, among other things, a features writer for TV Times and later worked as script editor on the Granada series The Villains.
Episodes written by Tim Aspinall
Edit
1975 (3 episodes)
Ad blocker interference detected!
Wikia is a free-to-use site that makes money from advertising. We have a modified experience for viewers using ad blockers

Wikia is not accessible if you've made further modifications. Remove the custom ad blocker rule(s) and the page will load as expected.