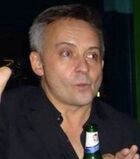 Tim Hopewell is a television producer and director who in the latter capacity contributed 33 episodes of Coronation Street between 2004 and 2006 including two double episodes. He has worked for both ITV and the BBC on programmes such as Hollyoaks, Grange Hill and Waterloo Road.
Episodes directed by Tim Hopewell
Edit
2004 (4 episodes)
2005 (15 episodes)
2005 (14 episodes)
Ad blocker interference detected!
Wikia is a free-to-use site that makes money from advertising. We have a modified experience for viewers using ad blockers

Wikia is not accessible if you've made further modifications. Remove the custom ad blocker rule(s) and the page will load as expected.