Tony Warren
Talk

0
15,646pages on
this wiki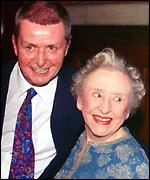 Tony Warren MBE (born Anthony McVay Simpson in Swinton on 8th July 1936) is the script-writer who at the age of 24 created Coronation Street. In his youth Tony had been a child actor, appearing on Children's Hour alongside Violet Carson. By the 1950s he was a staff script-writer working for Granada on the series Biggles, an assignment which he loathed.
At the prompting of drama Executive Producer Harry Elton, Tony proposed a new series more suited to his interest and skills. This series, initially titled Florizel Street, was a redraft of a script he'd submitted to the BBC under the name Our Street bacl in 1956 . Initially commisioned for a thirteen week run, Warren undertook to write the first twelve episodes and continued to regularly write for the programme until 1964, from 1967 to 1969 and from 1975 to 1976. In total he wrote 69 episodes of the programme plus a further episode (372) which was never recorded due to the 1964 ITV Strike.
Since leaving the show he has continued to work as a writer, penning scripts and novels. There are two portraits of Tony in the National Portrait Gallery.
Tony's 1969 autobiography was titled I was Ena Sharples Father. He has received many awards and an honorary degree for creating the UK's longest-running drama series.
External links
Edit
Episodes written by Tony Warren
Edit
1960 (7 episodes)
1961 (18 episodes)
1962 (15 episodes)
1963 (9 episodes)
1964 (6 episodes)
Tony also scripted Episode 372 which was due to be transmitted on Monday 6th July but which was never recorded due to the 1964 ITV Strike.
1967 (7 episodes)
1968 (3 episodes)
1969 (1 episode)
1975 (3 episodes)
1976 (1 episode)