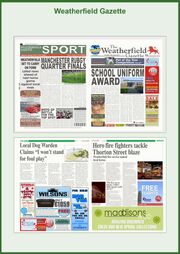 The Weatherfield Gazette is the local newspaper for the Weatherfield area. For decades it has reported the births, deaths, marriages and criminal behaviour of many Coronation Street residents. Ken Barlow is perhaps the most notable contributor to the publication and for a brief period he also ran a rival newspaper, the Weatherfield Recorder, before he was forced to sell it to the Gazette itself after the latter started a freesheet in May 1989. Ken struggled on with the paper for another eight months but in the end there wasn't enough advertising revenue around to support two titles, especially when Deirdre Barlow demanded half the profits of the paper as part of a divorce settlement from Ken.
At some point, the paper launched its own internet edition which allows reader's comments underneath the on-line stories.
List of Gazette stories featuring Coronation Street residentsEdit
Note: reference to matters such as job adverts, etc are not included in the list below.
List of newspaper contributors and staff
Edit
Note: In July 1976 the paper refused to employ Ernest Bishop on its staff as he was not a member of the National Union of Journalists.
The newspaper did not make its first appearance in the programme but instead in the TV Times issue of 13th to 19th August 1966 (and the following week's issue) in a mock-up of a newspaper report on the council election storyline when Annie Walker and Len Fairclough were opposing candidates. The paper first appeared in the programme later in the year and TV Times trumpeted the fact they had an invented the title in their issue of 19th to 25th November.